Our Daily Dose of Top Tens – December 22, 2014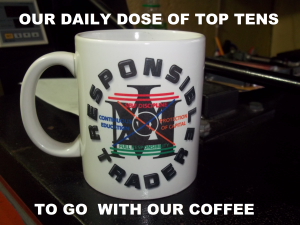 Our Daily Dose of Top Tens to go with our Coffee is the official trading newsletter of The Responsible Trader to promote his advocacy, Responsible Trading.  This newsletter contains the previous day's data from PSE and the Top Ten Foreign Buying and Selling, including the Top Ten in Total Traded Value also of the previous day.
This newsletter is given free to all the friends of The Responsible Trader and to members of the Facebook group  and the other organizations where he is a member.
[adsense]
Our Daily Dose of Top Tens is a must-have  for me every day.  I always have this before the start of the trading day.  It enables me to track the movement of  Smart Money  and Major Market Moves  on a daily basis and helps me in my day-to-day trading decision making.
For the previous issue where complete details about the newsletter was fully discussed, please refer to: Daily Top  Tens October 17, 2014.
Data from the Philippine Stock Exchange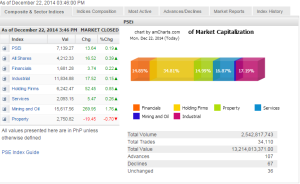 Screenshot courtesy of:  www.pse.com.ph
 Top Tens in  Foreign Buying and Selling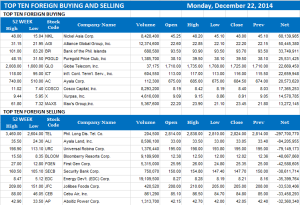 Top Tens in Total Traded Value 
From now on, I will just quote the related article from Business World so that we will have everything in one piece:
==========================================================================
Posted on December 22, 2014 06:58:00 PM
Steadying oil prices, Christmas rally buoy shares
LOCAL EQUITIES sustained their momentum for a third straight session, as positive sentiments prevailed here and abroad on the back of the approaching Christmas holidays, analysts said.
The bellwether Philippine STOCK EXCHANGE INDEX (PSEi) went up by 13.64 points or 0.19% to close at 7,139.27. The broader all-shares index also rose by 16.52 points or 0.39% to settle at 4,212.33.
"The market is recovering its footing after a relatively volatile two weeks. This is consistent with historical trends — as we get into the Christmas week, people have the tendency to feel optimistic and START BUYING STOCKS ," Justino B. Calaycay, Jr., analyst at Accord Capital Equities Corp., said by phone on Monday. He noted that this also holds true for US markets.
Last Friday, the Dow Jones industrial average index increased by 26.65 points or 0.15% to close at 17,804.80. The Standard and Poor's 500 index inched up by 9.42 points or 0.46% to 2,070.65; while the tech-heavy Nasdaq index went up by 16.98 points or 0.36% to 4,765.38.
Jason T. Escartin, investment analyst at online BROKERAGE 2TradeAsia.com, said in an e-mail: "A (continuation) of Friday's momentum was seen, albeit modestly, as some players parked excess cash in equities prior to the holidays."
"With fundamentals intact plus support from cheaper crude prices, consumer plays took the limelight, on brisk demand for the season."
Accord's Mr. Calaycay said investors are starting to return to the equities market, helped by the stabilization of oil prices.
Mining and oil led the five subindices that ended in the green, as it soared by 269.95 points or 1.76% to 15,617.56. The sector was buoyed by Nickel Asia Corp., which was yesterday's second busiest STOCK , with shares surging by 6.43% or P2.90 to close at P48 each. Holding firms followed suit, climbing 52.45 points or 0.85% to 6,242.47.
Only the property sector fell into negative territory, shedding 19.45 points or 0.70% to 2,750.82, dragged by Ayala Land, Inc., whose shares lost 35 centavos or 1.05% to close at P33.05 apiece.
Value turnover shrank to P13.21 billion with 2.54 billion shares changing hands, from the previous session's P20.61 billion.
Bulls outpaced bears, 107-67, while 36 STOCKS did not move.
Net inflow ballooned to P6.93 billion from Friday's net foreign buying worth P666.95 million.
Mr. Calaycay said TRADING volume for the last two trading days of the year could be light, as most investors have already closed their portfolios. "Maybe we could hope for a final surge of the market at 7,200, but if we would be able to sustain the 7,100 level, that would be okay." — Daphne J. Magturo
Source: http://www.bworldonline.com/content.php?section=StockMarket&title=steadying-oil-prices-christmas-rally-buoy-shares&id=100017
==========================================================================
Good luck on all your trades today.
DISCLAIMER
There is a very high degree of risk involved in trading.  Past results are not indicative of future returns.  Nothing contained in this newsletter constitutes a solicitation, recommendation, promotion or endorsement of any security.  In accordance with the Responsible Trader's Creed: I will never tell and you take full responsibility for all your trading results.