THE RESPONSIBLE TRADER – "BUDOL OR NON-BUDOL"
THE RESPONSIBLE TRADER – "BUDOL OR NON-BUDOL"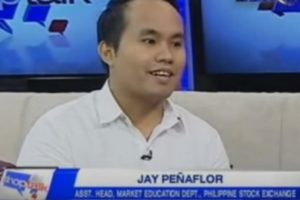 Photo courtesy of: IBTimes
THE RESPONSIBLE TRADER – "BUDOL OR NON-BUDOL"
About two years ago, we were asked to weigh in on the raging issue: PROCESS VS. INSTINCT and we wrote an ariticle about it stating our position.  http://theresponsibletrader.com/responsible-trading-boh-vs-tap-process-vs-instinct/.
This time, we are again asked to weigh in on another issue that has become very controversial among trading fora and trading groups: 'BUDOL" or "NON-BUDOL."  "Budol"  has become a very popular term lately to denigrate those who are providing illegitimate trading services – subscriptions, advisories, seminars, etc in short those considered as 'SCAMS."
The concern is valid considering the latest case of Jose Cecilio "Jay"  Penaflor, who according to news sources worked as an employee of the PSE for nearly 10 years.  The man is allegedly behind an investment scam which duped the public and robbed them of their hard-earned money amounting to P330 Million.  Ironically,  Peñaflor worked in the PSE's Market Education Department, which essentially promoted trade through investor education.
The current advancement in technology has made it easier for Filipinos to gain access to the Philippine stock market.  This has spawned the growth of online brokerage firms offering their facilities to would-be investors and  traders. A natural consequence is a need for investor/trader education to equip them with proper knowledge in order to deal with the stock market effectively and efficiently.  Although seminars are offered by the brokerage firms, most of those who opened trading accounts did not take advantage of them as evidenced by the fact that you can still see posts asking the two most dangerous questions:
1. "Ano po ang stock na maganding bilhin ngayon?" (What is the best stock to buy now?)
2. "Anyare?" (What happened? – a question that pops up when the price of  the stock bought suddenly drops.
Most people tend to follow the path of least resistance. Instead of thinking for themselves, they would rather follow the recommendation of others without exerting any effort to learn. This has led to the proliferation of trading services – subscriptions, advisories, tips, etc.
OUR STAND ON THE ISSUE
On our part we continue to promote our advocacy – Responsible Trading which means practicing self-discipline, continuously educating yourself, protecting your capital at all times and taking full responsibility of your trading results. As a documentation of our advocacy, a book was written: "The Responsible Trader – a Thinking Person's Guide for Trading the Philippine Stock Market."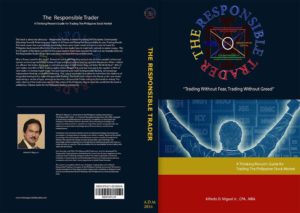 We have seen other books written by Filipino authors.  Any attempt to educate Filipino traders and investors by adapting knowledge and concepts to Philippine conditions so that they can be easily understood by the majority is a welcome development. As we stated in our book, it is not the availability but the complexity of the materials that is the issue.
Regarding pricing, we believe price is market-driven. People pay for value they believe that they are getting. If people do not see value in the products being offered – be it books or services  – they will not buy and the products will rot in the dustbins of history.
Finally on the issue of 'BUDOL" or "NON-BUDOL" we do not want to judge anyone. It is not our practice to disparage the work of others just to shine our feathers. We leave it to the proper authorities to separate the chaff from the grain – to weed out the legitimate from the illegitimate ones:  The Department of Trade and Industry for business name registration,  The Bureau of Internal Revenue for payment of taxes and last but not least the Securities and Exchange Commission, the watchdog for protecting the general public from stock market irregularities and  investment scams.
As always, we wish you the best in your learning journey and good luck on all your trades.