THE RESPONSIBLE TRADER – ON ELLIOTT WAVE NO. 7?
THE RESPONSIBLE TRADER – ON ELLIOTT WAVE NO. 7?
I was reading my News Feed the other day and I saw a post from a member of a Facebook Trading Group about Elliott Wave No. 7. Yesterday, I saw a post from another Facebook Trading Group reacting to the post to the point of mockery. Some even referred to them as "Idiot Waves."
I hope the one who made the post about Elliott Wave No. 7 was not really serious. This Blog article is written for newbies who might be misled by such post. Getting the wrong information when you are having your trading education is as bad as not getting any trading education at all.
ELLIOTT WAVE PATTERNS AND NUMBER OF WAVES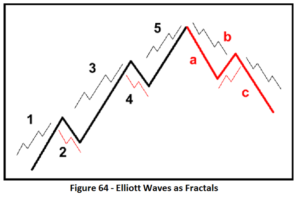 Figure 64 above, taken from my book, The Responsible Trader – a Thinking Person's Guide for Trading the Philippine Stock Market, shows the Basic Elliott Wave Pattern. This is also called the 5-3 Pattern.
To better appreciate the Elliott Wave Theory think of the Waves as Waves within Waves within Waves. From table 6 of the same book, we can see that all waves are categorized by relative size or degree. Elliott discerned nine degrees of waves as follows: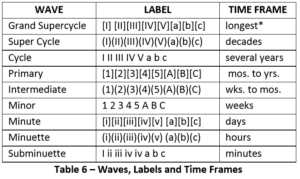 CORRECTION WAVES VS. CORRECTIVE WAVES
From these two figures we can say that there is no Wave No. 7. There are only 5 Waves with Numbers (whether indicated in Arabic or Roman Numerals) and there are only 3 Waves with Letters (whether in Capital or small letters).
The first 5-wave Pattern (1,2,3,4, and 5) are Trend Waves or Impulse Waves. Sometimes they are also called Motive Waves. Waves 2 and 4 are corrections within the Trend.
The last 3-wave Pattern (a,b, and c) are called Counter Trend Waves or Corrective Waves.
There are a lot of times when the Correction Waves are confused with Corrective Waves.In the Responsible Trading System to avoid any confusion between Correction Waves and Corrective Waves, I would like to refer to them as follows.
Wave 1 – Impulse Wave 1
Wave 2 – Impulse Wave Correction 2 (not corrective)
Wave 3 – Impulse Wave 3
Wave 4 – Impulse Wave Correction 4
Wave 5 – Impulse Wave 5
As far as the a.b,c waves are concerned I would like to refer to them as Counter Trend Waves.
Wave a – Counter Trend Wave a
Wave b – Counter Trend Wave b
Wave c – Counter Trend wave c
I hope this Blog article has clarified the issue and added to your trading knowledge. Trading is already complicated as it is. Let us not complicate it further by ideas that do not add to our trading knowledge. Also, let us respect the pioneers who have given us theories and principles that form the basis of trading knowledge that we are enjoying and benefitting from today.
Have a blessed weekend everyone.