Responsible Trading – Latest Updates – November 14, 2014
Responsible Trading – Latest Updates – November 14, 2014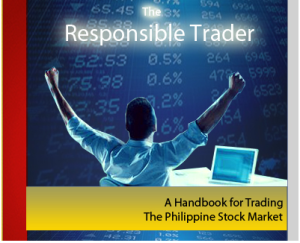 Although I have started to love Facebook and my interactions with you through Private Messages when I go online, I found out that you cannot mix consulting, blogging, trading, writing a book  and Facebook all at the same time.  If you do, you will get a distracted consultant, a lousy blogger, a dizzy trader and a mixed-up writer.   This is the reason why I decided to take  my  time off Facebook activities for the meantime  and have Michael Manzano  pitch in and do the postings on my behalf.   I think he has done a good job of keeping you well informed.
Please don't ever think that since I have refrained from posting on Facebook, I have already abandoned my Advocacy – Responsible Trading.   On the contrary, I intend to actively promote my Advocacy and I have done several things to make it more efficient and effective for me to reach out to you and serve you better.
[adsense]
I am pleased to give you the following updates on Responsible Trading:
1.   With suggestions from some of you and I would like to thank those who made them, I have now established all the things needed for a well-run entity to promote my Advocacy:
a. My Blog: www.theresponsibletrader.com – where I write and share lessons on trading and my thoughts about trading in particular and life in general
b. Facebook Page: https://www.facebook.com/theresponsibletrader – where I share what's on my mind and make posts to groups where I am a member of
c. YouTube Channel: https://www.youtube.com/theresponsibletrader – where you can view and download my TRT-POV (The Responsible Trader's Point of View) and other videos I intend to make
d. My Slideshare: http://www.slideshare.net/TheResponsibleTrader – where you can view and download copy of the Powerpoint Presentation of my TRT-POV (The Responsible Trader's Point of View) and other presentations I intend to make
2.   For your information, indicated below are the schedules of my regular publications:
Daily Top Ten to Go with Our Coffee – This enables us to track the movement of SMART MONEY and MAJOR MOVES in the market on a daily basis – Everyday daily not later than 9:30 A.M before the start of the trading day
MCTA Video – From Cloud9 Media Limited – as a basis for discussion – Weekly not later than 12:00 NOON. every Saturday
MCTA – TRT-POV – My notes and interpretation to make the lessons easier to understand. Weekly not later than 6:00 P.M. every Thursday
3.   I have appointed Michael Manzano as Administrative Officer and he will take care of posting on Facebook in my behalf until I decide to resume my Facebook activities.
4.   I am still in the process of writing my book and with all the ideas coming to my mind on how to make it better for you, I cannot give yet a definite date for publication. I will keep you posted on developments.
5.   From feedback I am receiving, I realized that a lot of people are benefiting from the lessons I am sharing and would like to learn more. Actually I prefer talking to an audience, as I usually do when I conduct public seminars, instead of recording the lessons alone in front of my computer. For this reason, I will soon organize public seminars and offer it at a reasonable price. By now I believe you realize that I can make complex subject matters easily understandable and more comprehensible. After attending the seminar that I plan to offer, you will be able to trade The Responsible Trader's way with a concrete trading plan.
6.   In the spirit of transparency, when I decide to resume my Facebook activities, I will reveal my real name and use it instead of "The Responsible Trader". Of course I will retain the logo of The Responsible Trader so you can recognize me as the same person when I make my posts.
7.   For those who want to communicate with me, you may send me an email at:
The Responsible Trader
email: ninjatrader919@gmail.com
Thank you for your continued support to me and my advocacy and I look forward to more sharing and learning with you.