Responsible Trading – The Street-Smart Responsible Trader
Responsible Trading – The Street-Smart Responsible Trader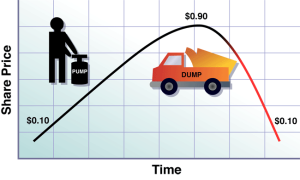 I wanted to continue sharing the MCTA Lessons today. However, because of the rally on the PSEi yesterday, I saw some "dead" stocks moving and this prompted me to raise the alarm bells to warn newbies about the danger poised by some unscrupulous stock market operators.
You might be tempted to throw all the learnings you got from the lessons I shared believing that "a high tide raises all boats."  This might be true in real life, but in the Philippine stock market some boats are not worth riding.  No matter what people say about the BULL market, always trade with caution. Always trade at your own tolerable risk level.
This week, I want to share two of my favorite videos on the subject of Pump and Dump.   I believe this is more important than the MCTA lesson I am supposed to share with you this week.  Please know the modus operandi by heart so that you will not have any regrets later on.
[adsense]
The first video is about a dialogue between a Husband and Wife. The Wife is a Victim of Chatroom and Message Boards.  Try to listen very well and see if some terms used sound familiar to you. (Pardon the "F"words. I do not approve of them myself).
How Penny Stocks Work
The second video talks about the mechanics of the pump and dump and action you have to take if you become a victim.
Anatomy of a Pump and Dump
I hope you learned something valuable today.  Responsible Trading is not just about book knowledge. Responsible Trading is about facing the challenges of trading in real time and real life.  Next week, I will share with you MCTA Lesson No. 8 – Further Charting
Good luck on your learning journey and I wish you the best in all your trades.
Have a blessed weekend everyone.