Responsible Trading – Why Write a Book?
Responsible Trading – Why Write a Book?
A Chinese saying goes: "In order for a man  to consider himself to have lived a full and meaningful life  he should bear a child, plant a tree and write a book."
I think this saying was meant both literally and figuratively. Let me discuss it one-by-one  literally  first as it applies to  my personal life.
A man should bear a child – I have done this and more. I have three children, all professionals and gainfully employed. Of course, most of you know  it already, my only son is my Web Administrator.
Plant a tree – I have done this too and not only one but several. I prepared a feasibility study which we submitted to PEZA (Philippine Economic Zone Authority) to avail of the benefit of a 4-Year Income Tax Holiday and one of their requirements was for us to undertake one of their projects to protect the environment. We decided to join their tree-planting program and I planted not only one but several trees now all full grown.
Write a book – I am now in the process of doing this and I know that I will be successful with your help and support.
Let me now discuss all three figuratively in general terms as it applies to all of us.
A man should bear a child – I think this means bringing something out into the world whether it be a concept, an idea. a new product, or an advocacy. It means bringing out anything that would contribute to the betterment of our lives, our country and the whole world. Thoughts are things. This happens when we allow ourselves to become instruments to bring matters from the spiritual to the physical realm.
Plant a tree – Trees grow slowly and when fully grown,  they could even outlast us in our lifetime. In one of the audio tape lessons on self improvement I have taken , it said that "winners plant shade trees in which they know they will never sit." We do things now not only for ourselves but for the future generations to come even if it entails sacrifice on our part.
Write a book – Whatever we do is written in the book of life. We cannot choose when we are going to be born and when we are going to leave this world. These are already given. What matters most is what we do in-between. It is our choice if we would like to live a worthwhile and meaningful life. We cannot control what happens to us but we have absolute control on how we act or react to the situations, events and circumstances that come to our lives.
In all three,  both literally and figuratively I think, the objective is to leave to the world a legacy. To stop focusing on one's own self-interest, serve others and leave our comfort zones. To find our purpose in this world and to live our lives without fear. Embarking on a journey we plan to undertake, focusing on our destination but enjoying everything along the way.
When I first joined Stockmarket Pilipinas my only objective was just to find out what is actually happening in the trading world. I did not expect that I would be starting something meaningful – coming up with an Advocacy, opening several threads, changing the Forum landscape from mere posts to semi-formal trading lessons and now — writing a book.
Because of your overwhelming positive response to my advocacy I was encouraged to  establish a website and a YouTube Channel.   Before I end this article, I would like to share with you my tentative book outline: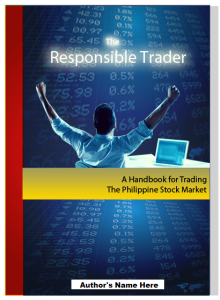 CHAPTER 1 – The Tech-Savvy Responsible Trader
All the essential things you need to know about Technical Analysis
CHAPTER 2 – The Fundamentally Sound Responsible Trader
All the essential things you need to know about Fundamental Analysis
CHAPTER 3 – The Money-Wise Responsible Trader
All the essential things you need to know about Money Management
CHAPTER 4 – The Mentally Tough Responsible Trader
All the essential things you need to know about Trading Psychology
CHAPTER 5 – The Street-Smart Responsible Trader
All the essential things you need to know about stock market scams – market manipulation, pump and dump, poop and scoop, painting the tape, etc.
CHAPTER 6 – In a Trader's Shoes
Real life experiences of Traders in the Philippine stock market  – veterans and newbies alike, their struggles and how they became good traders, including an overview of their trading systems
CHAPTER 7 – Trading as a Business
Trading as an alternative source of Income – both passive and active
CHAPTER 8 – Responsible Trading my Advocacy
Complete discussion  about Responsible Trading
CHAPTER 9 – The Compleat Responsible Trader
Putting everything together and complete discussion about the Responsible Trader's CAT  (Charts, Analysis and Trading Plans).
Everything I have done so far — from coming up with the Advocacy to writing  a book have been leaps of faith. Coming out with an Advocacy  like this has never been tried and done before in the Philippine stock market.  The one who does it faces the possible consequences of public scorn and ridicule if he fails.
I am ready to face everything.  At this point, I just follow wherever God leads me to and I am grateful to all of you for your full support.
Have a blessed weekend everyone.