STOCK CHARTS AND ANALYSIS – DNL
STOCK CHARTS AND ANALYSIS –  DNL
In accordance with our Independence Day commitment, following is our Technical Analysis of  DNL (D&L INDUSTRIES, INC) as of Nov. 13,  2015.
This is the last of  our THREE for FREE for this week. (MER – Index Stock, SSI – Non-Index Stock  and this one DNL – Non-Index Stock).
As we stated in our last Analysis on DNL, we usually change our Fibonacci settings based on the 52-Week High and Low to have a very good idea of the stock's price action on a long term basis. In the case of DNL, however, we are retaining our previous Fibo settings since we find the P10.80 level very significant (this is Resistance tested for the 5th time.   We also consider the P9.00 area a very strong strong support since this had been tested for the 6th time.  We were expecting that a break of this strong Support would cause a waterfall and send the stock to its next Fibo support of P8.63 but  it has not happened yet.
This stock has baffled a lot of Technical Analysts so we are using another tool (which we also use as one our TRT Screeners) the Holy Grail developed by a certain Prasad to help us monitor its price movements. Everytime we see a Buy or Sell generated, we share it to our readers in BooKAKA (www.bookaka.com). We are also sharing it to you now.
After these explanations, let us proceed to our Technical analysis.
TA – TRT Way – Straight from the Chart
POSITIVE
1.   Bounce from P9.00. We consider P9.00 as a critical support before hitting P8.63 (38.2% Fibo). You will notice that this area had been tested 6 times and is now proven as a very strong support.
NEGATIVE
1.   Trendline Break. The stock has broken its uptrendline and had exhibited structural technical weaknesses ever since.
2.   Price action below 15 EMA & 20 SMA – Bearish – Short Term. The stock's recent price action below 15 EMA & 20 SMA shows that it is Bearish on the Short Term.
3.   Recent price action below 50 SMA – Bearish – Medium Term. The stock's recent price action below 50 SMA shows that it is Bearish on the Medium Term.
4.   Recent price action below 200 SMA – Bearish – Long Term. The stock's recent price action below 200 SMA shows that it is Bearish on the Long Term and has now entered Bear Territory.
THE HOLY GRAIL AS CONTRARIAN ON THIS STOCK.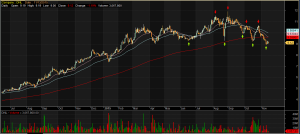 As I previously stated, we use the Holy Grail to further validate our observations.  The Holy Grail seems to be a Contrarian on this stock.   Almost all Charts of DNL we have seen so far are Bearish on this stock. However, as can be seen from this Chart, the Holy Grail issued a Buy Signal last November 12 pointing to the candlestick of November 10, 2015.  So far, the Holy had been able to generate good swing trade set-ups.  It is interesting to observe whether it will succeed in doing so again this time.
NOTES:
1.   Positive points are things that could work in your favor. Negative points are things that you have to watch out for.
2.   On the opposite side of Pattern Targets are Pattern Failures. In case you decide to take this trade, always remember to set a stop loss based on your established risk tolerance level.
3.   September is a very significant month for us. It was at the same time this year that we introduced Responsible Trading to mainstream social media.  Starting September 1, 2015, since you are already familiar with our caption "TA – The Responsible Trader's Way – No Hyping, No Bashing, Just Plain Cold Facts" we are changing this to TA – TRT Way – Straight from the Chart.
4.  Before using our TRT Screeners (One of them is the Holy Grail) please visit my Profile in BooKAKA and read TRT SCREENERS – 5 GUIDELINES.
The Chart and Analysis is presented for educational purposes only and should NEVER BE TAKEN as a RECOMMENDATION to BUY, HOLD, or SELL.
Please trade with CAUTION, please trade with CARE. As always, IT'S YOUR TAKE, IT'S YOUR CALL. IT'S YOUR MONEY AFTER ALL.
Good luck on all your trades.