STOCK CHARTS AND ANALYSIS –HOUSE
STOCK CHARTS AND ANALYSIS –HOUSE
In accordance with our Independence Day commitment, following is our Technical Analysis of  HOUSE (8990 HOLDINGS, INC.  ) as of January 22, 2016.
This is the THIRD of our   THREE for FREE for this week. (FNI – Non-Index Stock,   BLOOM – Index Stock and this one Non-Index stock) This is also the EIGHT of  OUR NINE IN THE EYES OF MINE (Five has been posted in our BooKAKA Premium Sentiment: DAVIN, SECB, 2GO, DMC and EEI) .
TA – TRT Way – Straight from the Chart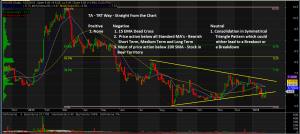 POSITIVE
1.  None.  Based on Technicals, we do not see anything positive going for this stock at this point in time
NEGATIVE
1.  The 15 EMA has made a Dead Cross and remains below all our Standard MA's giving a Sell Signal since first week of November last year.
2.  Price action below 15 EMA & 20 SMA, 50 SMA and 200 SMA shows that stock is Bearish Short Term, Medium Term and Long Term.
3.  Most of the stock's price action have been below the 200 SMA indicating that stock remains in Bear Territory.
NEUTRAL
1.  Consolidation in Symmetrical Triangle Pattern. Stock has been consolidating in a Symmetrical Triangle Pattern. This is a Neutral Pattern which could either lead to a Breakout or a Breakdown.
NOTES:
1.  Responsible Trading is evidence-based trading so we are always looking for evidence that proves the existence of a LOW RISK, HIGH PROBABILITY TRADE. When we say POSITIVE this means positive evidence which supports the trade idea. NEGATIVE means otherwise.  This may look different from the way other Technical Analysts make their presentation but we find it more appropriate so our readers can decide on their own and take full responsibility for their trading results.
2.  On the opposite side of Pattern Targets are Pattern Failures. In case you decide to take this trade, always remember to set a stop loss based on your established risk tolerance level.
3. September is a very significant month for us. It was at the same time this year that we introduced Responsible Trading to mainstream social media.  Starting September 1, 2015, since you are already familiar with our caption "TA – The Responsible Trader's Way – No Hyping, No Bashing, Just Plain Cold Facts" we are changing this to TA – TRT Way – Straight from the Chart.
The Chart and Analysis is presented for educational purposes only and should NEVER BE TAKEN as a RECOMMENDATION to BUY, HOLD, or SELL.
Please trade with CAUTION, please trade with CARE. As always, IT'S YOUR TAKE, IT'S YOUR CALL. IT'S YOUR MONEY AFTER ALL.
Good luck on all your trades.