THE RESPONSIBLE TRADER – A THINKING PERSON'S GUIDE FOR TRADING THE PHILIPPINE STOCK MARKET-BOOK LAUNCHING
As committed, we are launching our book: The Responsible Trader – a Thinking Person's Guide for Trading the Philippine Stock Market today, January 20, 2016.
,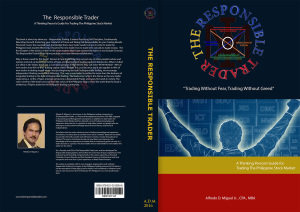 Although this is a momentous occasion and a milestone for us, we symphatize with our fellow traders/investors who are have been caught unawares and adversely affected  by the sudden turn of events in the world economy. For this reason and in keeping with the times,  we have decided to launch this book low-key, low-profile  through our Facebook page and our website.
At 9:19 A.M. today, you are  cordially invited to visit:
Facebook Page:
https://www.facebook.com/Alfredo-D-Miguel-Jr-744531325641408/
Why is there a need for  this book?  Almost all new traders starting out just rely on other people's advice and opinion and end up becoming victims of hype and burning their trading capital in the process. When I visited our office in the States, there was a cruel joke going on in Wall Street. They call it "The 90-90-90 Rule" – 90% of new traders lose 90% of their trading capital within 90 days. It is cruel but true and it also applies to 90% of new traders including myself when I was just beginning to trade. In Responsible Trading, we encourage independent thinking never blind following.  This  way a new trader is enabled to move from the darkness of misguided trading to the light of Responsible Trading.
The book cover reflects this theme as the new trader stops being a  victim of hype, emerges to become a Responsible Trader and raises his hands in victory. The color scheme of the book cover are from the colors of the Philippine Flag to show the world that the book is written by a Filipino trader for the Philippine trading community.
Responsible Trading is my legacy to the Philippine Trading community. This book is my documentation of that legacy and I hope it will contribute in whatever small way to raise the present level of trading in the Philippines to a more professional level.
Actually, my publisher wanted to postpone this event to a better time so as not to jeopardize his financial position. Since I have already committed to this date and the Special Price of P999.00 per copy based on an initial run of 500 Copies, we agreed to push thru but will only print copies once we reach our quota of 500.
Those who have received email confirmations as being part of our First Priority List are therefore enjoined to visit our Facebook Page indicated above to formalize their reservations.  Those interested to buy the book at the Special Price of P999.00 are also enjoined to do the same to place their orders. We will keep all orders in our database and start computing the corresponding shipping/delivery charges.  Once we reach our quota of 500, we will send you emails with complete payment instructions.
Thank you for your continued support and we look forward to fill all your orders soon.