Top Ten Smart Money Moves – Apr. 18, 2016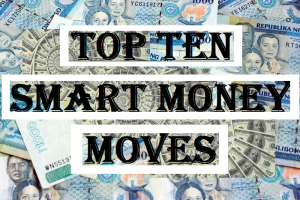 Top Ten Smart Money
Moves, starting January 2015, is the official trading
newsletter of The Responsible Trader
to promote
his advocacy, Responsible Trading
. This newsletter contains the previous day's data from PSE, the Top Ten Foreign Buying
and Selling, Top Ten in Total Traded
Value, including Trading
Notes based on the data of the previous day. This newsletter is given free to all the friends of The Responsible Trader
and to members of the Facebook group and the other organizations where he is a member. For the previous issue where complete details about the newsletter was fully discussed, please refer to: Daily Top Tens October 17, 2014.
Trading Notes for Today –  (Based on Apr. 18, 2016  Data)
Total Traded Value –  PhP 5.314  Billion –  Low
Market Breadth and Sentiment indicated by Advances Declines Ratio – (Ideal is 2:1 to be considered Bullish or Bearish)  126 Declines vs.52 Advances = 2.42:1  Bearish
Total Foreign Buying – PhP 2.884  Billion
Total Foreign Selling – (Php 2.697) Billion
Net Foreign Buying (Selling) – Php 0.186  Billion – 1st day of Net Foreign Buying  after 4 days  of Net Foreign Selling
Data from the Philippine Stock Exchange
'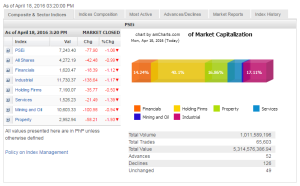 Screenshot courtesy of: www.pse.com.ph
PSE Heat Map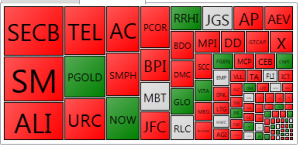 Screenshot courtesy of: PSEGET Software
Top Ten Foreign Buying
and Selling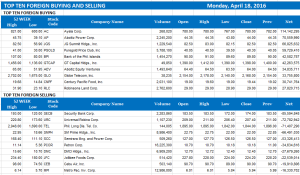 Top Ten in Total Traded
Value
From now on, I will just quote the related article from Business World so that we will have everything in one piece:
==================================================
Posted on April 18, 2016 06:44:00 PM
By Krista A. M. Montealegre, Senior Reporter
Stocks slump as Doha oil supply freeze talks fail
LOCAL STOCKS tumbled at the start of the week, tracking the weakness in regional markets, as crude oil plunged after major producers failed to reach a deal to cut production amid a global supply glut.
The bellwether Philippine Stock Exchange index (PSEi) lost 77.90 points or 1.06% to close at 7,243.40 — near the session's low — that extended the main gauge's slump to a second straight session.
The all-shares index shed 42.48 points or 0.98% to end at 4,272.19.
"Share prices tanked, extending Friday's losses, as mood was dampened by a stalemate in Doha summit among the world's oil producers. Oil prices dropped below $40 per barrel," Justino B. Calaycay, Jr., head of marketing and research at A&A Securities, Inc., said in a client note yesterday.
"Last week, investors were positioning for a production freeze at January levels so when talks in Doha broke down, oil plunged and equities followed. We are back to the situation in January and mid-February when we tracked the ups and downs of oil," Victor F. Felix, equity analyst at AB Capital Securities, Inc., said in a phone interview.
Asian markets faltered on Monday after talks between 18 oil-exporting nations over the weekend in Doha collapsed when Saudi Arabia demanded that Iran also agree to trim its oil output. The development will revive oil industry fears that major producers are embarking again on a battle for market share, especially after Riyadh threatened to raise output steeply if no freeze deal were reached. Brent crude oil was down 4% to $41.33 a barrel.
The slower growth in corporate earnings for the entire 2015 also contributed to the sell-off.
"PSEi core earnings grew only by 5% year on year versus 10% growth in the same period last year," Joylin F. Telagen, equity analyst at IB Gimenez Securities, said in a mobile phone message.
Property plunged 58.21 points or 1.93% to 2,952.94, leading all counters in negative territory.
Likewise, services fell 21.49 points or 1.38% to 1,526.23; industrial dropped 138.64 points or 1.16% to 11,730.37; financials slid 18.39 points or 1.12% to 1,620.47; mining and oil went down 100.98 points or 0.94% to 10,603.33; and holding firms slipped 35.77 points or 0.49% to 7,190.07.
Value turnover thinned to P5.31 billion after 1.01 billion shares changed hands, from P6.18 billion recorded last Friday.
Decliners dominated advancers, 126 to 52, while 49 issues were unchanged.
Foreign investors ended a four-day sell-off, with net purchases of P186.46 million logged yesterday — a reversal of the net sales amounting to P378.10 million in the prior session.
"I expect the index to trade lower around 7,200 within the next two weeks before the Federal Reserve meeting on April 26-27. If it breaks, I am looking at 7,000," IB Gimenez Securities' Ms. Telagen said. — with Reuters
Source: http://www.bworldonline.com/content.php?section=StockMarket&title=stocks-slump-as-doha-oil-supply-freeze-talks-fail&id=126151
==================================================
Good
luck on all your TRADES
today
.
DISCLAIMER There is a very high degree of risk involved in TRADING
. Past results
are not indicative of future returns
. Nothing contained in this newsletter constitutes a solicitation, recommendation, PROMOTION
or endorsement of any security. In accordance with the Responsible TRADER
's Creed: I will never tell and you take full
responsibility for all your TRADING
results
NOTES:
Please take note of the following changes effective August 6, 2015:
1. Caption Market Breadth has been changed to Total Traded Value to simplify the presentation.
2. Market Breadth is expressed in terms of Number of Advances and Declines. Expressing this as a Ratio by using the larger number as Numerator we derive the Market Sentiment whether Bullish or Bearish.
3. Based on Past three-year data of Average Total Traded Values, following classifications will be used to make the presentation more relevant to present times. a. Low – Total Traded Value less than P8 Billion b. Medium – Total Traded Value P8 Billion but not more than P15 Billion c. High – Total Traded Value more than P15 Billion