Top Ten Smart Money Moves – Feb. 16, 2016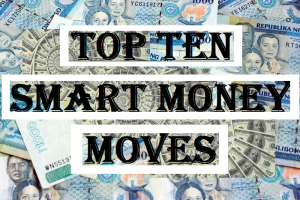 Top Ten Smart Money
Moves, starting January 2015, is the official trading
newsletter of The Responsible Trader
to promote
his advocacy, Responsible Trading
. This newsletter contains the previous day's data from PSE, the Top Ten Foreign Buying
and Selling, Top Ten in Total Traded
Value, including Trading
Notes based on the data of the previous day. This newsletter is given free to all the friends of The Responsible Trader
and to members of the Facebook group and the other organizations where he is a member. For the previous issue where complete details about the newsletter was fully discussed, please refer to: Daily Top Tens October 17, 2014.
Trading Notes for Today –  (Based on Feb.16, 2016  Data)
Total Traded Value –  PhP 6.793 Billion –  Low
Market Breadth and Sentiment indicated by Advances Declines Ratio – (Ideal is 2:1 to be considered Bullish or Bearish) 93 Advances vs. 88 Declines = 1.06:1  Neutral
Total Foreign Buying – PhP 2.955 Billion
Total Foreign Selling – (Php 3.110) Billion
Net Foreign Buying (Selling) – (Php 0.155)  Billion – 1st day of Net Foreign Selling after a day of Net Foreign Buying
Data from the Philippine Stock Exchange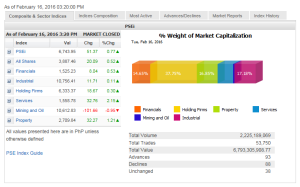 Screenshot courtesy of: www.pse.com.ph
PSE Heat Map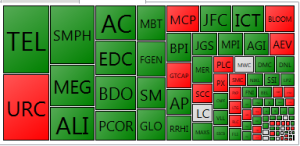 Screenshot courtesy of: PSEGET Software
Top Ten Foreign Buying
and Selling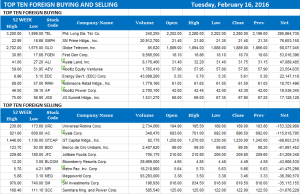 Top Ten in Total Traded
Value

From now on, I will just quote the related article from Business World so that we will have everything in one piece:
==================================================
Posted on February 16, 2016 07:41:00 PM
By Krista A. M. Montealegre, Senior Reporter
Stocks rise as markets hope for monetary boost
STOCKS stretched their gains to a second straight session, pushing the bellwether index beyond the 6,700 mark, anchored on growing bets of easy monetary policy across major central banks and a jump in oil prices.
The benchmark Philippine Stock Exchange index (PSEi) advanced 51.37 points or 0.76% to close at 6,743.95.
The all shares index rose 20.09 points or 0.51% to end at 3,887.46.
"Euro Stoxx closed up almost 3% and the euro fell after ECB (European Central Bank) President Mario Draghi bolstered the market with more rhetoric over looser monetary policy at their next meeting on March 10th," Luis A. Limlingan, business development head at Regina Capital Development Corp., said in a mobile phone message.
With US markets closed for the Presidents' Day holiday, Asian markets took their cue from the overnight surge in European shares to extend a global stock market rally to a second session.
Chinese shares led the gains in Asia after data showed new credit reached an all-time high of 3.42 trillion yuan last month, raising expectations that state-run banks will boost lending to spur the world's second-largest economy.
"China being one of the biggest economies, we always follow them. I do think the positive performance of Chinese shares will spill over not only to us but other regional markets as well," Alexander Adrian O. Tiu, senior equity analyst at AB Capital Securities, Inc., said in a telephone interview.
Expectations of more stimulus across global central banks and an increase in oil prices to above $30 a barrel ahead of the meeting among Saudi Arabia, Russia, Qatar and Venezuela lifted local equities, Mr. Tiu added.
Most of the counters finished in the green. Services led the charge, climbing 32.76 points or 2.14% to 1,558.78. Likewise, property jumped 32.27 points or 1.2% to 2,709.84; financials added 8.04 points or 0.53% to 1,525.53; holding firms gained 18.67 points or 0.29% to 6,333.37; and industrial went up 11.71 points or 0.10% to 10,756.41.
Mining and oil was the only counter in negative territory, down 101.66 points or 0.94% to 10,612.83.
Value turnover improved to P6.79 billion after 2.23 billion shares changed hands, from Monday's P6.05 billion.
Advancers edged out decliners, 93 to 88, while 38 issues were unchanged. International investors moved to the selling side, with net sales of P154.83 million — a reversal of the net purchases of P140.81 million in the previous session.
Local equities may be ripe for profit-taking after a string of gains that sent the PSEi past the resistance level at 6,700, analysts said.
"As far as earnings are concerned, we haven't seen the bigger picture yet. In general, investors are positioning for dividends," AB Capital's Mr. Tiu said.
Source: http://www.bworldonline.com/content.php?section=StockMarket&title=stocks-rise-as-markets-hope-for-monetary-boost&id=123160
==================================================
Good
luck on all your TRADES
today
.
DISCLAIMER There is a very high degree of risk involved in TRADING
. Past results
are not indicative of future returns
. Nothing contained in this newsletter constitutes a solicitation, recommendation, PROMOTION
or endorsement of any security. In accordance with the Responsible TRADER
's Creed: I will never tell and you take full
responsibility for all your TRADING
results
NOTES:
Please take note of the following changes effective August 6, 2015:
1. Caption Market Breadth has been changed to Total Traded Value to simplify the presentation.
2. Market Breadth is expressed in terms of Number of Advances and Declines. Expressing this as a Ratio by using the larger number as Numerator we derive the Market Sentiment whether Bullish or Bearish.
3. Based on Past three-year data of Average Total Traded Values, following classifications will be used to make the presentation more relevant to present times. a. Low – Total Traded Value less than P8 Billion b. Medium – Total Traded Value P8 Billion but not more than P15 Billion c. High – Total Traded Value more than P15 Billion