Top Ten Smart Money Moves – Jan. 21, 2016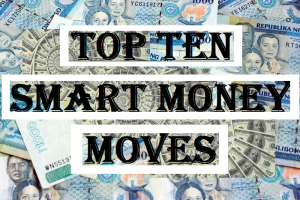 Top Ten Smart Money
Moves, starting January 2015, is the official trading
newsletter of The Responsible Trader
to promote
his advocacy, Responsible Trading
. This newsletter contains the previous day's data from PSE, the Top Ten Foreign Buying
and Selling, Top Ten in Total Traded
Value, including Trading
Notes based on the data of the previous day. This newsletter is given free to all the friends of The Responsible Trader
and to members of the Facebook group and the other organizations where he is a member. For the previous issue where complete details about the newsletter was fully discussed, please refer to: Daily Top Tens October 17, 2014.
Trading Notes for Today –  (Based on Jan. 21, 2016  Data)
Total Traded Value –  PhP 7.400 Billion –  Low
Market Breadth and Sentiment indicated by Advances Declines Ratio – (Ideal is 2:1 to be considered Bullish or Bearish) 136 Declines vs. 34 Advances   = 4.0:1  Bearish
Total Foreign Buying – PhP 3.397 Billion
Total Foreign Selling – (Php 4.360) Billion
Net Foreign Buying (Selling) – (Php 0.963)  Billion – 4th day of Net Foreign Selling after a day of Net Foreign Buying
Data from the Philippine Stock Exchange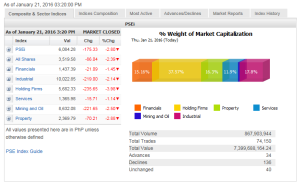 Screenshot courtesy of: www.pse.com.ph
PSE Heat Map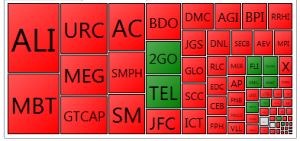 Screenshot courtesy of: PSEGET Software
Top Ten Foreign Buying
and Selling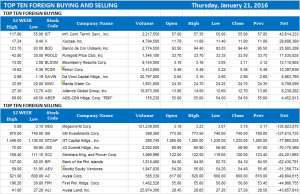 Top Ten in Total Traded
Value

From now on, I will just quote the related article from Business World so that we will have everything in one piece:
==================================================
Posted on January 21, 2016 07:51:00 PM
By Krista A. M. Montealegre, Senior Reporter
Lack of good news drags bourse deeper into red
LOCAL EQUITIES plunged to a fresh near two-year low yesterday, as investors succumbed further to selling pressure triggered by persistent concerns about the global economy.
The 30-company Philippine Stock Exchange index (PSEi) sank 175.33 points or 2.80% to end at the session's low of 6,084.28 — the lowest since Feb. 10, 2014 when it closed at 6,042.25 — while the all-shares index retreated by 86.04 points or 2.38% to finish 3,519.58.
"The poor performance of the Dow Jones Industrial Average and absence of positive market leads continue to pressure investors to dump their shares. Negative news and views about China, oil prices and global growth are still the main culprit for the jitters," Astro C. del Castillo, managing director at First Grade Finance, Inc., said in a mobile phone message, while Justino B. Calaycay, Jr., analyst at Philstocks Financial, Inc., said in a research note: "Thoughts revolve around the health of the global economy, central banks' reaction and eventual action, geopolitical tensions, challenges to political leadership, terrorism and commodity prices — none of which are providing a positive spin."
NAGGING CONCERNS
US stocks capped an early slide, but still ended at levels last seen in 2014, as investor sentiment continues to be hurt by collapsing oil prices and fears of a slowdown in China — the same concerns that caused wild gyrations across global markets this year.
WAITING AT THE SIDELINES
"As the market approaches, the 6,000 mark and as talks abound of a higher probability of further drops, investors are quite expectedly moving to or staying at the sidelines," Mr. Calaycay said.
All six sectoral indices sank deep in the negative territory, with holding firms sustaining the biggest losses at 235.65 points or 3.98% to end 5,682.33.
Similarly, property dropped 70.21 points or 2.87% to close 2,369.79; mining and oil slumped 221.65 points or 2.5% to 8,632.08; industrial lost 219.0 points or 2.13% to 10,022.85; financials shed 21.09 points or 1.44% to 1,437.39; and services slid 15.71 points or 1.13% to finish 1,365.98.
Value turnover picked up to P7.4 billion after 867.90 million shares changed hands, from Wednesday's P5.33 billion.
Four stocks retreated for every issue that advanced, while 40 issues were flat.
Foreign selling grew nearly eightfold to P962.36 million from P125.30 million the prior session.
The PSEi is poised to test key support at the 6,000 mark, with the local market "expected to remain in dire straits," First Grade Finance's Mr. del Castillo said.
"Prudence dictates we keep to the sidelines until the dust settles," Philstocks' Mr. Calaycay said.
"We may miss some opportunities of a rebound, but taking stock of the risks is our top priority at this time."
Source: http://www.bworldonline.com/content.php?section=StockMarket&title=lack-of-good-news-drags-bourse-deeper-into-red&id=121873
==================================================
Good
luck on all your TRADES
today
.
DISCLAIMER There is a very high degree of risk involved in TRADING
. Past results
are not indicative of future returns
. Nothing contained in this newsletter constitutes a solicitation, recommendation, PROMOTION
or endorsement of any security. In accordance with the Responsible TRADER
's Creed: I will never tell and you take full
responsibility for all your TRADING
results
NOTES:
Please take note of the following changes effective August 6, 2015:
1. Caption Market Breadth has been changed to Total Traded Value to simplify the presentation.
2. Market Breadth is expressed in terms of Number of Advances and Declines. Expressing this as a Ratio by using the larger number as Numerator we derive the Market Sentiment whether Bullish or Bearish.
3. Based on Past three-year data of Average Total Traded Values, following classifications will be used to make the presentation more relevant to present times. a. Low – Total Traded Value less than P8 Billion b. Medium – Total Traded Value P8 Billion but not more than P15 Billion c. High – Total Traded Value more than P15 Billion