Top Ten Smart Money Moves – Jan. 22, 2016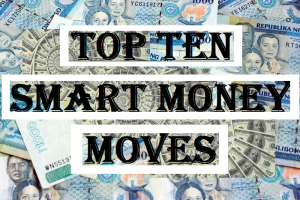 Top Ten Smart Money
Moves, starting January 2015, is the official trading
newsletter of The Responsible Trader
to promote
his advocacy, Responsible Trading
. This newsletter contains the previous day's data from PSE, the Top Ten Foreign Buying
and Selling, Top Ten in Total Traded
Value, including Trading
Notes based on the data of the previous day. This newsletter is given free to all the friends of The Responsible Trader
and to members of the Facebook group and the other organizations where he is a member. For the previous issue where complete details about the newsletter was fully discussed, please refer to: Daily Top Tens October 17, 2014.
Trading Notes for Today –  (Based on Jan. 22, 2016  Data)
Total Traded Value –  PhP 6.167 Billion –  Low
Market Breadth and Sentiment indicated by Advances Declines Ratio – (Ideal is 2:1 to be considered Bullish or Bearish) 104 Advances vs. 60 Declines   = 1.73:1  Neutral
Total Foreign Buying – PhP 3.070 Billion
Total Foreign Selling – (Php 3.732) Billion
Net Foreign Buying (Selling) – (Php 0.662)  Billion – 5th day of Net Foreign Selling after a day of Net Foreign Buying
Data from the Philippine Stock Exchange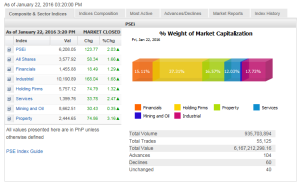 Screenshot courtesy of: www.pse.com.ph
PSE Heat Map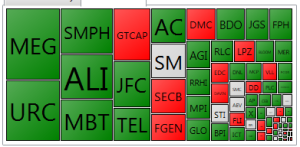 Screenshot courtesy of: PSEGET Software
Top Ten Foreign Buying
and Selling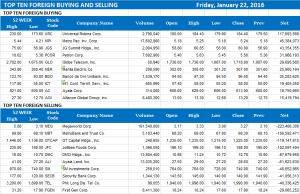 Top Ten in Total Traded
Value

From now on, I will just quote the related article from Business World so that we will have everything in one piece:
==================================================
Posted on January 24, 2016 07:31:00 PM
By Krista A.M. Montealegre, Senior Reporter
GDP data in focus as investors look for catalysts
ANXIOUS INVESTORS hungry for positive catalysts are pinning their hopes on a favorable Philippine economic growth print and signs of a slowdown in interest rate hikes in the United States to dispel the pall of gloom that has descended on the local market this year.
The global sell-off has dragged the bellwether Philippine Stock Exchange index (PSEi) to "bear" territory and its lowest level in two years, as investors continued to dump risky assets amid growth concerns led by China and a relentless slump in crude oil prices.
The 30-company PSEi sank 3.74% for the week to close at 6,208.05 on Friday, extending its drop for the third week in a row.
"At this point, the bearish propositions still fill investors with fear and apprehension. Reasons to stay off the market with a sensitive finger poised at the 'sell' button remain the norm," Justino B. Calaycay, equity analyst at Philstocks Financial, Inc., said in a research note.
As the selling pressure remains for Philippine equities, it will be crucial for the benchmark index to stay above the key support line of 6,000, a breach of which can pull down the local barometer to the 5,400 to 5,900 levels, said Luis A. Limlingan, business development head at Regina Capital Development Corp.
"Provided 6,000 holds, we expect rallies from the index this week as oversold readings from two weeks ago has already started to lighten. However, these rallies are temporary due to highly bearish technicals — no significant reversal signals were spotted so recovery could only extend to 6,300, with a max recovery of 6,585 (or the 20-day moving average)," Mr. Limlingan said.
This week, all eyes will be on the release of the Philippine gross domestic product (GDP) data and the policy meetings of the US Federal Reserve and the Bank of Japan, analysts said, and investors are hoping these events will give them something to cheer about.
"With the country still considered as one of the fastest-growing economies in the region, better-than-expected results could douse off part of the pessimism, but there are no clear signals in place yet to cap the global volatility overhang," online brokerage 2TradeAsia.com said in a research note.
Investors will also carefully watch the Fed for hints of slowing the path of interest rate hikes amid the turbulence in markets worldwide. The US central bank started raising borrow costs from historic lows last month — the first rate increase in nearly a decade.
"The key point of interest will be on the timing of the next interest rate hike. Any consideration to delay might be lauded and could encourage slight bargain hunting," 2TradeAsia.com said.
An advance reading of fourth-quarter US GDP will likewise be out this week, with estimates geared towards a 0.8% growth, according to a Reuters report.
Source: http://www.bworldonline.com/content.php?section=StockMarket&title=gdp-data-in-focus-as-investors-look-for-catalysts&id=121981
==================================================
Good
luck on all your TRADES
today
.
DISCLAIMER There is a very high degree of risk involved in TRADING
. Past results
are not indicative of future returns
. Nothing contained in this newsletter constitutes a solicitation, recommendation, PROMOTION
or endorsement of any security. In accordance with the Responsible TRADER
's Creed: I will never tell and you take full
responsibility for all your TRADING
results
NOTES:
Please take note of the following changes effective August 6, 2015:
1. Caption Market Breadth has been changed to Total Traded Value to simplify the presentation.
2. Market Breadth is expressed in terms of Number of Advances and Declines. Expressing this as a Ratio by using the larger number as Numerator we derive the Market Sentiment whether Bullish or Bearish.
3. Based on Past three-year data of Average Total Traded Values, following classifications will be used to make the presentation more relevant to present times. a. Low – Total Traded Value less than P8 Billion b. Medium – Total Traded Value P8 Billion but not more than P15 Billion c. High – Total Traded Value more than P15 Billion