Top Ten Smart Money Moves – Jan. 25, 2016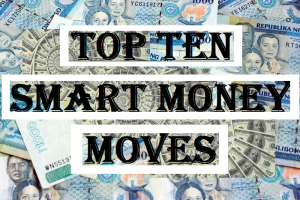 Top Ten Smart Money
Moves, starting January 2015, is the official trading
newsletter of The Responsible Trader
to promote
his advocacy, Responsible Trading
. This newsletter contains the previous day's data from PSE, the Top Ten Foreign Buying
and Selling, Top Ten in Total Traded
Value, including Trading
Notes based on the data of the previous day. This newsletter is given free to all the friends of The Responsible Trader
and to members of the Facebook group and the other organizations where he is a member. For the previous issue where complete details about the newsletter was fully discussed, please refer to: Daily Top Tens October 17, 2014.
Trading Notes for Today –  (Based on Jan. 25, 2016  Data)
Total Traded Value –  PhP 6.676 Billion –  Low
Market Breadth and Sentiment indicated by Advances Declines Ratio – (Ideal is 2:1 to be considered Bullish or Bearish) 131 Advances vs. 46 Declines   = 2.85:1  Bullish
Total Foreign Buying – PhP 3.546 Billion
Total Foreign Selling – (Php 3.544) Billion
Net Foreign Buying (Selling) – Php 0.002  Billion – 1st day of Net Foreign Buying after 5 days of Net Foreign Selling
Data from the Philippine Stock Exchange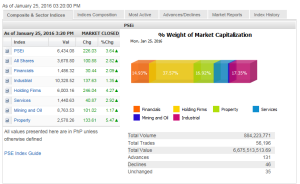 Screenshot courtesy of: www.pse.com.ph
PSE Heat Map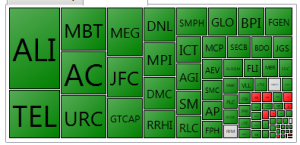 Screenshot courtesy of: PSEGET Software
Top Ten Foreign Buying
and Selling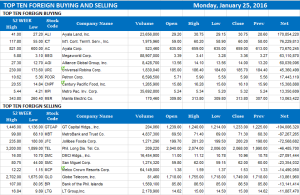 Top Ten in Total Traded
Value
From now on, I will just quote the related article from Business World so that we will have everything in one piece:
==================================================
Posted on January 25, 2016 08:01:00 PM
By Krista A. M. Montealegre, Senior Reporter
Shares surge on stimulus bets, Wall Street rally
STOCKS extended their rebound from a global sell-off yesterday, scoring their biggest daily gain in two-and-a-half years, as investors cheered the rally in Wall Street and the prospect of more stimulus from central banks.
The bellwether Philippine Stock Exchange index surged 226.03 points or 3.64% to close at 6,434.08, clocking in its best performance since June 26, 2013 when it jumped 329.88 points or 5.7%.
The all-shares index shot up 100.88 points or 2.82% to settle at 3,678.80.
"What really drove the market was that US stocks logged their first winning week of the year last Friday as Wall Street leapt 2% on the back of a withering short-squeeze, weather-driven spike in the price of oil," Luis A. Limlingan, business development head at Regina Capital Development Corp., said via text.
Last week, the Dow Jones Industrial Average rallied 0.7%, the Standard & Poor's 500 rose 1.4% and the Nasdaq Composite index advanced 2.3%% — notching their first week of gains for the year — as oil prices clawed their way back above $32 a barrel.
"Investor optimism was driven by increased monetary stimulus to the market. Possibly, the Federal Reserve [may] also hold off in raising interest rates this week, which is also market positive," Joylin F. Telagen, equity research analyst at IB Gimenez Securities, Inc., said in a separate message. The Fed will hold a two-day policy meeting this week and bets are growing that it may slow the pace of interest rate hikes amid the volatility that has gripped markets worldwide.
Asian stocks also continued to recover from a global rout that has battered equities at the start of the year. The rebound was triggered by hopes of more monetary support from the European Central Bank and Bank of Japan.
All counters climbed at least 1% yesterday. Property led the charge, rising 133.61 points or 5.46% to 2,578.26.
Likewise, holding firms advanced 246.04 points or 4.27% to 6,003.16; services went up 40.87 points or 2.92% to 1,440.63; financials gained 30.44 points or 2.09% to 1,486.32; industrial increased 137.63 points or 1.35% to 10,328.52; and mining and oil added 101.02 points or 1.16% to 8,763.53.
Value turnover improved to P6.68 billion after 884.22 million shares changed hands, from Friday's P6.17 billion.
Advancers dominated decliners, 131 to 46, while 35 issues were unchanged.
Net foreign buying was logged at P1.47 million, a reversal of the P661.89 million in outflows seen the previous session.
"(Yesterday's) action seems to be in line with a technical bounce with key resistance seen between 6,500 and 6,600 — a break above said ranges encourages further upticks towards the 6,800 level," BDO Unibank, Inc. Chief Market Strategist Jonathan L. Ravelas said in a mobile phone message.
Source: http://www.bworldonline.com/content.php?section=StockMarket&title=shares-surge-on-stimulus-bets-wall-street-rally&id=122041
==================================================
Good
luck on all your TRADES
today
.
DISCLAIMER There is a very high degree of risk involved in TRADING
. Past results
are not indicative of future returns
. Nothing contained in this newsletter constitutes a solicitation, recommendation, PROMOTION
or endorsement of any security. In accordance with the Responsible TRADER
's Creed: I will never tell and you take full
responsibility for all your TRADING
results
NOTES:
Please take note of the following changes effective August 6, 2015:
1. Caption Market Breadth has been changed to Total Traded Value to simplify the presentation.
2. Market Breadth is expressed in terms of Number of Advances and Declines. Expressing this as a Ratio by using the larger number as Numerator we derive the Market Sentiment whether Bullish or Bearish.
3. Based on Past three-year data of Average Total Traded Values, following classifications will be used to make the presentation more relevant to present times. a. Low – Total Traded Value less than P8 Billion b. Medium – Total Traded Value P8 Billion but not more than P15 Billion c. High – Total Traded Value more than P15 Billion