Top Ten Smart Money Moves – Jan. 26, 2016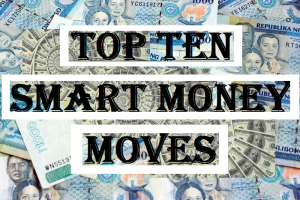 Top Ten Smart Money
Moves, starting January 2015, is the official trading
newsletter of The Responsible Trader
to promote
his advocacy, Responsible Trading
. This newsletter contains the previous day's data from PSE, the Top Ten Foreign Buying
and Selling, Top Ten in Total Traded
Value, including Trading
Notes based on the data of the previous day. This newsletter is given free to all the friends of The Responsible Trader
and to members of the Facebook group and the other organizations where he is a member. For the previous issue where complete details about the newsletter was fully discussed, please refer to: Daily Top Tens October 17, 2014.
Trading Notes for Today –  (Based on Jan. 26, 2016  Data)
Total Traded Value –  PhP 5.839 Billion –  Low
Market Breadth and Sentiment indicated by Advances Declines Ratio – (Ideal is 2:1 to be considered Bullish or Bearish) 110 Declines vs. 34 Advances   = 3.24:1  Bearish
Total Foreign Buying – PhP 3.557 Billion
Total Foreign Selling – (Php 3.355) Billion
Net Foreign Buying (Selling) – Php 0.202  Billion – 2nd day of Net Foreign Buying after 5 days of Net Foreign Selling
Foreign Selling
Data from the Philippine Stock Exchange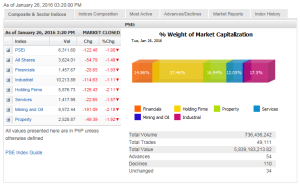 Screenshot courtesy of: www.pse.com.ph
PSE Heat Map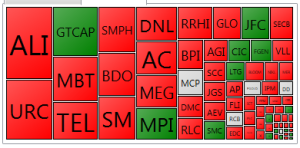 Screenshot courtesy of: PSEGET Software
Top Ten Foreign Buying
and Selling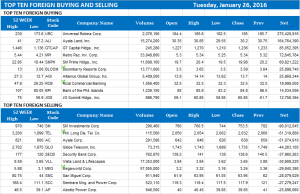 Top Ten in Total Traded
Value

From now on, I will just quote the related article from Business World so that we will have everything in one piece:
==================================================
Posted on January 26, 2016 07:41:00 PM
By Krista A. M. Montealegre, Senior Reporter
Stocks retreat as oil price slump triggers sell-off
STOCKS ended a two-day rally yesterday, joining a global retreat led by a rout in Chinese shares, as oil prices resumed their slump, reviving concerns on global growth.
The bellwether Philippine Stock Exchange index gave up 122.48 points or 1.90% to settle at 6,311.60 at the closing bell yesterday.
The all-shares index dropped 54.79 points or 1.48% to settle at 3,624.01.
"The usual suspects — China and the slide in oil prices — triggered the sell-off. Sentiment remains negative amid the volatility," Astro C. del Castillo, managing director at First Grade Finance, Inc., said in a telephone interview.
The Shanghai Composite index and CSI 300 index of the largest listed companies in Shanghai and Shenzhen sank more than 6% on Tuesday after oil prices fell below $30 a barrel again, ending a temporary rebound, on lingering concerns of oversupply.
Plunging oil prices had investors worrying over slowing growth in the global economy, particularly China, prompting investors to dump equities.
"What's happening in the market is a combination of panic and lack of confidence. The outlook moving forward is negative on the macro side so in effect, investors are liquidating their positions in the equities market and just staying on the sidelines," Lexter L. Azurin, head of research at Unicapital Securities, Inc., said in a phone interview.
All counters lost at least 1%, led by mining and oil, which gave up 191.09 points or 2.18% to end at 8,572.44.
Likewise, holding firms fell 126.43 points or 2.10% to 5,876.73; financials tumbled 28.65 points or 1.92% to 1,457.67; property declined 49.39 points or 1.91% to 2,528.87; services went down 22.65 points or 1.57% to 1,417.98; and industrial slid 114.63 points or 1.11% to 10,213.89.
Value turnover thinned to P5.84 billion after 736.44 million shares changed hands, from Monday's P6.68 billion.
Losers beat gainers, 110 to 54, while 34 issues closed unchanged.
Still, foreign investors remained in buying territory, with net purchases improving to P201.92 million yesterday from P1.47 million in the previous session.
The bearish sentiment prevailing in the market will likely remain even if Philippine gross domestic product data surprise on the upside, analysts said. The report is scheduled to be released tomorrow.
"There may be some rally, but I don't think it will be sustained. The upside potential is quite limited," Unicapital's Mr. Azurin said.
"What investors should watch out for is if it falls below estimates because the outlook is already slowing and if the data is worse than expected, it will give more reasons for the market to test support levels," he added.
Source: http://www.bworldonline.com/content.php?section=StockMarket&title=stocks-retreat-as-oil-price-slump-triggers-sell-off&id=122108
==================================================
Good
luck on all your TRADES
today
.
DISCLAIMER There is a very high degree of risk involved in TRADING
. Past results
are not indicative of future returns
. Nothing contained in this newsletter constitutes a solicitation, recommendation, PROMOTION
or endorsement of any security. In accordance with the Responsible TRADER
's Creed: I will never tell and you take full
responsibility for all your TRADING
results
NOTES:
Please take note of the following changes effective August 6, 2015:
1. Caption Market Breadth has been changed to Total Traded Value to simplify the presentation.
2. Market Breadth is expressed in terms of Number of Advances and Declines. Expressing this as a Ratio by using the larger number as Numerator we derive the Market Sentiment whether Bullish or Bearish.
3. Based on Past three-year data of Average Total Traded Values, following classifications will be used to make the presentation more relevant to present times. a. Low – Total Traded Value less than P8 Billion b. Medium – Total Traded Value P8 Billion but not more than P15 Billion c. High – Total Traded Value more than P15 Billion