Top Ten Smart Money Moves – Mar. 11, 2016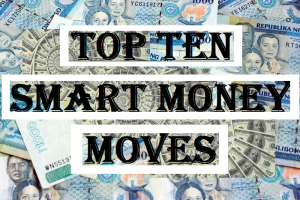 Top Ten Smart Money
Moves, starting January 2015, is the official trading
newsletter of The Responsible Trader
to promote
his advocacy, Responsible Trading
. This newsletter contains the previous day's data from PSE, the Top Ten Foreign Buying
and Selling, Top Ten in Total Traded
Value, including Trading
Notes based on the data of the previous day. This newsletter is given free to all the friends of The Responsible Trader
and to members of the Facebook group and the other organizations where he is a member. For the previous issue where complete details about the newsletter was fully discussed, please refer to: Daily Top Tens October 17, 2014.
Trading Notes for Today –  (Based on Mar. 11, 2016  Data)
Total Traded Value –  PhP9.182 Billion –  Medium
Market Breadth and Sentiment indicated by Advances Declines Ratio – (Ideal is 2:1 to be considered Bullish or Bearish) 113 Advances vs. 61 Declines = 1.85:1  Neutral
Total Foreign Buying – PhP 3.810 Billion
Total Foreign Selling – (Php 3.147) Billion
Net Foreign Buying (Selling) – Php 0.663 Billion – 2nd day of Net Foreign Buying after a day of Net Foreign Selling
Data from the Philippine Stock Exchange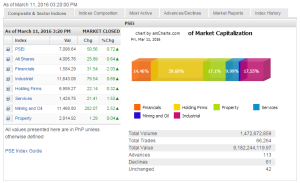 Screenshot courtesy of: www.pse.com.ph
PSE Heat Map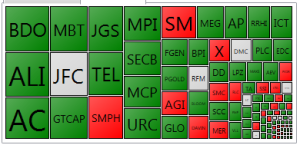 Screenshot courtesy of: PSEGET Software
Top Ten Foreign Buying
and Selling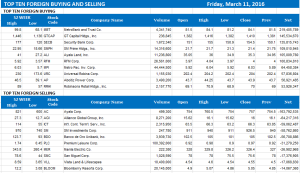 Top Ten in Total Traded
Value
From now on, I will just quote the related article from Business World so that we will have everything in one piece:
==================================================
Posted on March 11, 2016 07:41:00 PM
By Krista Angela M. Montealegre, Senior Reporter
PSEi ends the week at a 4-month high
STOCKS capped the week at a four-month high yesterday, as investors cheered the aggressive stimulus program of the European Central Bank (ECB) and positive domestic corporate earnings results.
The bellwether Philippine Stock Exchange index (PSEi) rose 50.56 points or 0.72% to close at 7,098.64, its highest finish since settling at 7,118.20 on Nov. 6.
The local barometer gained 2.89% for the week.
The all shares index jumped 25.89 points or 0.64% to end at 4,095.76, stretching its weekly gain to 2.74%.
"Some earnings reports are propping up the market. There is a little bit of buying on everything," Miko A. Sayo, trader at Angping & Associates Securities, Inc., said in a telephone interview.
"We're seeing positive momentum throughout the week because of earnings. The ECB (European Central Bank) stimulus was also a major reason," Victor F. Felix, equity analyst at AB Capital Securities, Inc., said in a separate interview.
The ECB on Thursday expanded the scope and size of the central bank's bond purchases and cut three key interest rates, implementing stimulus measures that were greater than what investors had expected.
All counters were in the green led by mining and oil, which rallied 282.07 points or 2.52% to 11,468.80. Financials also posted significant gains, advancing 31.54 points or 2.03% to 1,584.29.
Likewise, services climbed 21.41 points or 1.53% to 1,424.75; industrial went up 79.54 points or 0.69% to 11,643.08; holding firms added 22.14 points or 0.32% to 6,959.27; and property inched up 1.29 points or 0.04% to 2,914.92.
Value turnover accelerated to P9.18 billion after 1.47 billion shares changed hands, from Thursday's P7.42 billion.
Advancers dominated decliners, 113 to 61, while 42 issues were unchanged.
Foreigners remained on the buy side, with net purchases improving to P662.95 million from the P518.78 million seen in the previous session.
Source: http://www.bworldonline.com/content.php?section=StockMarket&title=psei-ends-the-week-at-a-4-month-high&id=124384
==================================================
Good
luck on all your TRADES
today
.
DISCLAIMER There is a very high degree of risk involved in TRADING
. Past results
are not indicative of future returns
. Nothing contained in this newsletter constitutes a solicitation, recommendation, PROMOTION
or endorsement of any security. In accordance with the Responsible TRADER
's Creed: I will never tell and you take full
responsibility for all your TRADING
results
NOTES:
Please take note of the following changes effective August 6, 2015:
1. Caption Market Breadth has been changed to Total Traded Value to simplify the presentation.
2. Market Breadth is expressed in terms of Number of Advances and Declines. Expressing this as a Ratio by using the larger number as Numerator we derive the Market Sentiment whether Bullish or Bearish.
3. Based on Past three-year data of Average Total Traded Values, following classifications will be used to make the presentation more relevant to present times. a. Low – Total Traded Value less than P8 Billion b. Medium – Total Traded Value P8 Billion but not more than P15 Billion c. High – Total Traded Value more than P15 Billion