Top Ten Smart Money Moves – Mar. 14, 2016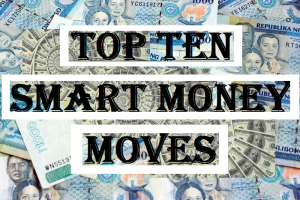 Top Ten Smart Money
Moves, starting January 2015, is the official trading
newsletter of The Responsible Trader
to promote
his advocacy, Responsible Trading
. This newsletter contains the previous day's data from PSE, the Top Ten Foreign Buying
and Selling, Top Ten in Total Traded
Value, including Trading
Notes based on the data of the previous day. This newsletter is given free to all the friends of The Responsible Trader
and to members of the Facebook group and the other organizations where he is a member. For the previous issue where complete details about the newsletter was fully discussed, please refer to: Daily Top Tens October 17, 2014.
Trading Notes for Today –  (Based on Mar. 14, 2016  Data)
Total Traded Value –  PhP8.387 Billion –  Medium
Market Breadth and Sentiment indicated by Advances Declines Ratio – (Ideal is 2:1 to be considered Bullish or Bearish) 94 Declines vs. 90 Advances = 1.04:1 Neutral
Total Foreign Buying – PhP 4.782 Billion
Total Foreign Selling – (Php     3.635) Billion
Net Foreign Buying (Selling) – Php 1.147 Billion – 3rd  day of Net Foreign Buying after a day of Net Foreign Selling
Data from the Philippine Stock Exchange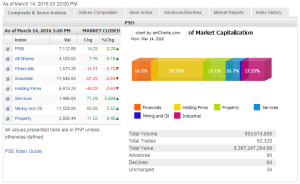 Screenshot courtesy of: www.pse.com.ph
PSE Heat Map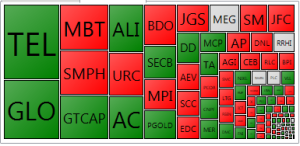 Screenshot courtesy of: PSEGET Software
Top Ten Foreign Buying
and Selling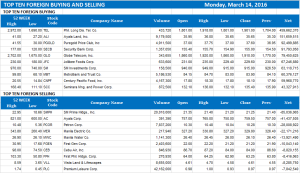 Top Ten in Total Traded
Value

From now on, I will just quote the related article from Business World so that we will have everything in one piece:
==================================================
Posted on March 14, 2016 07:51:00 PM
Stocks rise ahead of BoJ, Fed policy statements
LOCAL EQUITIES joined a region-wide rally and eked out modest gains yesterday, amid positive sentiment ahead of the Bank of Japan's (BoJ) policy announcement and the Federal Reserve's meeting and after getting a boost from telecommunications stocks.The bellwether Philippine Stock Exchange index (PSEi) inched up by 14.25 points or 0.20% to close Monday trading at 7,112.89.
The broader all-shares index added 7.76 points or 0.18% to settle at 4,103.52.
Justino B. Calaycay, Jr., head of marketing and research at A&A Securities, Inc., said in a client note yesterday: "This week's focus trains on central banks particularly the Bank of Japan and the US Federal Reserve. Markets do not expect major tweaks to the BoJ's monetary base expansion target of ¥80 trillion annually with the policy rate holding steady at 0.1%."
He added that the US Fed, which begins a two-day meeting later today, is not expected to hike borrowing rates for now.
"Local equities rose with regional stocks as sentiment remained positive ahead of BoJ's policy announcement on Tuesday. With the BoJ applying negative interest rates just recently, there are expectations that it would expand stimulus along the other two dimensions of its policy framework, namely money market operations and asset purchases," F. Yap Securities said in a market report.
Half of the six domestic subindices ended in the green, with services surging by 71.29 points or 5% to 1,496.04. Mining and oil climbed 60.09 points or 0.52% to 11,528.89; and property inched up by 11.52 points or 0.39% to 2,926.44.
On the other hand, industrials fell into negative territory after dropping 97.25 points or 0.83% to 11,545.83; financials lost 11.01 points or 0.69% to 1,573.28; and holding firms shed 44.03 points or 0.63% to 6,915.24.
Philippine Long Distance Telephone Co. (PLDT) and Globe Telecom, Inc. were yesterday's busiest stocks, after potential rival San Miguel Corp. (SMC) announced that its planned partnership with Australia's Telstra Corp. Ltd. for a wireless venture fell through.
"I think investors cheered particularly due to failed talks between Telstra and SMC that boosted sentiment on telco giants Globe and PLDT…," Joylin F. Telagen, equity analyst at IB Gimenez Securities, Inc., said via text.
Shares in PLDT shot up by P197 or 11.56% to P1,901 each, while those of Globe gained P140 or 7.91% to end at P1,910 apiece.
Value turnover thinned to P8.39 billion after 993.67 million shares changed hands, from Friday's P9.18 billion. Decliners edged out advancers, 94 to 90, while 34 issues were unchanged.
Net foreign buying rose to P1.15 billion from the P662.95 million seen the previous session.
Hastings Holdings, Inc., a unit of PLDT Beneficial Trust Fund subsidiary MediaQuest Holdings, Inc., has a stake in BusinessWorld through the Philippine Star Group, which it controls. — Daphne J. Magturo
Source http://www.bworldonline.com/content.php?section=StockMarket&title=stocks-rise-ahead-of-boj-fed-policy-statements&id=124484
==================================================
Good
luck on all your TRADES
today
.
DISCLAIMER There is a very high degree of risk involved in TRADING
. Past results
are not indicative of future returns
. Nothing contained in this newsletter constitutes a solicitation, recommendation, PROMOTION
or endorsement of any security. In accordance with the Responsible TRADER
's Creed: I will never tell and you take full
responsibility for all your TRADING
results
NOTES:
Please take note of the following changes effective August 6, 2015:
1. Caption Market Breadth has been changed to Total Traded Value to simplify the presentation.
2. Market Breadth is expressed in terms of Number of Advances and Declines. Expressing this as a Ratio by using the larger number as Numerator we derive the Market Sentiment whether Bullish or Bearish.
3. Based on Past three-year data of Average Total Traded Values, following classifications will be used to make the presentation more relevant to present times. a. Low – Total Traded Value less than P8 Billion b. Medium – Total Traded Value P8 Billion but not more than P15 Billion c. High – Total Traded Value more than P15 Billion