Top Ten Smart Money Moves – Mar. 15, 2016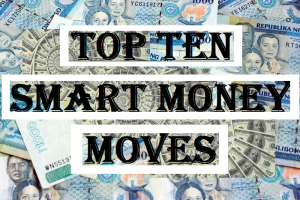 Top Ten Smart Money
Moves, starting January 2015, is the official trading
newsletter of The Responsible Trader
to promote
his advocacy, Responsible Trading
. This newsletter contains the previous day's data from PSE, the Top Ten Foreign Buying
and Selling, Top Ten in Total Traded
Value, including Trading
Notes based on the data of the previous day. This newsletter is given free to all the friends of The Responsible Trader
and to members of the Facebook group and the other organizations where he is a member. For the previous issue where complete details about the newsletter was fully discussed, please refer to: Daily Top Tens October 17, 2014.
Trading Notes for Today –  (Based on Mar. 15, 2016  Data)
Total Traded Value –  PhP8.294 Billion –  Medium
Market Breadth and Sentiment indicated by Advances Declines Ratio – (Ideal is 2:1 to be considered Bullish or Bearish) 101 Declines vs. 87 Advances = 1.16:1 Neutral
Total Foreign Buying – PhP 4.782 Billion
Total Foreign Selling – (Php     3.849) Billion
Net Foreign Buying (Selling) – Php 0.933 Billion – 4th  day of Net Foreign Buying after a day of Net Foreign Selling
Data from the Philippine Stock Exchange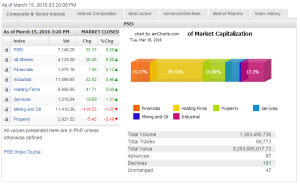 Screenshot courtesy of: www.pse.com.ph
PSE Heat Map
(Note: No Heat Map Today. My PSEGet is acting up again)
Screenshot courtesy of: PSEGET Software
Top Ten Foreign Buying
and Selling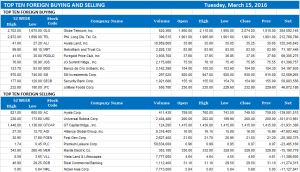 Top Ten in Total Traded
Value
From now on, I will just quote the related article from Business World so that we will have everything in one piece:
==================================================
Posted on March 15, 2016 09:31:00 PM
By Krista A. M. Montealegre, Senior Reporter
Blue chips drive main index to extend gains
THE BENCHMARK Philippine Stock Exchange index (PSEi) rode on the strength of select blue chips to stretch its winning streak to a sixth session, but trimmed gains after encountering strong resistance at the 7,200 line.
The bellwether PSEi climbed 35.37 points or 0.49% to close near the session's 7,140.23 trough at 7,148.26, its highest finish since settling at 7,201.02 on Nov. 4 last year.
The all-shares index inched up 20.48 points or 0.49% to end at 4,124.00.
"The market was propped up by SM (Investments Corp.) and Globe (Telecom, Inc.). The general sentiment is we are on an uptrend and the bullish sentiment continues," Victor F. Felix, equity analyst at AB Capital Securities, Inc., said in a telephone interview.
SM went up 1.64% to P930 apiece and Globe Telecom, Inc., yesterday's most active stock, rose 8.59% to P2,074.00 each, with the latter sustaining its gains after San Miguel Corp. announced that it failed to reach a deal with Australia's Telstra Corp. Ltd. for a wireless venture.
"The telco sector seems a little bit brighter in the near term," Mr. Felix said.
The PSEi rallied as much as 1.34% before succumbing to profit taking, with Asian stocks losing ground after Bank of Japan (BoJ) painted a gloomier picture of the world's third largest economy.
Japan's central bank kept its monetary policy unchanged yesterday, but bared a more pessimistic outlook for exports, industrial output and inflation.
"One more central bank decision hands in the balance — the US Federal Reserve. With the ECB (European Central Bank), the BoJ and even the PBOC (People's Bank of China) maintaining a dovish tone, it will be interesting how the Janet Yellen-led body will move — or as many quite expect, 'not move,'" Justino B. Calaycay, Jr., head of marketing and research at A&A Securities, Inc., said in a client note yesterday.
The Fed's Federal Open Market Committee is expected to leave interest rates steady, but investors are watching for hints on the pace of future rate increases. In December, the US central bank hiked rates for the first time in nearly a decade, but held off further tweaks in January.
Local counters finished mixed. Services went up 19.60 points or 1.31% to finish 1,515.64; holding firms rose 41.71 points or 0.60% to 6,956.95; industrial climbed 52.82 points or 0.45% 11,598.65; and financials added 1.88 points or 0.11% to 1,575.16.
In contrast, mining and oil lost 118.53 points or 1.02% to 11,410.36 and property shed 5.42 points or 0.18% to 2,921.02.
Value turnover slipped to P8.29 billion after 1.36 billion shares changed hands, from Monday's P8.39 billion.
Losers beat gainers, 101 to 87, while 47 issues were unchanged.
Net foreign buying eased to P934.97 million yesterday from the P1.15 billion recorded in the previous session.
Source http://www.bworldonline.com/content.php?section=StockMarket&title=blue-chips-drive-main-index-to-extend-gains&id=124559
==================================================
Good
luck on all your TRADES
today
.
DISCLAIMER There is a very high degree of risk involved in TRADING
. Past results
are not indicative of future returns
. Nothing contained in this newsletter constitutes a solicitation, recommendation, PROMOTION
or endorsement of any security. In accordance with the Responsible TRADER
's Creed: I will never tell and you take full
responsibility for all your TRADING
results
NOTES:
Please take note of the following changes effective August 6, 2015:
1. Caption Market Breadth has been changed to Total Traded Value to simplify the presentation.
2. Market Breadth is expressed in terms of Number of Advances and Declines. Expressing this as a Ratio by using the larger number as Numerator we derive the Market Sentiment whether Bullish or Bearish.
3. Based on Past three-year data of Average Total Traded Values, following classifications will be used to make the presentation more relevant to present times. a. Low – Total Traded Value less than P8 Billion b. Medium – Total Traded Value P8 Billion but not more than P15 Billion c. High – Total Traded Value more than P15 Billion