Top Ten Smart Money Moves – Mar. 17, 2016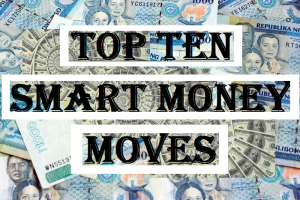 Top Ten Smart Money
Moves, starting January 2015, is the official trading
newsletter of The Responsible Trader
to promote
his advocacy, Responsible Trading
. This newsletter contains the previous day's data from PSE, the Top Ten Foreign Buying
and Selling, Top Ten in Total Traded
Value, including Trading
Notes based on the data of the previous day. This newsletter is given free to all the friends of The Responsible Trader
and to members of the Facebook group and the other organizations where he is a member. For the previous issue where complete details about the newsletter was fully discussed, please refer to: Daily Top Tens October 17, 2014.
Trading Notes for Today –  (Based on Mar. 17, 2016  Data)
Total Traded Value –  PhP7.715 Billion –  Low
Market Breadth and Sentiment indicated by Advances Declines Ratio – (Ideal is 2:1 to be considered Bullish or Bearish) 126 Advances vs. 54 Declines = 2.33:1 Bullish
Total Foreign Buying – PhP 4.574 Billion
Total Foreign Selling – (Php 3.606) Billion
Net Foreign Buying (Selling) – Php 0.968 Billion – 6th  day of Net Foreign Buying after a day of Net Foreign Selling
Data from the Philippine Stock Exchange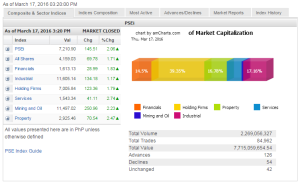 Screenshot courtesy of: www.pse.com.ph
PSE Heat Map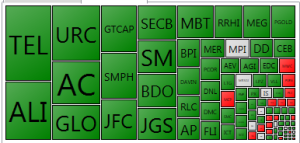 Screenshot courtesy of: PSEGET Software
Top Ten Foreign Buying
and Selling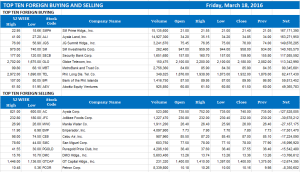 Top Ten in Total Traded
Value

From now on, I will just quote the related article from Business World so that we will have everything in one piece:
==================================================
Posted on March 17, 2016 08:21:00 PM
By Krista A. M. Montealegre, Senior Reporter
PSEi zooms past 7,200 on dovish Fed statement
STOCKS resumed their rally yesterday, with the benchmark Philippine Stock Exchange index (PSEi) punching its way past the 7,200 line, as investors regained their risk appetite following the US Federal Reserve's dovish guidance on interest rates.
The bellwether PSEi surged 145.51 points or 2.05% to end at the session's high of 7,210.90, finally breaching the 7,200 mark after several failed attempts this week. Thursday's close marked the seventh time in the last eight sessions that the bellwether index settled in the green.
Year to date, the local barometer is up 3.72%, reversing losses of as much as 12.45%.
The all-shares index climbed 69.78 points or 1.70% to finish at 4,159.03.
"As expected, investors cheered the Fed decision to hold interest rates due to risks to global economic growth and forecast two interest rate hike for this year versus the four issued in December," Joylin F. Telagen, equity analyst at IB Gimenez Securities, Inc., said via text.
"The risk factors have abated and that is what is driving the market higher. If the Fed will not raise, the risk will be less and it's more favorable for markets," COL Financial Group, Inc. Vice-President and Head of Research April Lynn L. Tan said by phone.
The US central bank closed a two-day policy meeting on Wednesday by keeping interest rates unchanged and hinting fewer rate hikes in the coming months amid concerns on the global economy that may weigh in the world's largest economy.
Fed Chair Janet Yellen said policy makers have shifted to a "slightly more accommodative path," citing concerns on the impact of the turmoil in global markets, weakness in China and Europe, and the slump in crude prices.
All counters finished with significant gains. Services was the best performer, rising 41.11 points or 2.73% to 1,543.34. Likewise, property advanced 70.54 points or 2.47% to 2,925.46; mining and oil went up 250.96 points or 2.23% to 11,497.02; financials added 28.99 points or 1.83% to 1,613.13; holding firms gained 123.36 points or 1.79% to 7,005.84; and industrial inched up 134.18 points or 1.17% to 11,605.14.
Value turnover picked up to P7.72 billion after 2.27 billion shares changed hands, from Wednesday's P6.78 billion.
Advancers edged out decliners, 126 to 54, while 42 issues were unchanged. Net foreign buying likewise accelerated to P967.72 million yesterday from the P168.97 million registered in the prior session.
The PSEi index may consolidate around this level, with investors likely to lock in gains before the long holiday next week, IB Gimenez Securities' Ms. Telagen said.
"In terms of fundamentals, they have yet to catch up with the market. That is important for the market to reach new highs," COL Financial's Ms. Tan said.
Source: http://www.bworldonline.com/content.php?section=StockMarket&title=psei-zooms-past-7200-on-dovish-fed-statement&id=124682
==================================================
Good
luck on all your TRADES
today
.
DISCLAIMER There is a very high degree of risk involved in TRADING
. Past results
are not indicative of future returns
. Nothing contained in this newsletter constitutes a solicitation, recommendation, PROMOTION
or endorsement of any security. In accordance with the Responsible TRADER
's Creed: I will never tell and you take full
responsibility for all your TRADING
results
NOTES:
Please take note of the following changes effective August 6, 2015:
1. Caption Market Breadth has been changed to Total Traded Value to simplify the presentation.
2. Market Breadth is expressed in terms of Number of Advances and Declines. Expressing this as a Ratio by using the larger number as Numerator we derive the Market Sentiment whether Bullish or Bearish.
3. Based on Past three-year data of Average Total Traded Values, following classifications will be used to make the presentation more relevant to present times. a. Low – Total Traded Value less than P8 Billion b. Medium – Total Traded Value P8 Billion but not more than P15 Billion c. High – Total Traded Value more than P15 Billion