Top Ten Smart Money Moves – Mar. 23, 2016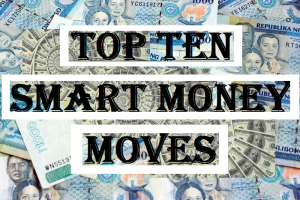 Top Ten Smart Money
Moves, starting January 2015, is the official trading
newsletter of The Responsible Trader
to promote
his advocacy, Responsible Trading
. This newsletter contains the previous day's data from PSE, the Top Ten Foreign Buying
and Selling, Top Ten in Total Traded
Value, including Trading
Notes based on the data of the previous day. This newsletter is given free to all the friends of The Responsible Trader
and to members of the Facebook group and the other organizations where he is a member. For the previous issue where complete details about the newsletter was fully discussed, please refer to: Daily Top Tens October 17, 2014.
Trading Notes for Today –  (Based on Mar. 23, 2016  Data)
Total Traded Value –  PhP 6.138 Billion –  Low
Market Breadth and Sentiment indicated by Advances Declines Ratio – (Ideal is 2:1 to be considered Bullish or Bearish) 102 Advances vs. 71 Declines = 1.44:1  Neutral
Total Foreign Buying – PhP 3.152 Billion
Total Foreign Selling – (Php 3.067) Billion
Net Foreign Buying (Selling) – Php 0.085 Billion – 1st day of Net Foreign Buying after a day of Net Foreign Selling
Data from the Philippine Stock Exchange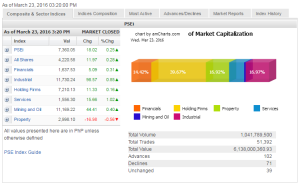 Screenshot courtesy of: www.pse.com.ph
PSE Heat Map
Screenshot courtesy of: PSEGET Software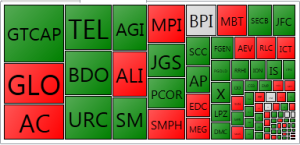 Top Ten Foreign Buying
and Selling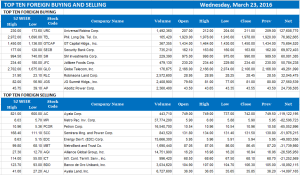 Top Ten in Total Traded
Value
From now on, I will just quote the related article from Business World so that we will have everything in one piece:
==================================================
Posted on March 23, 2016 07:01:00 PM
By Krista Angela M. Montealegre, Senior Reporter
Earnings, BSP decision lift stocks
STOCKS drew strength from corporate earnings and the Philippine central bank's decision to maintain its loose monetary policy to squeeze out gains on Wednesday ahead of the long weekend.
File photo of the Philippine Stock Exchange trading floor in Makati City.
The bellwether Philippine Stock Exchange index (PSEi) rose 18.02 points or 0.24% to close at 7,360.05.
The all-shares index added 11.97 points or 0.28% to end at 4,220.58.
"Despite the terror attack in Brussels, the PSEi inched higher at the close due to GTCAP's (GT Capital Holdings, Inc.) better 2015 earnings and speculation that the Monetary Board will keep interest rates unchanged," Joylin F. Telagen, equity analyst at IB Gimenez Securities, Inc. said in a mobile phone message.
Asian markets were mostly lower after a series of deadly explosions hit Belgium's capital on Tuesday, killing at least 31 people and injuring more than 230, according to reports.
However, sentiment became positive after the Bangko Sentral ng Pilipinas' (BSP) policy-setting Monetary Board held benchmark rates steady, as expected, citing manageable inflation, robust growth conditions and buoyant domestic demand.
The BSP decision came after the United States Federal Reserve made a similar move last week and signaled a dovish outlook on interest rates.
Also boosting sentiment were the gains in GT Capital shares, which rose 1.12% to close at P1,450 each. The holding firm for tycoon George S.K. Ty's business empire chalked up an annual 32% growth in net income to P12.1 billion on the strength of its automotive business.
"We traded flat ahead of the long weekend. It was a slow news day. There was no major economic data from US and China and most world markets will be closed for Good Friday," Victor F. Felix, equity analyst at AB Capital Securities, Inc., said in a phone interview.
Local financial markets will be closed for the rest of the week in observance of Maundy Thursday and Good Friday.
Most counters finished in the green. Services was the best-performing sub-index, climbing 15.66 points or 1.01% to 1,556.30.
Likewise, industrial advanced 98.57 points or 0.84% to 11,730.24; mining and oil went up 44.41 points or 0.39% to 11,169.22; financials added 5.09 points or 0.31% to 1,637.53; and holding firms inched up 11.33 points or 0.15% to 7,210.13.
Property bucked the uptrend, sliding 16.98 points or 0.56% to 2,998.10.
Value turnover slipped to P6.14 billion after 1.04 billion shares changed hands, from P7.33 billion on Tuesday.
Gainers beat losers, 102 to 71, while 39 issues were unchanged.
Net foreign buying reached P85.21 million — a turnaround from the net foreign selling of P104.02 million seen the previous session.
Source: http://www.bworldonline.com/content.php?section=StockMarket&title=earnings-bsp-decision-lift-stocks&id=124954
==================================================
Good
luck on all your TRADES
today
.
DISCLAIMER There is a very high degree of risk involved in TRADING
. Past results
are not indicative of future returns
. Nothing contained in this newsletter constitutes a solicitation, recommendation, PROMOTION
or endorsement of any security. In accordance with the Responsible TRADER
's Creed: I will never tell and you take full
responsibility for all your TRADING
results
NOTES:
Please take note of the following changes effective August 6, 2015:
1. Caption Market Breadth has been changed to Total Traded Value to simplify the presentation.
2. Market Breadth is expressed in terms of Number of Advances and Declines. Expressing this as a Ratio by using the larger number as Numerator we derive the Market Sentiment whether Bullish or Bearish.
3. Based on Past three-year data of Average Total Traded Values, following classifications will be used to make the presentation more relevant to present times. a. Low – Total Traded Value less than P8 Billion b. Medium – Total Traded Value P8 Billion but not more than P15 Billion c. High – Total Traded Value more than P15 Billion