Top Ten Smart Money Moves – Mar. 28, 2016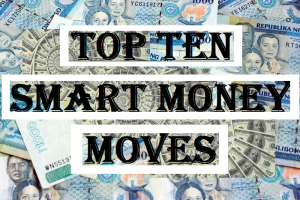 Top Ten Smart Money
Moves, starting January 2015, is the official trading
newsletter of The Responsible Trader
to promote
his advocacy, Responsible Trading
. This newsletter contains the previous day's data from PSE, the Top Ten Foreign Buying
and Selling, Top Ten in Total Traded
Value, including Trading
Notes based on the data of the previous day. This newsletter is given free to all the friends of The Responsible Trader
and to members of the Facebook group and the other organizations where he is a member. For the previous issue where complete details about the newsletter was fully discussed, please refer to: Daily Top Tens October 17, 2014.
Trading Notes for Today –  (Based on Mar. 28, 2016  Data)
Total Traded Value –  PhP 5.110  Billion –  Low
Market Breadth and Sentiment indicated by Advances Declines Ratio – (Ideal is 2:1 to be considered Bullish or Bearish) 107 Advances vs. 92 Declines = 1.16:1  Neutral
Total Foreign Buying – PhP 2.550 Billion
Total Foreign Selling – (Php 2.850) Billion
Net Foreign Buying (Selling) – (Php 0.300) Billion – 1st day of Net Foreign Selling after a day of Net Foreign Buying
Data from the Philippine Stock Exchange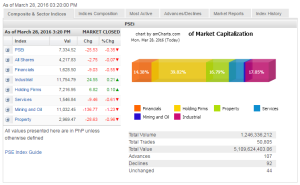 Screenshot courtesy of: www.pse.com.ph
PSE Heat Map
Screenshot courtesy of: PSEGET Software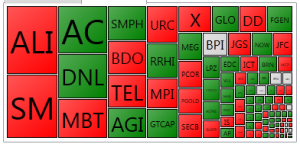 Top Ten Foreign Buying
and Selling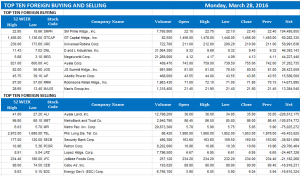 Top Ten in Total Traded
Value
From now on, I will just quote the related article from Business World so that we will have everything in one piece:
==================================================
Posted on March 28, 2016 09:41:00 PM
By Krista A. M. Montealegre, Senior Reporter
Stocks retreat as investors book gains from rally
STOCKS pulled back yesterday, as evidence of a stronger US economy sparked expectations of another rate hike, prompting investors to lock in gains from the market's recent rally.
The bellwether Philippine Stock Exchange index (PSEi) retreated 25.53 points or 0.34% to close at 7,334.52, paring losses of as much as 0.77%.
The broader all-shares index lost 2.75 points or 0.06% to end at 4,217.83.
"Obviously lacking fresh leads, investors opted to book gains made over the last two weeks — at least — sending the main shares index lower to start off the final week of trades for the first quarter," Justino B. Calaycay, Jr., head of marketing and research at A&A Securities, Inc., said in a client note yesterday.
"The market has been overheating in March, up around 9.5% for the month alone," Luis A. Limlingan, business development head at Regina Capital Development Corp., said via text.
Investors traded cautiously ahead of a speech by Federal Reserve Chairperson Janet Yellen as well as the release of China's industrial data and the US jobs report, Mr. Limlingan added.
Sentiment was dampened by the latest estimate on the growth of the US economy, which stoked bets that the Fed could raise interest rates earlier than anticipated.
US gross domestic product (GDP) grew at an annual clip of 1.4% in the fourth quarter, higher than the previous estimate for 1% growth, driven by strong consumer spending, the third GDP estimate showed on Friday.
Most local counters settled in the red. Mining and oil was the worst-performing sub-index, sinking 136.77 points or 1.22% to 11,032.45. Property dropped 28.63 points or 0.95% to 2,969.47; services shed 9.46 points or 0.60% to 1,546.84; and financials slid 9.03 points or 0.55% to 1,628.50.
Bouncing off the day's lows to finish in the green were industrial, which climbed 24.55 points or 0.20% to 11,754.79, and holding firms, which added 6.82 points or 0.09% to 7,216.95.
Value turnover was substantially lighter at P5.11 billion after 1.25 billion shares changed hands, compared to the P6.14 billion seen on Wednesday.
Market breadth was positive, as advancers outnumbered decliners, 107 to 92, while 44 issues finished flat.
Net foreign selling stood at P299.62 million yesterday — a turnaround from the net purchases of P85.21 million in the prior session.
Despite Monday's weakness, the PSEi's uptrend remains intact, both technically and in terms of underlying fundaments, A&A Securities' Mr. Calaycay said, citing the "fairly decent earnings cycle and resilient domestic economy."
"Monday's trades may have delayed the PSEi's march towards the 7,400-mark, but unless big surprises emerge on the downside, there is enough evidence to support confidence that the level may be breached," Mr. Calaycay said.
Source: http://www.bworldonline.com/content.php?section=StockMarket&title=stocks-retreat-as-investors-book-gains-from-rally&id=125071
==================================================
Good
luck on all your TRADES
today
.
DISCLAIMER There is a very high degree of risk involved in TRADING
. Past results
are not indicative of future returns
. Nothing contained in this newsletter constitutes a solicitation, recommendation, PROMOTION
or endorsement of any security. In accordance with the Responsible TRADER
's Creed: I will never tell and you take full
responsibility for all your TRADING
results
NOTES:
Please take note of the following changes effective August 6, 2015:
1. Caption Market Breadth has been changed to Total Traded Value to simplify the presentation.
2. Market Breadth is expressed in terms of Number of Advances and Declines. Expressing this as a Ratio by using the larger number as Numerator we derive the Market Sentiment whether Bullish or Bearish.
3. Based on Past three-year data of Average Total Traded Values, following classifications will be used to make the presentation more relevant to present times. a. Low – Total Traded Value less than P8 Billion b. Medium – Total Traded Value P8 Billion but not more than P15 Billion c. High – Total Traded Value more than P15 Billion