TRT ICHI MONICS – The Trading Signals of Ichi Moku Kinko Hyo and the Trading Parameters of Harmonics
TRT ICHI MONICS – The Trading Signals of Ichi Moku Kinko Hyo and the Trading Parameters of Harmonics
THE TRADING SIGNALS OF ICHI MOKU KINKO HYO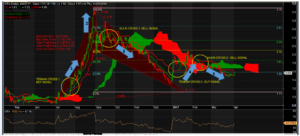 The Responsible Trading System is continuously evolving and we are always on the look-out for best practices in trading that could enhance our trading edge.
We have already explored the Ichi Moku System and we have already written about it in our first book. Last year, we started exploring the Harmonics System particularly the works of Scott Carney who is considered the best authority on Harmonic Trading.
Why Ichi Monics? Ichi-Monics is the contracted form of Ichi (Moku Kinko Hyo) and (Har) Monics. In Responsible Trading we call it the TRT IMS – Ichi Monics System.
Based on my observation and actual trading experience both Ichi-Moku Kinko Hyo and Harmonics have their strengths and weaknesses as a system. Ichi-Moku Kinko Hyo provides very good trading signals but does not give the trading parameters so sometimes you get over-extended in your trading expectations.
On the other hand, Harmonics is very good in providing trading parameters but does not provide very good signals for buying and selling since it relies mostly on RSI to trigger buying and selling decisions. Even Scott Carney himself talks about harmonic pattern failures and emphasizes cutting losses when harmonic patterns are violated.
By combining the two, we maximize the strengths of both systems and use them to mitigate and/or neutralize their weaknesses. Thus we have Ichi-Monics – the Trading Signals of Ichi Moku Kinko Hyo and the Trading Parameters of Harmonics.
The Trading Signals of Ichi-Moku Kinko Hyo.
From previous discussions, we are already familiar with the Trading Signals provided by ichi-Moku Kinko Hyo. Let us review them again.
1. The Tenkan Cross – the Tenkan Sen Moving above the Kijun is a BUY Signal. For easy recall the Tenkan Sen is also called the Turning Line. This is the Line responsible for turning the fortunes in your favor.
2. The Kijun Cross – The Kijun Sen Moving above the Tenkan Sen is a SELL Signal. For easy recall think of the Kijun Sen as the KJ or Killjoy Liine. When it moves above the Tenkan Sen it kills all your hopes of making a fortune.
Since shorting or short selling is not yet allowed in the Philippines, we will limit our discussion to the Buy Signals. Our discussion will also include the Sell Signals but only in relation to the Buy Signals.
It is easier to remember all these concepts if you think of price action as an airplane represented in the charts by a light blue arrow.
1. Tenkan Cross or Buy Signal above the Kumo or Cloud – this is the strongest Buy Signal. This is shown as Tenkan Cross 1 in the Chart and Arrow No 1 representing price action. After a breakout from the Kumo or the Cloud we can see that the Tenkan Sen  (Green line) acted as First Support and the Kijun Sen acted as second Support. Furthermore, the Kumo or the Cloud has acted as a very strong Support.
However, when price action represented by Arrow No. 2 moved parabolic, it is very evident that the move is not sustainable leading to Kijun Cross No. 1 giving a SELL Signal.
Price action represented by Arrow No. 3, immediately moved below and broke the Kijun Sen Support as well as the Tenkan Sen Support. The Kumo even failed to provide Support and this caused a change in trend direction from Uptrend to Downtrend.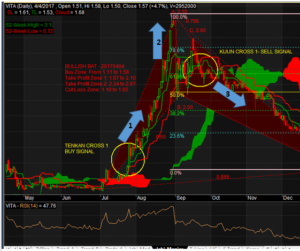 2. Tenkan Cross or Buy Signal below the Kumo or Cloud – this is a weak Buy Signal. This is shown as Tenkan Cross 2. Just like an airplane this setup is subject to turbulence. Even though price action broke through the Kijun Sen acting as First Resistance and the Tenkan Sen acting as Second Resistance, the Kumo proved to be a strong Resistance and price action failed to break through resulting in an immediate Kijun Cross and a sideways consolidation below the Kumo or cloud.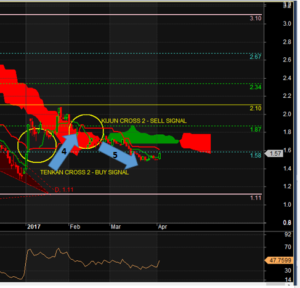 In the case of VITA it seems that there is going to be another retest of the Potential Reversal Zone of P1.11 at point D of our Harmonic Pattern.
"TRT Ichi-Monics – The Trading Signals of Ichi Moku Kinko Hyo and the Trading Parameters of Harmonics"
NOTE: This is a trading lesson previously posted in my BooKAKA Premium. Subscribers get these lessons weekly. It is posted here so that BooKAKA Premium Subscribers can review them again and for others to see what they are missing from my posts in my BooKAKA Premium.
To subscribe, please click on my Premium Profile. Choose your Payment Option (Pay with Bank Deposit or Pay with Paypal or Credit Card. Then Click Confirm and Get Subscription Code. Send copy of your Deposit Slip with Subscription Code to premium@bookaka.com and wait for your Premium activation which usually takes a day or two. Thanks. 
Next week: The AB = CD Pattern or The Lightning Bolt Pattern