Daily Top Tens – October 17, 2014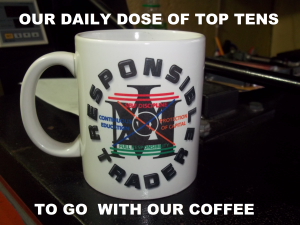 Daily Top Tens is now published from my new home. For this reason, II would like to repeat what I have previously stated.  In addition I will answer all questions/clarifications I received through private messages.  Henceforth I will just quote this post everytime I share the Daily top Tens with you  and then just post the screenshot from PSE, the Top Ten Daily Foreign Buying and Selling and the Top Ten in Total Traded Value.
===========================================================
A simple trading strategy used by some traders in the Philippines is to follow Foreign Buying and Selling since these are considered to be "Smart Money."  I learned about this when I subscribed to "THE HINT" a Daily Stock Guide published by Stock Market Pilipinas.
In my case, before the start of the trading day I review the following data from PSE to determine market breadth and direction. I  look at the Total Value.  Range of Total Value of PSEi is from P2.6 Trillion to P8 Billion.  If less than this,  it means the previous day's market was not strong.
Another area is the number of Advances and Declines. Ideally the ratio should be 2:1 Advances vs. Declines as indication of a bullish market.  If  on the contrary, it is an indication of a bearish market.
Then I review the activities of the "Smart Money" by checking the Charts to find out if there is a valid reason for their activities.   Then I review my Trading Plan – entry, exit and stop loss points.
Of course, nothing always happens in the stock market and the market is always right so you have to adapt accordingly.
I will always post these Data everyday as a guide to our trading activities.  This is not a recommendation to BUY, HOLD, or SELL.   In accordance with The Responsible Trader's Creed, I will NEVER tell and you take full responsibility for your trading results.
==============================================================
I have received several requests for clarifications through comments on my blog and personal messages so I am going to address all of  them here and then post them later on as answers to those on my blog.
Most of them would like to know how the data is obtained and the quality of the data I am offering. I think they would like to know if they can really take these with their coffee.
These data are shared from my personal Database.  All data are taken from the PSE Daily Quotation Report downloaded thru the PSEGet Version 3.0 Application developed by Master Yeahbah of Absolute Traders. (You can download the application from his site if you make some money he wants you to donate to feed his cat).Downloaded data from PSE thru PSEGet is in CSV Format so I have to convert this into an Excel File.  The converted Excel File is then combined with another Excel File from my Database containing among others the 52 Week Highs and Lows.  Once all the data are in one Excel File, it's easy to slice and dice them to produce the reports I am sharing with you by using the Data Sort Function.
I have also received questions whether these are "tips" for the day's trading.  Absolutely not. In my first post about these data I said I look at these and check the Charts to determine the reason for the "Smart Money's" activities.  If I see a valid reason and a high probability trade in accordance with the Responsible Trader's Creed:
I know where the trendline is (Is it an Uptrendline, Downtrendline or Flat/Sideways) to  know whether to go long, short or stay in cash.
I know where the Support and Resistance are (If you decide to enter the trade, you Buy at or near Support and Sell at or near Resistance).
Please don't ask me yet about the high probability trade because you will be pre-empting the trading lessons I will be sharing with you.
When I say the Charts I am referring to the charts in Amibroker, Metastock or the Charts that come with the Trading Platforms provided to you by your online brokers or any chart you use for your particular purpose.
When you see me online and would like to chat with me, please don't call me Sir, just Bro.  For men, you are my Brothers-in-trade. For women you are my Sisters-in-trade. For those in-between you are my Friends-in-trade.  In my case I am 100% Alpha Male.  When I was promoted as Teacher/Mentor in my Ancestral home, Stock Market Pilipinas,  they wanted to call me Tita Ninja as their usual terms of endearment.  I said "walang Ninjang ganyan." (No Ninjas that are in-between). End of discussion.
Here goes the Daily Top Tens last Friday, October 17, 2014 as inputs for our trades today.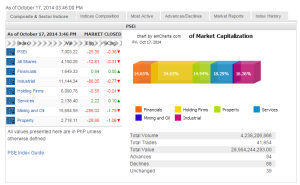 Screenshot courtesy of:  www.pse.com.ph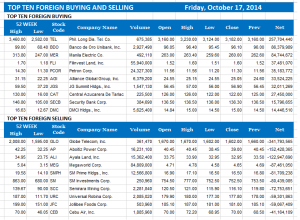 Good luck on all your trades today.