The Faceless Trader-The Facebook Trading Group with a Heart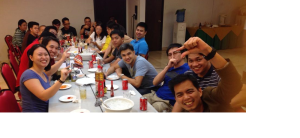 During my first visits to the Trading Groups in Facebook, my initial agenda is to always observe how the leader/s of the group treat their members and how the members treat each other.  Are they treating their members well?  Do the members respect each other?  Without knowing it, are they encouraging their members to practice Responsible Trading – teaching them to practice Self Discipline, Continuous Education, Protection of Capital and Full Responsibility for their trading results?
Based on my observations, even without expressly saying or knowing it, the Group that closely resembles adherence to the elements of Responsible Trading is the Faceless Trader's Group led by Ms. Nikki Yu.  Nikki as she is fondly called by her members, was also the first one who mentioned the name of The Responsible Trader and Responsible Trading in some of her posts.
All of these did not come as a surprise to me when I learned about Nikki's background.  Let me quote from her Blog, which has the same name as her group, The Faceless Trader.
"Who am I?
I am Nikki Lim Yu also known as Faceless trader, formerly known as Dimsum Trader.  I've been with one of the largest online brokerage firms in the Philippines ever since January 2008 until October 2011 working as a research assistant, then as a trader but primarily the Hongkong markets.  I then transferred to Wealth Securities, first as an analyst and then eventually into the sales team handling both retail and institutional clients. All these happened last November 2011 and I am still working for the company until now.  I do not consider myself to be a professional money manager although I've managed money, mostly for family, close friends, referrals et al.  I do not claim to be an expert/guru in the markets.  My strongest point, however, is that I am very passionate and in love with what I do.  I remember Warren Buffett saying "I'm so happy I never have to work a single day in my life."  That is how successful traders and investors treat their "jobs", as if they're just doing what they really love.  I love reading and teaching my innermost passion and it is a pleasure to share with you my story with the markets and my plans on how to use it to leverage your life and others as well."
Just like TAP, the Faceless Trader's Group has also grown in numbers and have their Vision, Mission and Goals.  I would like to quote again the exact words of Nikki to new members of her group:
"Welcome.
Warning: This is a highly serious Facebook group.  It is not meant for the lazy, it is not meant for the people who long to get rich quick, it is not meant for those who believe that the stock market will reward them with their fantasies and dreams.  The stock market is perceived by many people as the world's largest casino.  William O Neill considers it the most democratic form of business in the world, as the shift of money flows from the weak hands, to the hands of a few men who have the discipline, hard work and passion needed in this field for consistency and profitability.  He also believes that anyone can be a millionaire, only if the person is really devoted to it.
Jesse Livermore, undoubtedly, one of the most successful traders in his time, has written what the game of speculation is.  "The game of speculation is the most uniformly fascinating game in the world.  But it is not a game for the stupid, the mentally lazy, the person of inferior emotional balance, or the get-rich-quick adventurer.  They will die poor."  From the words of this successful veteran, he believes that "few people succeed in the market because they have no patience.  They have a strong desire to get rich quickly."  He writes: "I am fully aware that of the millions of people who speculate in the markets, few people spend full time involved in the art of speculation.  Yet, as far as I'm concerned, it is a full time job—perhaps even more than a job.  Perhaps it is a vocation, where many are called but few are singled out for success."
An important point I want to make is that Jesse Livermore's trading success came not because of any "inside" information, or some huge store of knowledge about each and every stock he traded.  His key trading success was derived from his understanding of human behavior.  He realized early on that markets and stocks can and do change- but people and their behaviors do not.  Therein lay his formula for trading success.  That formula for trading success has not changed since Livermore's heyday in the stock and commodities markets a century ago.
"All through time, people have basically acted and reacted the same way in the market as a result of: greed, fear, ignorance, and hope.  That is why the numerical (technical) formations and patterns recur on a constant basis." – Jesse Livermore. "
My Expectations/Objectives:
Dr. Brett Steenbarger writes: Every close relationship is a confession: we gravitate toward those that confirm our most deeply held views of ourselves. Integrity is attracted to integrity; achievement is drawn to achievement. Those with damaged self-esteem find themselves in abusive relationships; mediocrities are threatened by ambition and accomplishment and wind up in mediocre company. We are known by the company we keep, the saying goes, and it's true psychologically. Each relationship is a mirror that reflects our experience of ourselves. If you want to know someone, look no further than his or her spouse, closest friend, or closest colleagues.
I would like to say from the onset what this Facebook group will not be like.
It will not be mediocre.  It will not be talking about charts, news, support and resistance, trading systems and methods without stressing the fact that the mindset is more important than the method.
1.)  This will not be a forum about tips on charts that you are currently trading, looking to trade, or be an opinion group about your positions.  It will not be about gossips or "insider" edge.
2.)   This group will not tolerate laziness.  You are expected to keep up if you're new by reading, observing and possibly trading small.  More experienced people should contribute and have a healthy market discussion that will be mutually beneficial to everybody.  Everyone should learn and help everybody.  While it may not be realistic to require the books or movies or other sources referenced for the week to be read by the members of this group, it is highly encouraged for the members to put in some time to read them, speak their minds, share good resources and be kind.  Continuous learning is a habit.
3.) This group does not require you to have stock market trading experience.  It only requires you to have an open mind, a heart willing to learn, and the discipline and mindset to follow requirements and rules.
4.) This group is supposed to be an investment to knowledge in creating/learning how to make your money work harder for you.  The best dividends a student can give his teacher/mentor, is to do well on his own, and to stay humble. 
What this group is and what it's envisioned to be like: (Lofty goals)
This group is made in order to have one main trading objective: to learn to trade in a systemic fashion without having to "robotize" the trader. Note that this does not objectify the students to start making money, but to learn to follow a trading system.   My first goal is to stop you from losing money.   Experience tells me that making money will follow, once a trader starts following his trading plan.  Personality traits will be identified, to know as much as possible, the ideal trading system that will suit the person to be consistently profitable in the long run. 
This group is a big brain trust meeting. This group is a room filled with "crazy, foolish" ones who are crazy enough to change the world.  Although the group purports itself to talk mainly about trading the markets profitably, the end-goal is to allow the geniuses, intellectuals, forward thinkers, trendspotters, athletes, writers, chefs, musicians, creative directors, entrepreneurs, innovators and game changers etc to take a position (active or passive) in the markets for a faster path to their financial freedom, without losing track from their first goal, which was nothing short or small, but to change the world and make their lives happy. 
This group's aim is to help you become your own trading coach. If you're already trading, the aim is to identify your trading strengths and weaknesses, and to tweak it to enhance your trading performance.  Its broader purpose is to help you coach yourself through life.  The group aims to be a practical set of insights and tools for discovering and implementing the best within you.
This group is a project. I personally believe that the true Filipino, wherever he is in the world, will not wish poverty for his people. I want this group to be purposeful in helping create wealth in this country so that people will no longer have to accept mediocrity as their fate.
You are supposed to learn how to trade correctly on your own. Trading well, in my opinion, comes from being disciplined and a host of your personal quirks.  I do not wish to give you the feeling that I'm the expert.  I honestly want you to be good, or even better than me.  If you want to pay me back for your eventual successes, prove to me you can trade well.  I wouldn't mind an extra helping hand in the markets.
To sum up, The Faceless Trader has almost the same elements as Responsible Trading: Self Discipline, Continuous Learning , Protection of Capital and Full Responsibility.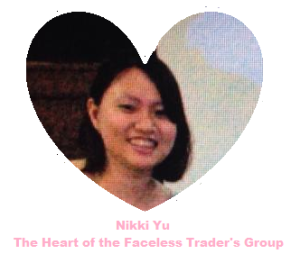 Nikki serves as the Heart of the Group.  She is like a Big Sister to all the members.  One of the advantages of being a member of Nikki's group is her Daily Market Wrap up, where she discusses the significant developments and market movements that happened during the day.  She also does a summary of the same during her Weekly Market Wrap up.  I find these information very valuable to every trader who is really serious in improving his trading performance.  In addition to these she also conducts personal meetings and we can readily see all members enjoying every minute of it as shown on the first photo above.
If I were asked or given a choice which among the Trading Groups in Facebook I would like to be a permanent member of,  without hesitation I am proud to say that one of them would be Nikki's group, The Faceless Trader.  This is the Group where I feel most at home because of the way  Nikki runs it.