A Milestone – My First Post from my New Home
First of all, a million thanks to all of you for your overwhelming support to my Advocacy.  I already consider you as family so I would like to share the following with you.
This is my First Post from my new Home – another  milestone so I would like this post to be memorable.  In this post I would like to document all the Milestones  about my Advocacy – Responsible Trading.
September 15, 2012 – I opened a thread in StockMarket Pilipinas with the title "Ninjavidshare"  where I first introduced my Advocacy, Responsible Trading.  The thread was intended to support my advocacy where I shared trading audio/visuals (videos, pictures, my own drawings) weekly that complemented my learning journey.  It was intended to provide education to new traders to ensure that they are on the right footing when they start their trading activities or career.  This thread was later on renamed "The Responsible Trader" when the management of Stock Market Pilipinas decided to promote me as Teacher/Mentor from just being a member.
On this same date I also opened another thread with the title "Ninjathoughts" where I shared my personal reflections on trading in particular and life in general and also shared materials from my Inspirational files.
NOTE: I registered as Ninjatrader919 with Stock Market Pilipinas so all my threads began with the word Ninja. The word Ninja is a natural choice for me because I am an avid fan of the martial arts. Before I used the name, I did not know that there was already an existing name Niinjatrader, a trading software, so when I learned about it, I  added my  birth month and birth date to  the word Ninja  to avoiid legal complications.
October 13, 2012 – I composed The Responsible Trader's Creed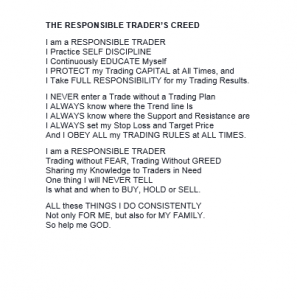 October 25,, 2012 – Since I do not want an organization for my Advocacy, I received suggestions to write a Blog or write a book to document everything not only for the present  but future generations of traders.
October 31,2012 – I started writing my book, "The Responsible Trader" intended primarily for members of Stock Market Pilipinas before publishing for the general public.
November  24, 2012 – I  finalized The Responsible Trader's Seal after incorporating all the suggestions from enthusiastic members of Stock Market Pilipiinas.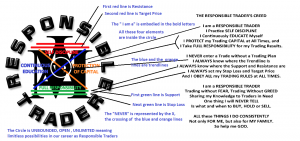 At the same time I started promoting my book by giving them a glimpse of the book cover and getting suggestions from them.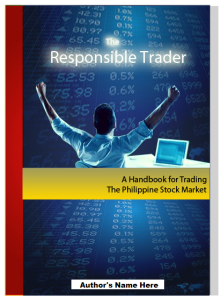 I also started activities for promoting the book and preparing for the book launching, I had t-shirt samples printed and mugs with The Responsible Trader's Creed.
November 30, 2012 – I generated more interest when I explained the meaning of the things appearing on the book cover.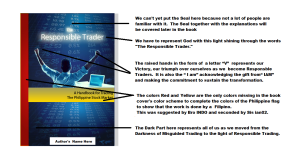 December 27, 2012 – I generated a build up of interest when I shared with them The Responsible Trader's Worksheet and Trading Plan.  I offered to give the worksheet for free if they buy the T-shirt and help me promote my Advocacy.  The first 19 orders  will have my signature  and I will do it  in person during the planned book launching.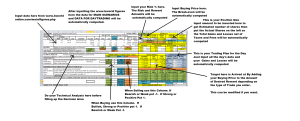 January 6, 2013 – I have finished writing the manuscript for the book.  As I was downloading all the materials in my external hard disk, an unfortunate event happened.  My hard disk crashed and I suddenly saw a bsod (black screen of death).  All my effort to reboot turned futile.  There was nothing I could do except to bring my laptop to the service center.  The diagnosis:  hard disk failure caused by a deadly virus.   I asked the technician If there is anything that could be done to recover all of my files. He said he will do his best but could not give me any assurance. In the meantime, he suggested that I replace the hard disk so I could use my laptop again. I had my hard disk replaced with a new one and just left the old one to the technician to recover whatever files he could.  I went back the following week. The verdict:  the hard disk is dead and I lost all my files. I really felt devastated.
Nothing happens in life without a purpose.  Perhaps it was God's way of telling me that the world is not yet ready for my Advocacy.
February 14, 2013 – After a date with my wife, our talks about our future plans gave me the impetus to start writing the book again from memory.  As I started to write and do more research, I discovered that there are a lof of things yet I need to learn before publishing  the book.  The writing is on-going and I am only doing it during my spare time.
October 11, 2014 – There are a lot of inquiries regarding my progress on the book. So I decided to write a Blog sharing some contents of the Book.  I decided to start with wordpress.  To my surprise wordpress did not want to accept my registration as "The Responsible Trader."  When I checked the web, I found out that somebody has plagiazed the name "The Responsible Trader" and even copied my original work "The Responsible Trader's Creed.  Had I decided not to start Blogging about my Advocacy, my intellectual property would have been stolen without my knowledge.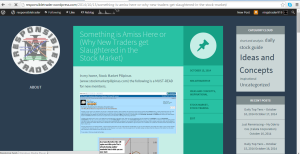 October 19, 2014 – I decided to reclaim what is rightfully mine.  I registered my own domain to pre-empt anybody from using my intellectual property for unscrupulous purposes.  I also made this as my first post.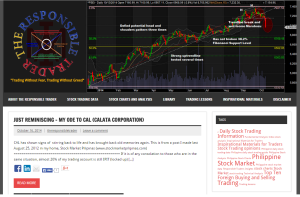 I  am putting all of these on record to serve notice that all of these are part of my intellectual property.
One of the main objectives of my Advocacy is to raise the level of Trading to a Professional Standard. Most people think of trading right now as just a notch higher from Gambling.  When i told my relatives about my decision to trade the stock market, they raised their eyebrows and told me, "Nasiraan ka na ba ng ulo? Sugal lang yan." (Have you lost your mind?  That is nothing but Gambling). Someday,  I want our relatives especially our loved ones.  to have peace of mind when we tell them hat they have nothing to worry because we are Responsible Traders.
If I can save one trader a day from losing his trading account. that is enough satisfaction for me.
Thank you for bearing with me.
Have a blessed and happy weekend everyone.