Responsible Trading – 100,000 Thank You's for 100,000 Views in 1 Year
Responsible Trading – 100,000 Thank You's for 100,000 Views in 1 Year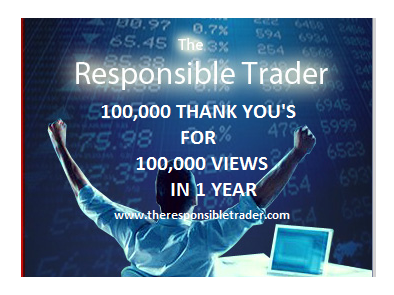 Yesterday, The Responsible Trader.com celebrated it's first year as a website and we got this report from Google Analytics.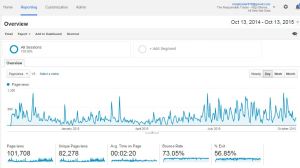 For this we would llke to say:   100,0000  THANK YOU'S for your overwhelming support.
Actually, when we started our website, we had a modest goal of an average of at least 5,000 views per month or a total of 60,000 for the year. You really helped us exceed our expectations.
Thank you also for your feedback and comments such as:
"Your website is now a  must-go-to-visit everyday."
"The Responsible Trader is one of the recognizable names Filipino investors read in the forums and follow the website, hence, they know that your opinion is trustworthy. "
"This is one of the best post I've read since I started trading on my own, congrats Bro. Great post."
"Thank you. You are an inspiration to traders with your advocacy as the Responsible Trader."
and last but not least, this is one is my favorite:
"Your advocacy sir is really incomparable to other bloggers and fb mentors' informative articles/posts. The character you possess is what I admired most. Hindi po kayo mayabang, nagmamagaling and I see the sincerity of reaching and teaching everyone especially the newbies. Salamat po talaga. I started my investing last April 27 of this year after watching all your videos. I forgot to subscribe. ill do it tomorrow po. Im so confident that I made the right trading plan with your help. So really excited with your book. Salamat po."
All of these encourage us to do more and do our best to live up to the TRT Brand:
The TRT Brand
T -Truthful – We tell things as they are, without fear or favor, without hyping or bashing, Straight from the Chart.
R– Relevant – We do not post just for the sake of posting. We make sure that our posts contain information useful to our readers.
T-Timely – The value of information is its timeliness.
As we previously stated, we have already started sharing exclusive materials in BooKAKA (www.bookaka.com) These are examples of things you might have been missing.  (At this point, BooKAKA still allows us to share some materials in our website)
THE TRT SCRENER – THE HOLY GRAIL
Stock: DNL as of October 13, 2015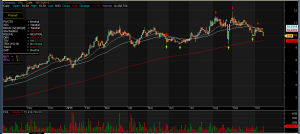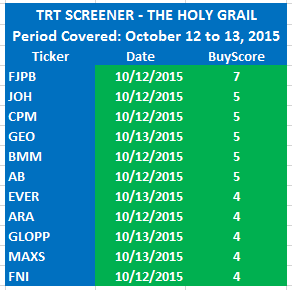 The following Guidelines are given when using our TRT SCREENERS. We call these TRT SCREENERS – 5 GUIDELINES
1.   In Responsible Trading, we use several TRT Screeners as TRIGGERS to make a more in-depth analysis.
2.   We usually generate our TRT Screeners at the start of the week covering the previous week's data. We then update the report every Wednesday and Friday to keep track of any changes.
3.   In Responsible Trading we NEVER follow BUY and SELL signals BLINDLY. We use CRITICAL THINKING to determine whether there is sufficient EVIDENCE of a HIGH PROBABILITY TRADE before making our final decision.
4.  These should NEVER be taken as a recommendation to BUY, HOLD, or SELL any of the stock/s appearing in our TRT Screeners.
5.  Please make your own due diligence before deciding to take action on any of these stocks so you can take full responsibility for your trading results.
If you have followed us in BooKAKA you will notice that we have marked the materials as (Exclusive for BooKAKA Members Only) in order to distinquish it from materials we are also sharing in our website.
We are thinking that perhaps, so you do not miss anything that we are sharing, we could publish in our website important things we have shared at the BooKAKA website  after a week. We will just call it RESPONSIBLE TRADING – SOME MATERIALS YOU MIGHT HAVE MISSED).
Better yet, if you want to,  just follow me at BooKAKA so you get the materials  fresh everytime I make a post.
Again, thank you and we look forward to more years of sharing and learning with you.