Responsible Trading – BOH VS. TAP (Process vs. Instinct)
Responsible Trading – BOH VS. TAP  (Process vs. Instinct)
PROCESS VS. INSTINCT AS IT APPLIES TO LIFE
BOH VS. TAP (Process vs.Instinct) (Both Groups and their Leaders are Superstars in their own right, so arrangement is ALPHABETICAL not necessarily in ORDER OF IMPORTANCE to avoid any Billing Problem).
As the Responsible Trader, I have often been asked. BOH VS. TAP (Process vs.Instinct)  WHICH SIDE AM I ON?
Before I answer that question let me share with you my experience when I had my first grandson (the one you see when I  am posting pictures to promote my book).  When he was born and was brought to my daughter for the first time, my daughter offered her breast to him for breastfeeding.  The infant without being told, without being taught, INSTINCTIVELY opened his mouth and suck at my daughters nipple to have  his first taste of life-giving human milk.  As he grew up, when exposed to bright light, he INSTINCTIVELY closed his eyes to avoid the glare and prevent it from harming his very delicate organ.  As he grew up his INSTINCTS turned into PROCESS.  Even at an early age, he has already developed a regular routine to sustain his life and avoid any life-threatening object to protect his life and limb.
So you see INSTINCT AND PROCESS are part of a COMPLETE WHOLE. THERE IS NO CONFLLICT BETWEEN THE TWO.
PROCESS VS. INSTINCT – AS IT APPLIES TO TRADING
I have already posted this on my wall, so please allow me to quote verbatim (Just replace the word SYSTEMS with PROCESS)
"SYSTEMS VS. INSTINCT.We do not intend to offend anyone. As Responsible Traders, we always try to present a balanced view as much as we can.
Please do not allow yourselves to get caught into a Systems vs. Instinct Dilemma. It is a mental trap. You need everything to be a successful trader. The picture summarizes what we are saying.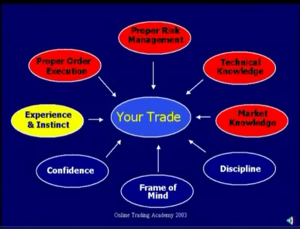 The ones in Red (Proper Order Execution, Proper Risk Management, Technical Knowledge and Market Knowledge) you can learn from books and seminars. The ones in Blue (Confidence, Frame of Mind and Discipline) you have to bring out from yourselves and the ones in Yellow (Experience and Instinct) is the ultimate result.
Please take note that this is a continuous cycle and the process goes on and on until you have attained the level in the Learning Ladder of Trading that you have set for yourselves.
Strive for independent thinking, not blind following. The sooner you do it, the better for your trading account."
BOH VS. TAP  – ON A PERSONAL LEVEL
I am not  a member of BOH but I am a membr of BARBER'S TALES. Based on my understanding, BARBER'S TALES  is their FREE VERSION and BOH is their PAY-PER-VIEW VERSION.  I am a member  of  TAP and based on my observation both their leaders, Jiego Mojica of BOH and Tony Herbosa of TAP are both very passionate and are willing to put their honor and reputation at stake for whatever  they both believe in.
I have already attended one of TAP's Seminars given by Tony Herbosa when BPI conducted a seminar on Active Trading. Both Tony and Roy were present during the seminar and I have seen and heard that they know their craft very well.
I have not attended a  BOH Seminar so I wanted to find out what I can learn from them. I have seen Jiego Mojica actively promoting BOH in BooKAKA News Service and when he hit the 500 mark (since we are both Contributors in BooKAKA) I expressed my intention to join BOH to find out what it really is. I requested to be BOH Member No. 919 and told Jiego to notify me for payment instructions when the time comes.   After discussing the implications, (we are both Contributors of BooKAKA and there might come a time, if I am already a BOH member, that I might share some things on my own but might be construed as coming originally from BOH)  Jiego and I both decided that it might not be a good idea after all. Nothing personal on my not being accepted. Just a precaution to avoid possible conflict of interest in the future.
I like Tony  as a person, but I do not like his ACT OF HYPING some stocks. I like Jiego as a person, but I do not like his ACT OF ARROGANCE sometimes. I consider both as my friends. I apologize to both if my statements seem offensive to them.  You see, I like both of them as a person but they have some ACTS which do not appeal to  me.   Please do not get me wrong. The Responsible Trader is NOT AN ANGEL.  Like all of you, I also have my good and bad points.
It is my dream to meet both Jiego and Tony to  have some chat and share points of view over a cup of coffee or a few bottle of beers. Perhaps I can bring them together someday so we can discuss how we can all cooperate and work together to bring  Philippine trading to a more professional level.
The Responsible Trader is a member of almost all the trading groups in Facebook. All groups together with the list of their Leaders and Admins will be duly acknowledged in  my forthcoming book "The Responsible Trader – a Thinking Person's Guide for Trading the Philippine Stock Market."   for giving us the opportunity to share our materials and learn from each other. Our sharing and learning with these groups have enhanced our knowledge and understanding of how the Philippine stock market really works and operates.
Going back to the question – BOH VS. TAP which side AM I ON?   As a chessplayer I like to think ten moves ahead. I have already made my decision long time ago and that is NEITHER.  Both have good points, they represent  part of the complete whole and The Responsible Trader will always be ON THE SIDE OF TRUTH.
Have a blessed and happy weekend everyone.