RESPONSIBLE TRADING – FINDING PURPOSE ON THE 64th
RESPONSIBLE TRADING – FINDING PURPOSE ON THE 64th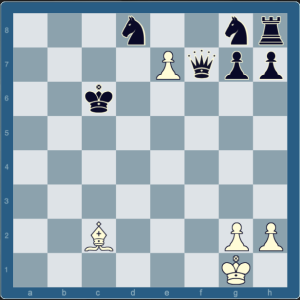 You might be wondering about the title of this article and the Chess Diagram above.  Actually aside from trading and martial arts my other passion in life is Chess.  I used to  play as a Member of the Elizalde Chess Team during the Manila Industrial and Commercial Championships and individually in the Executive Chess Tournaments. I believe in the Greek ideal: MENS SANA CORPORE SANO – A sound mind in a sound body. I practice martial arts for physical fitness and I play chess to hone my mental skills. Both help me in maintaining my sanity when doing my trading activities. (The market has a way of driving you crazy sometimes).
The Diagram above is taken from a position given by World Champion Emanuel Lasker. White to play and Win. Before we go into the solution, let me tell you more about myself.
Sixty four years ago from today, like the 64 squares of a chessboard, I was born on this planet to serve a purpose.  For the past 63 years, my life had been like the phases of  a chess game: the opening, the middle game and the end game.
Like a chess game, I had a good opening.  My parents brought me up with a strict code of values and gave me good education.  They  nurtured me physically, mentally and spiritually and made me what I am today.
From a good opening, I improved my position in the middle game.  I was able to finish my college course, obtained my CPA and on top of it also obtained my MBA.  I got married to a nice lady, raised a good family and became successful in my career.
I think I lost my grounding when I was transitioning  into the  end-game. It is easy to be absorbed by everything that the world offers:  riches, honor and fame and distract us from seeking our real purpose in life.  All these years I had been enjoying my life but one question kept on bugging me? With all the blessings that I have: What is my purpose in life?
Today as I celebrate my 64th birthday, I have found my purpose. Today I dedicate myself to my advocacy:   Responsible Trading.  Today I commit myself to being a full time Responsible Trader – promoting my advocacy and sharing my knowledge to improve the lives of others .I believe that at the end of our existence, it is not what we have, but what we do with what we have to improve the lives of others and leaving a good legacy to the world that would count.
Today I have committed to documenting everything in a book and have Responsible Trading as my legacy to the Philippine trading community. In so doing  the reason for my existence has been answered and my quest for my purpose in life has ended.  I wish you will soon find yours too.
Responsible Trading – the Present and the Future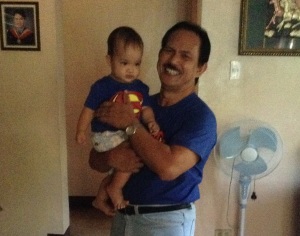 This is my first grandson but he will not be the next "The Responsible Trader." I do not believe in family dynasties.  I believe  that even if I am gone, Responsible Trading will go on and on because of  the people to whom I have already made significant imprint in their lives through the sharing I have done through my Blog and my videos.
I have been invited by Bookaka News Service to be one of its regular contributors.  This picture seals my commitment to BooKAKA to be one among the Top Ten.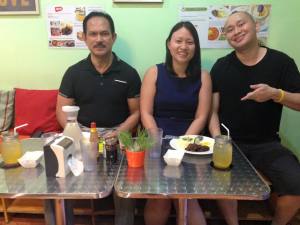 As a regular contributor, I will be creating exclusive content for BooKAKA and based on our agreement this will not be appearing in my website:
TOP TEN SMART MONEY MOVES PLUS – The same Top Ten Smart Money Moves I usually publish but with more information from my TRT Screeners like the Most Bullish Stocks based on Moving Averages, The Stocks with Price Breakouts, The Stocks with Volume Breakouts and so on.
NINE IN THE EYES OF MINE – In addition to the THREE FOR FREE, I will be doing Stock Charts and Analysis of more Index and Non Index Stocks totaling Nine every week. I will also be doing more in-depth Analysis.
THOL – Traders Help On Line – Based on my proposal to Ms. Nikki Yu, I will be holding online chats with BooKAKA members to help them in their trading concerns. This idea came to me when I read a Facebook post about a certain trader who lost a huge sum of money claiming he bought the stock because of HYPE and as a result was contemplating on committing suicide. Sometimes, for people in a desparate situation just having someone to talk to or listen to them is enough to assuage their negative feelings. If I could save a life or save one trader a day from ruining his trading account, that would be enough satisfaction for me.
All the materials appearing in my website will remain FREE. If you would like to avail of these exclusive materials and services, please follow me at BooKAKA (www.bookaka.com)
At this juncture, I would like to thank all those who have helped me in promoting my advocacy. Special mention to Stockmarketpilipinas where the idea of my advocacy had its inception.  I would like to thank the Facebook trading groups who allowed me to post materials from my Blog and YouTube videos  (not necessarily in the order of importance but in alphabetical order). I will be sending PM's  to their group leaders separately for a complete list of their group leaders and admins because it will be part of the Acknowledgment of the book that I will soon be publishing: " The Responsible Trader – A Thinking Person's Guide for Trading the Philippine Stock Market."
BARBER'S TALES
BOOKAKA NEWS SERVICE
FACELESS TRADER GROUND ZERO
FILIPINO FINANCIAL FREEDOM
FILIPINO – INVESTMENT GUIDANCE AND ADVICE FOR NEWBIES (IGAN)
FINANCE MANILA
INVESTAGRAMS
INVESTING IN THE PHILIPPINE STOCK MARKET – TIPS AND TRICKS
ISIS (IN STOCK, IPIT SUNOG)
MT. OLYMPSE
NEW INVESTORS AND TRADERS HANGOUT
PHILSTOCK INVESTMENT/TRADER FORUM
PHILIPPINE STOCK MARKET DISCUSSONS, COMMENTS AND FORECAST
PINOY STOCKS INVESTORS
PISO FORUM NG BAGONG BAYANI
PRICE ACTION TRADERS
PSESTOCKMARKETINFORMATION
START-UP PHILIPPPINES
STOCKMARKETPILIPINAS
STOCKMARKET AWESOME AND RESPONSIBLE TRADERS
STOCKS.PH.COM
STOCK MARKET FRIENDS
STOCK TRADERS PILIPINAS
THE TRADING POST
TIKTIKAN SA TRADING
TRADER'S APPRENTICE PILIPINAS
TRADEAPP FB
TRADER'S INFO EXCHANGE
TRULY RICH CLUB
As I promised, before I end, I will give the solution to  the above Chess Problem.
The solution  is: 1. Pawn takes Knight and then underpromote to a Knight instead of a Queen which is the most powerful piece (which we usually do).  The pawn is underpromoted  to serve a better purpose.  In my case, like the pawn in the chess game upon reaching its final 64th square, instead of pursuing further ambitions and other lofty goals , I have given them up and decided to dedicate my life to my advocacy and my cause.
It is my hope that Responsible Trading would not be limited to your trading activities but would also spread to other part of your lives so that Responsible Trading eventually becomes Responsible Living:  Living life to the fullest and taking full responsibility for creating your positive causes and effects in life.
I wish you all the best in your learning journey and good luck on all your trades.