STOCK CHARTS AND ANALYSIS – BASIC GUIDELINES
STOCK CHARTS AND ANALYSIS – BASIC GUIDELINES
Stock Charts and Analysis – Basic Guidelines discusses important points that readers need to observe when reading and using them for whatever purpose they serve.  Observing these guidelines would enable our readers to maximize the benefits derived from them.
First of all, we would like to thank our readers for always giving us  very positive response every time we come up with new features in our website.  The substantial increase in our visitor traffic as a result of our Stock Charts and Analysis is more than enough satisfaction for our effort.
The following are the Basic Guidelines:
1.   In everything that we do, we are always guided by THE RESPONSIBLE TRADER'S CREED. We will NEVER TELL WHAT AND WHEN to BUY, HOLD or SELL. This way, we maintain our integrity and credibility and we will never be accused of taking advantage of our readers.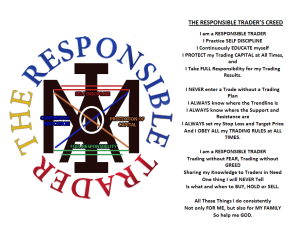 Kindly  take note that what we are sharing is a response to the need expressed by our readers for a TRUTHFUL, RELIABLE and TIMELY (the TRT Brand)   presentation of data based on what appear on the charts to help our readers avoid becoming Victims of HYPE.
2.   The STOCK CHARTS AND ANALYSIS are never intended to serve as TIPS. Our Readers are always encouraged to validate all our statements, perform due diligence and do whatever is necessary to make their own decisions.
3.   We believe that in Technical Analysis, there will NEVER BE CERTAINTIES because we will always be DEALING with PROBABILITIES.  Although we present Chart Patterns as we see them, some of the Pattern Targets may not be realized at all so our readers should always be prepared with stop loss points based on their risk tolerance level whenever they decide to take the trade based on our presentation.
4.   Responsible trading is evidence-based trading. When we see that our Analysis of price action is not sufficient, we use indicators to confirm our observations.  Most often, we use the MACD (Moving Average Convergence-Divergence) and RSI (Relative Strength Index) to validate our observations.  In our case, we make sure that there is a Massive Preponderance of Evidence in favor of a  High Probability Trade before we take a position.
5.   Based on our research, except for the Index stocks, the PSE has no official standard for classifying stocks as 2nd Liners or 3rd Liners.  Initially, in the absence of an objective way of classification, we tried to come up with a classification based on Market Capitalization:  2nd Liners are those Non-Index stocks with Market Capitalization not less than P10 Billion and 3rd Liners are those Non-Index stocks with Market Capitalization of P10 Billion and below.
In order to avoid any confusion, starting next week, we will just classify the stocks we analyze into two: Index Stocks and Non-Index Stocks.  For our THREE for FREE, we will have One Index Stock and Two Non-Index Stocks every week.   We will try to cover all Index Stocks.  For the Non-Index Stocks, we will cover those that are mostly discussed in Facebook groups and trading forums.
6.   If after using all the materials we have shared and the reader is not yet able to trade on his own, then perhaps the reader is not yet ready to trade. In cases like these, we suggest a review of all the videos we shared on the Master's Certificate in Technical Analysis available in our YouTube Channel: https://www.youtube.com/theresponsibletrader
Good luck on all your trades.