STOCK CHARTS AND ANALYSIS – PSPC
STOCK CHARTS AND ANALYSIS – PSPC
In accordance with our Independence Day commitment, following is our Technical Analysis of PSPC (PHOENIX SEMICONDUCTOR PHILS.)  as  of July 30, 2015.
This completes our  THREE for FREE for this week (MEG – Index stock, DD – 2nd Liner) and this one PSPC – 3rd Liner.
TA – The Responsible Trader's Way – No Hyping, No Bashing, Just Plain Cold Facts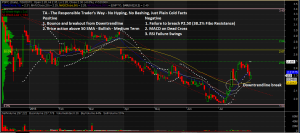 Positive
1.   Bounce and Breakout from Downtrendline.   After hitting its 52-week low, PSPC rallied and broke its Downtrendline.
2.   Price action above 50 SMA – Bullish – Medium Term. Recent Price above 50 SMA shows that the stock is Bullish on The Medium Term.
Neutral
1.   The last two candlesticks placed the price action of PSPC between the 15 EMA and the 20 SMA so this does not give us any indication on where the price is going on the Short Term.
Negative
1.   Failure to breach P2.50 (38.2% Fibo Resistance). Although the stock appears to have broken its Downtrendline, it was not strong enough to break the 38.2% Fibo resistance.
At this point, let us add some indicators to give us an idea of  the stocks  momentum.

2.    MACD on Dead Cross. The MACD just made a Dead Cross and although the histogram is above the Zero Line, it has been decreasing showing weakness in momentum.
3.   RSI Failure Swings. After the trendline break, the stock was not able to achieve higher Highs and even made a lower Low confirming the weakening of the stock's trend.
NOTES:
1.   Positive points are things that could work in your favor. Negative points are things that you have to watch out for.
2.   On the opposite side of Pattern Targets are Pattern Failures. In case you decide to take this trade, always remember to set a stop loss based on your established risk tolerance level.
The Chart and Analysis is presented for educational purposes only and should NEVER BE TAKEN as a RECOMMENDATION to BUY, HOLD, or SELL.
Please trade with CAUTION, please trade with CARE. As always, IT'S YOUR TAKE, IT'S YOUR CALL. IT'S YOUR MONEY AFTER ALL.
Good luck on all your trades.