STOCK CHARTS AND ANALYSIS – PSPC
STOCK CHARTS AND ANALYSIS – PSPC
In accordance with our Independence Day commitment, following is our Technical Analysis of PSPC (PHOENIX SEMICONDUCTOR PHILIPPINES CORPORATION) as of June 25, 2015.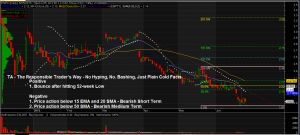 TA – The Responsible Trader's Way – No Hyping, No Bashing Just Plain Cold Facts.
Positive
1. Bounce after hitting 52-week low. PSPC appears to have bounced after hitting its 52-week low. However it needs to break P2.27 (61.8%)  Fibo convincingly with high volume to get out of its downtrend.
Negative
1. Price Action below 15 EMA and 20 SMA. This shows that the stock is Bearish in the Short Term.
2. Price Action below 50 SMA. This shows that the stock is Bearish in the Medium Term.
NOTE: Positive points are things that could work in your favor. Negative points are things that you have to watch out for.
The Chart and Analysis is presented for educational purposes only and should NEVER BE TAKEN as a RECOMMENDATION to BUY, HOLD, or SELL.
Please trade with CAUTION, please trade with CARE. As always, IT'S YOUR TAKE, IT'S YOUR CALL. IT'S YOUR MONEY AFTER ALL.
Good luck on all your trades