Stock Trading Lessons for Beginners
In accordance with the Continuous Learning element of Responsible Trading, I will be sharing through my Blog, Stock Trading Lessons for Beginners.
Before I start, please take note of the following:
NOTES ABOUT THE LESSONS I WILL BE SHARING
1.  For the sake of definition, Beginners  are either/and/or
Those with zero knowledge about trading.
 Those who, for one reason or another are not able to attend the trading seminars offered by  their brokers or those not able to have access for geographical reasons.
  From PM's I received the reasons are:
They do not have the time since they are also working and cannot find time based on their schedules.
They are located in places that are very far from where their brokers are holding the seminars.
2.  The lessons are not intended to be a substitute for the seminars offered by their brokers but will serve as basic foundation to enable them to better appreciate the seminars offered by their brokers once they have access to them.
3.  The lessons consist of  videos taken from YouTube, which I believe are appropriate for the purpose. Before taking the seminars offered by my online brokers, these are the same videos that complemented my learning journey and enabled me to be better prepared to appreciate the seminars offered by them.
To share my personal experience, inspite of my academic background (modesty aside I am a CPA with MBA) and my work experience (more than 30 years in the corporate world) I did not have any clue about Technical Analysis when I started trading.
4.  I will share first the lessons on Technical Analysis since I assume that this is where most of the knowledge gap is.  Almost all  of us have taken Basic Accounting and this is all you need to know to do a  Fundamental analysis. For Fundamental Analysis, the most important thing to be considered is Earnings and you should look for companies that are profitable, have a track record of being so, and its Earnings should be consistently growing for at least 3 years. For those who do not have any clue on what I am talking about, you may start with CANSLIM. http://www.investopedia.com/terms/c/canslim.asp
For me, I screen based on Fundamentals as indicated above and enter on Technicals.
5.  I will post the videos and outline the Learning Objectives every Saturday. As a value added, I will post The Responsible Trader's Notes every Thursday of the following week,  to annotate and explain the trading lessons in a simple and understandable way.
After posting the video lessons on Saturday, I expect the newbie to view and try to understand the topic discussed and do his own research to enhance his learning experience.  When I post The Responsible Trader's Notes, he should then try to compare what I am sharing with what he has learned.   We will repeat the whole process until we finish the whole course.  From feedback I received from those whom I have already shared this method, their learning was enhanced and they understood the lessons better after reading The Responsible Trader's Notes.
6.  Learning is better when done in short durations with breaks in between. The learning curve looks like this.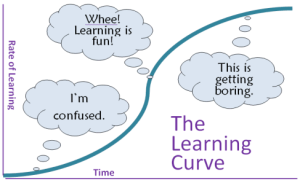 Learning curve image source: http://easternseastar21.wordpress.com/2013/05/15/exploring-the-learning-curve/
Rate of learning starts slowly then gradually builds up where it becomes fun and enjoyable. After reaching a certain level it  decelerates to the point of boredom.
If you divide your study periods into shorter durations with breaks in-bteween, you are going to double the point where learning is fun and enjoyable and you will be able to retain more materials in your brain.
Learning curve image source: http://easternseastar21.wordpress.com/2013/05/15/exploring-the-learning-curve/
7.  The Video lessons I will be sharing are taken from Cloud9 Media Limited's Master's Certificate in Technical Analysis covering the the following:
Module 1 – Technical Analysis and Dow Theory
Module 2 – Charting Basics
Module 3 – Trend Concepts
Module 4 – Reversal and Continuation Patterns
Module 5 – Volume and Open Interest
Module 6 – Moving Averages
Module 7 – Oscillators and Sentiment Indicators
Module 8 – Further Charting
Module 9 – Elliott Waves and Cycles of Time
Module 10 – Cloud Charts – Ichimoku Technique
Module 11 – Money Management and Computers
Module 12 – How to Build a Trading System
Please do not be intimidated by the Course title. At this point you might start thinking – "We are just Beginners and this guy is already offering us to take a course in Masters Certificate in Technical Analysis" a quantum leap from the present knowledge that we have. Is this realistic?" As I stated, please do not be intimidated by the title of the course.  Just give the first three Modules a try and combine this with The Responsible Trader's Notes and you will see how your learning becomes easy and enjoyable. Just persevere and you will learn and improve in due time.   If you are an absolute newbie, it is better to approach learning at your own pace. I suggest we do it once a week per my posting schedule.
Some newbies after seeing the course and knowing that they can view the full course on Youtube may try to learn everything in one sitting.  Please do not try to rush through the learning process.  If you do, it might result in mental indigestion.  Learning should be fun and enjoyable, never stressful.
After completing the course, you will be able to build your own trading system and you will be in a better position to discern and decide whether the advice given by the gurus/experts you are following are really sound and serves your best interests.
I will start posting Module 1 tomorrow Saturday and post the Responsible Trader's Notes Thursday next week.  This way you will have time to do your own research and integrate the additional inputs that I will be providing after each Module through The Responsible Trader's Notes.
Good luck on your learning journey to becoming a Responsible Trader.