Top Ten Smart Money Moves – Apr. 20, 2016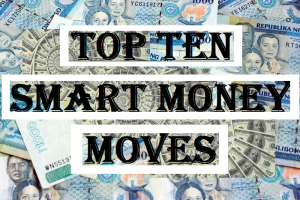 Top Ten Smart Money
Moves, starting January 2015, is the official trading
newsletter of The Responsible Trader
to promote
his advocacy, Responsible Trading
. This newsletter contains the previous day's data from PSE, the Top Ten Foreign Buying
and Selling, Top Ten in Total Traded
Value, including Trading
Notes based on the data of the previous day. This newsletter is given free to all the friends of The Responsible Trader
and to members of the Facebook group and the other organizations where he is a member. For the previous issue where complete details about the newsletter was fully discussed, please refer to: Daily Top Tens October 17, 2014.
Trading Notes for Today –  (Based on Apr. 20, 2016  Data)
Total Traded Value –  PhP 6.084  Billion –  Low
Market Breadth and Sentiment indicated by Advances Declines Ratio – (Ideal is 2:1 to be considered Bullish or Bearish)  104 Declines vs. 89 Advances = 1.17:1  Neutral
Total Foreign Buying – PhP 3.090  Billion
Total Foreign Selling – (Php 3.679) Billion
Net Foreign Buying (Selling) – (Php 0.589)  Billion – 2nd  day of Net Foreign Selling  after a day  of Net Foreign Buying
Data from the Philippine Stock Exchange
'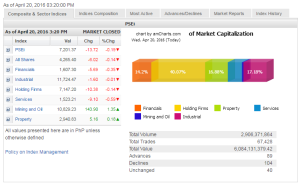 Screenshot courtesy of: www.pse.com.ph
PSE Heat Map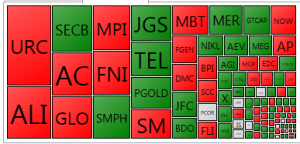 Screenshot courtesy of: PSEGET Software
Top Ten Foreign Buying
and Selling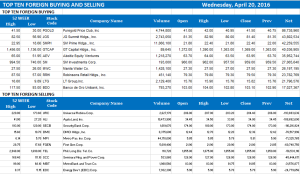 Top Ten in Total Traded
Value
From now on, I will just quote the related article from Business World so that we will have everything in one piece:
==================================================
Posted on April 20, 2016 08:26:00 PM
PSEi drops further, tracking slump in China mart
THE STOCK MARKET fell for a fourth straight session as the lack of market-moving developments on the local front was further dragged by the slump in Chinese equities, analysts said.
The benchmark Philippine Stock Exchange index (PSEi) dipped by 13.72 points or 0.19% to end Wednesday trading at 7,201.37.
The broader all-shares index also shed 6.02 points or 0.14% to close at 4,265.40.
"We once again closed lower despite global indices posting gains. The PSEi may continue to fall to as low as 7,100 as investors employ a wait-and-see strategy in the absence of market-moving news," Arbee B. Lu, equity research analyst at BA Securities, Inc., said in a mobile phone reply.
She noted the market's "lethargic" volume so far this week, with value turnover further thinning to P6.08 billion yesterday after 2.91 billion shares changed hands, from the P6.70 billion logged on Tuesday.
"[This] is likely to continue being so, as is normal when the index enters a stage of consolidation," Ms. Lu said. "As long as we remain within the 7,100-7,400 range, the PSEi will likely exhibit flat movements."
Rens V. Cruz II, investment analyst at Regina Capital Development Corp., said investors took their lead from the movement of overseas bourses, "following the lack of actionable news on the local front."
"China's slump (Shenzhen composite index -4.43%) forced some fund managers to reevaluate positions intraday, while other participants opted to sell off due to the index's 7,200 breach on [Tuesday's] trading," he said in a separate mobile phone reply.
Four out of six domestic subindices ended in the red, with services leading the decline, falling by 9.10 points or 0.59% to 1,523.21.
The financial sector likewise lost 5.69 points or 0.35% to 1,607.30; holding firms declined by 10.38 points or 0.14% to 7,147.20; and industrials slipped by 1.60 points or 0.01% to 11,724.47.
Still, the mining and oil counter surged by 143.90 points or 1.34% to 10,829.23 while property advanced by 5.16 points or 0.17% to 2,940.83.
Foreign selling extended to a second straight session, although net outflow shrank to P589.89 million yesterday from the P706.66 million seen the preceding day.
Losers overpowered gainers, 104 to 89, while 40 issues did not move.
Regina Capital's Mr. Cruz said that while the PSEi's short-term technicals appear "weak," buying pressure can still be expected at this level, as the main index lies on its 260-day moving average. Rebounds will likely be triggered, with rallies reaching 7,300 this week.
"A range trade is advisable, but watch support levels closely," he said.
BA Securities' Ms. Lu added: "We continue to keep a close eye on the 7,100 level given that the index has already breached its 32-day moving average." — Daphne J. Magturo
Source: http://www.bworldonline.com/content.php?section=StockMarket&title=psei-drops-further-tracking-slump-in-china-mart&id=126297
==================================================
Good
luck on all your TRADES
today
.
DISCLAIMER There is a very high degree of risk involved in TRADING
. Past results
are not indicative of future returns
. Nothing contained in this newsletter constitutes a solicitation, recommendation, PROMOTION
or endorsement of any security. In accordance with the Responsible TRADER
's Creed: I will never tell and you take full
responsibility for all your TRADING
results
NOTES:
Please take note of the following changes effective August 6, 2015:
1. Caption Market Breadth has been changed to Total Traded Value to simplify the presentation.
2. Market Breadth is expressed in terms of Number of Advances and Declines. Expressing this as a Ratio by using the larger number as Numerator we derive the Market Sentiment whether Bullish or Bearish.
3. Based on Past three-year data of Average Total Traded Values, following classifications will be used to make the presentation more relevant to present times. a. Low – Total Traded Value less than P8 Billion b. Medium – Total Traded Value P8 Billion but not more than P15 Billion c. High – Total Traded Value more than P15 Billion