Top Ten Smart Money Moves – Apr. 21, 2016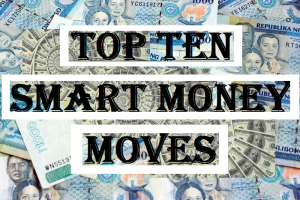 Top Ten Smart Money
Moves, starting January 2015, is the official trading
newsletter of The Responsible Trader
to promote
his advocacy, Responsible Trading
. This newsletter contains the previous day's data from PSE, the Top Ten Foreign Buying
and Selling, Top Ten in Total Traded
Value, including Trading
Notes based on the data of the previous day. This newsletter is given free to all the friends of The Responsible Trader
and to members of the Facebook group and the other organizations where he is a member. For the previous issue where complete details about the newsletter was fully discussed, please refer to: Daily Top Tens October 17, 2014.
Trading Notes for Today –  (Based on Apr. 21, 2016  Data)
Total Traded Value –  PhP 6.521  Billion –  Low
Market Breadth and Sentiment indicated by Advances Declines Ratio – (Ideal is 2:1 to be considered Bullish or Bearish)  105 Advances vs. 83  Declines = 1.27:1  Neutral
Total Foreign Buying – PhP 3.159  Billion
Total Foreign Selling – (Php 3.297) Billion
Net Foreign Buying (Selling) – (Php 0.138)  Billion – 3rd  day of Net Foreign Selling  after a day  of Net Foreign Buying
Data from the Philippine Stock Exchange
'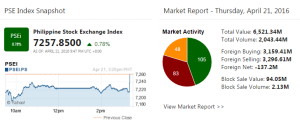 Screenshot courtesy of: www.bookaka.com
PSE Heat Map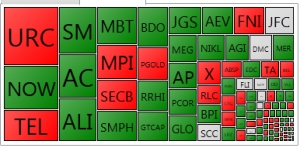 Screenshot courtesy of: PSEGET Software
Top Ten Foreign Buying
and Selling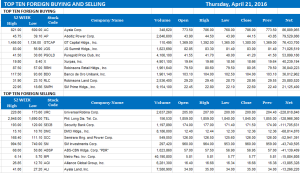 Top Ten in Total Traded
Value
From now on, I will just quote the related article from Business World so that we will have everything in one piece:
==================================================
Posted on April 21, 2016 09:01:00 PM
Stocks snap losing run on boost from Wall Street
THE STOCK market tracked Wall Street to break its four-day losing streak, while other investors scooped up select stocks ahead of market-moving data from the US and Europe.
The bellwether Philippine Stock Exchange index (PSEi) recovered 56.48 points or 0.78% to close at 7,257.85.
The broader all-shares index also gained 23.21 points or 0.54% to end at 4,288.61.
"We followed US equities coming from a lower-than-expected inventory buildup which helped improve crude oil prices," Alexander Adrian O. Tiu, senior equity analyst at AB Capital Securities, Inc., said in a telephone interview after trading hours.
Reuters reported that crude stockpiles grew 2.1 million barrels last week, less than the 2.4 million barrel build forecast by analysts polled by Reuters and the 3.1-million-barrel rise called by the American Petroleum Institute industry group.
On Wall Street, the Dow Jones industrial average index went up by 42.67 points or 0.24% to close at 18,096.27, the Standard & Poor's 500 index climbed 1.60 points or 0.08% to 2,102.40, and the tech-heavy Nasdaq index inched up by 7.80 points or 0.16% to 4,948.13.
Joylin F. Telagen, equity research analyst at IB Gimenez Securities, Inc., said in a mobile phone reply on Thursday: "It's just bargain of selected stocks ahead of the ECB (European Central Bank) meeting tonight."
She said the main index remains in a consolidation phase, and will remain so unless the ECB releases a positive statement. "But the Federal Reserve meeting next week (April 26-27 US time) might trigger investors to stay on the sidelines."
Five out of six domestic subindices rallied, with property surging by 40.53 points or 1.37% to 2,981.36. Holding firms jumped 51.91 points or 0.72% to 7,199.11; mining and oil advanced by 67.78 points or 0.62% to 10,897.01; financials gained 9.75 points or 0.60% to 1,617.05; and services inched up by 6.97 points or 0.45% to 1,530.18.
Only the industrial sector ended in the red after shedding 19.01 points or 0.16% to close at 11,705.46.
Major gainers were International Container Terminal Services, Inc., Ayala Land, Inc. and Bloomberry Resorts Corp.
"For the past few months, they've been the laggards so there might be some bargain hunters scooping up shares and accumulating at this level," AB Capital's Mr. Tiu said.
Value turnover remained thin, but slightly improved to P6.52 billion after 2.04 billion shares changed hands, from Wednesday's P6.08 billion.
Foreign investors dumped local stocks for a third straight day, although Thursday's net outflow dropped to P137.20 million from the P589.89 million seen in the previous session.
Advancers outnumbered decliners, 105 to 83, while 48 stocks did not move.
Mr. Tiu said the benchmark PSEi's trading range still lies between 7,200 and 7,300. — Daphne J. Magturo
Source: http://www.bworldonline.com/content.php?section=StockMarket&title=stocks-snap-losing-run-on-boost-from-wall-street&id=126378
==================================================
Good
luck on all your TRADES
today
.
DISCLAIMER There is a very high degree of risk involved in TRADING
. Past results
are not indicative of future returns
. Nothing contained in this newsletter constitutes a solicitation, recommendation, PROMOTION
or endorsement of any security. In accordance with the Responsible TRADER
's Creed: I will never tell and you take full
responsibility for all your TRADING
results
NOTES:
Please take note of the following changes effective August 6, 2015:
1. Caption Market Breadth has been changed to Total Traded Value to simplify the presentation.
2. Market Breadth is expressed in terms of Number of Advances and Declines. Expressing this as a Ratio by using the larger number as Numerator we derive the Market Sentiment whether Bullish or Bearish.
3. Based on Past three-year data of Average Total Traded Values, following classifications will be used to make the presentation more relevant to present times. a. Low – Total Traded Value less than P8 Billion b. Medium – Total Traded Value P8 Billion but not more than P15 Billion c. High – Total Traded Value more than P15 Billion