Top Ten Smart Money Moves – Apr. 22, 2016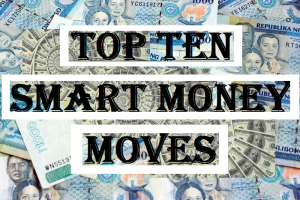 Top Ten Smart Money
Moves, starting January 2015, is the official trading
newsletter of The Responsible Trader
to promote
his advocacy, Responsible Trading
. This newsletter contains the previous day's data from PSE, the Top Ten Foreign Buying
and Selling, Top Ten in Total Traded
Value, including Trading
Notes based on the data of the previous day. This newsletter is given free to all the friends of The Responsible Trader
and to members of the Facebook group and the other organizations where he is a member. For the previous issue where complete details about the newsletter was fully discussed, please refer to: Daily Top Tens October 17, 2014.
Trading Notes for Today –  (Based on Apr. 22, 2016  Data)
Total Traded Value –  PhP 5.245  Billion –  Low
Market Breadth and Sentiment indicated by Advances Declines Ratio – (Ideal is 2:1 to be considered Bullish or Bearish)  97 Declines vs. 84 Advances  = 1.15:1  Neutral
Total Foreign Buying – PhP 3.018  Billion
Total Foreign Selling – (Php 2.712) Billion
Net Foreign Buying (Selling) – Php 0.306  Billion – 1st day of Net Foreign Buying after 3 days of Net Foreign Selling
Data from the Philippine Stock Exchange
'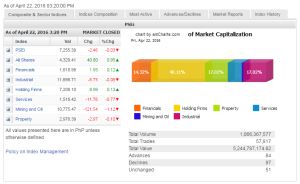 Screenshot courtesy of: www.pse.com.ph
PSE Heat Map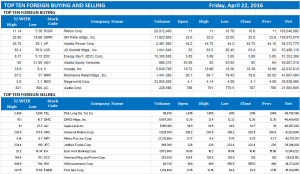 Screenshot courtesy of: PSEGET Software
Top Ten Foreign Buying
and Selling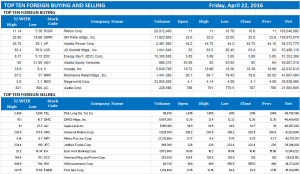 Top Ten in Total Traded
Value
From now on, I will just quote the related article from Business World so that we will have everything in one piece:
==================================================
Posted on April 24, 2016 08:29:00 PM
By Daphne J. Magturo, Reporter
Investors await firms' earnings amid uncertainty
MARKET PLAYERS will watch out for first-quarter corporate earnings this week, but the main index will likely trade sideways as investors struggle with uncertainty ahead of the elections, analysts said.
Week on week, the 30-company Philippine Stock Exchange index (PSEi) lost 65.91 points or 0.9% to close at 7,255.39 last Friday from 7,321.30 on April 15, dragged by valuation and China-related concerns, BDO Unibank, Inc. said in a client note sent on Friday.
In the same comparable period, the broader all-shares index advanced by 14.74 points or 0.34% to finish at 4,329.41 from 4,314.67.
"We expect the local equities to continue taking cue from the international markets and significant domestic data releases," BPI Asset Management said in its weekly review. "For [this] week, we see the PSEi to trade between 7,190 to 7,310."
AB Capital Securities, Inc. expects the main index to continue trading sideways up to the May 9 elections.
"Uncertainty in the election's outcome keeps investors risk-off, seeing as there is a lack of market clarity in terms of how the second half of the year would play out," the brokerage explained in its weekly market strategy report.
"We believe that the PSEi remains to be trapped in a sideways box-like range: the market psychology behind the sideways market movement is due to the political risks associated with the upcoming local election."
Last week, around P941 million in foreign investments exited the local market, with Tuesday seeing this year's fourth highest single-day capital outflow at P706 million, according to AB Capital.
"The market is likely taking a breather after digesting FY2015 (fiscal year 2015) earnings. Investors have been trading indecisively the past couple of session," Anton G. Alfonso, research analyst at RCBC Securities, Inc., said in a market report.
Among the stocks under RCBC's coverage, Philex Mining Corp. (+8.3%) and Nickel Asia Corp. (+7.4%) gained the most, while Security Bank Corp. (-7.9%) and PLDT, Inc. (-4.5%) saw the largest declines, Mr. Alfonso noted.
"Going forward, 1Q (first-quarter) earnings will be released beginning next week, which could lend more confidence to investors. On the other hand, the elections are only a couple of weeks away and more cautious investors might prefer to avoid the market leading to the exercise," the analyst said.
Chart-wise, the PSEi's close at 7,255.39 continues to suggest a near-term market range between 7,150 and 7,400, but still biased towards a test of the 7,000 levels, BDO Unibank said. "Only a move above the 7,400 levels would suggest otherwise."
Hastings Holdings, Inc., a unit of PLDT Beneficial Trust Fund subsidiary MediaQuest Holdings, Inc., has a stake in BusinessWorld through the Philippine Star Group, which it controls.
Source: http://www.bworldonline.com/content.php?section=StockMarket&title=investors-await-firms-earnings-amid-uncertainty&id=126460
==================================================
Good
luck on all your TRADES
today
.
DISCLAIMER There is a very high degree of risk involved in TRADING
. Past results
are not indicative of future returns
. Nothing contained in this newsletter constitutes a solicitation, recommendation, PROMOTION
or endorsement of any security. In accordance with the Responsible TRADER
's Creed: I will never tell and you take full
responsibility for all your TRADING
results
NOTES:
Please take note of the following changes effective August 6, 2015:
1. Caption Market Breadth has been changed to Total Traded Value to simplify the presentation.
2. Market Breadth is expressed in terms of Number of Advances and Declines. Expressing this as a Ratio by using the larger number as Numerator we derive the Market Sentiment whether Bullish or Bearish.
3. Based on Past three-year data of Average Total Traded Values, following classifications will be used to make the presentation more relevant to present times. a. Low – Total Traded Value less than P8 Billion b. Medium – Total Traded Value P8 Billion but not more than P15 Billion c. High – Total Traded Value more than P15 Billion