Top Ten Smart Money Moves – Apr. 25, 2016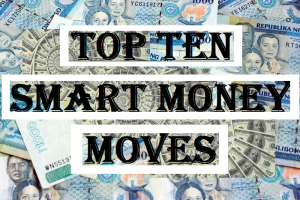 Top Ten Smart Money
Moves, starting January 2015, is the official trading
newsletter of The Responsible Trader
to promote
his advocacy, Responsible Trading
. This newsletter contains the previous day's data from PSE, the Top Ten Foreign Buying
and Selling, Top Ten in Total Traded
Value, including Trading
Notes based on the data of the previous day. This newsletter is given free to all the friends of The Responsible Trader
and to members of the Facebook group and the other organizations where he is a member. For the previous issue where complete details about the newsletter was fully discussed, please refer to: Daily Top Tens October 17, 2014.
Trading Notes for Today –  (Based on Apr. 25, 2016  Data)
Total Traded Value –  PhP 6.040  Billion –  Low
Market Breadth and Sentiment indicated by Advances Declines Ratio – (Ideal is 2:1 to be considered Bullish or Bearish)  112 Declines vs. 86 Advances  = 1.30:1  Neutral
Total Foreign Buying – PhP 3.243  Billion
Total Foreign Selling – (Php 3.230) Billion
Net Foreign Buying (Selling) – Php 0.013  Billion – 2nd day of Net Foreign Buying after 3 days of Net Foreign Selling
Data from the Philippine Stock Exchange
'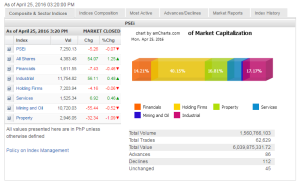 Screenshot courtesy of: www.pse.com.ph
PSE Heat Map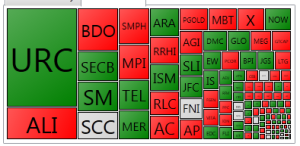 Screenshot courtesy of: PSEGET Software
Top Ten Foreign Buying
and Selling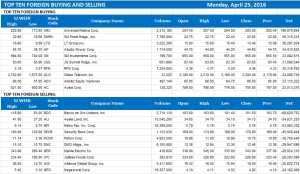 Top Ten in Total Traded
Value
From now on, I will just quote the related article from Business World so that we will have everything in one piece:
==================================================
Posted on April 25, 2016 07:36:00 PM
By Daphne J. Magturo, Reporter
Investors await US, Japan central bank signals
THE STOCK MARKET barely moved as the week opened, as investors dug in for signals from the US and Japan's central banks, analysts said.
Local barometer Philippine Stock Exchange index (PSEi) shed 5.26 points or 0.07% to end Monday trading at 7,250.13.
The broader all-shares index, however, advanced by 54.07 points or 1.24% to settle at 4,383.48.
"The market fell today following regional markets," Lexter L. Azurin, head of research at Unicapital Securities, Inc., said in a telephone interview after trading hours.
Among others, Japan's Nikkei 225 index tumbled by 133.19 points or 0.76% to 17,439.30, Hong Kong's Hang Seng index lost 162.60 points or 0.76% to 21,304.44, while China's Shanghai Composite index dipped by 12.57 points or 0.42% to end at 2,946.67.
"Most investors stayed on the sidelines ahead of central bank meetings this week, particularly in US and Japan. In general, investors remained cautious ahead of the meetings," Mr. Azurin added.
Reuters reported that the Fed, which lifted its benchmark overnight interest rate in December for the first time in nearly a decade, is widely expected to hold policy steady when it meets in Washington, D.C. on Tuesday and Wednesday, while the Bank of Japan that meets on the same days will mull another stimulus round.
Joylin F. Telagen, equity analyst at IB Gimenez Securities, said in a mobile phone reply: "I'm expecting that the US Fed will keep interest rates unchanged due to global uncertainties, but investors will look forward to the normalization path that the Fed will probably take."
Four of the six sectoral indices ended lower: the property sector fell by 32.34 points or 1.08% to close at 2,946.05, mining and oil dropped 55.44 points or 0.51% to 10,720.03, financials declined by 7.43 points or 0.45% to 1,611.55, while holding firms dipped by 4.16 points or 0.05% to 7,203.94.
In contrast, industrials went up by 56.11 points or 0.48% to end 11,754.82, while services edged up by 6.92 points or 0.45% to 1,525.34.
Monday's index movers included BDO Unibank, Inc., Metropolitan Bank & Trust Co. and SM Prime Holdings, Inc.
"Those three stocks accounted for about 16 points of the decline today," Unicapital's Mr. Azurin noted.
Monday's value turnover improved to P6.04 billion after 1.56 billion shares changed hands, from Friday's P5.24 billion.
Bears beat bulls, 112-86, while 45 names did not move.
Net foreign buying continued, but plunged to P12.86 million from Friday's P305.64 million.
This week, the PSEi is poised to retest 7,100-7,200 support levels and resistance at 7,400, said Unicapital's Mr. Azurin, citing a "negative bias given that elections are nearing. Most investors are on wait-and-see mode."
Source: http://www.bworldonline.com/content.php?section=StockMarket&title=investors-await-us-japan-central-bank-signals&id=126503
==================================================
Good
luck on all your TRADES
today
.
DISCLAIMER There is a very high degree of risk involved in TRADING
. Past results
are not indicative of future returns
. Nothing contained in this newsletter constitutes a solicitation, recommendation, PROMOTION
or endorsement of any security. In accordance with the Responsible TRADER
's Creed: I will never tell and you take full
responsibility for all your TRADING
results
NOTES:
Please take note of the following changes effective August 6, 2015:
1. Caption Market Breadth has been changed to Total Traded Value to simplify the presentation.
2. Market Breadth is expressed in terms of Number of Advances and Declines. Expressing this as a Ratio by using the larger number as Numerator we derive the Market Sentiment whether Bullish or Bearish.
3. Based on Past three-year data of Average Total Traded Values, following classifications will be used to make the presentation more relevant to present times. a. Low – Total Traded Value less than P8 Billion b. Medium – Total Traded Value P8 Billion but not more than P15 Billion c. High – Total Traded Value more than P15 Billion