Top Ten Smart Money Moves – Apr. 28, 2016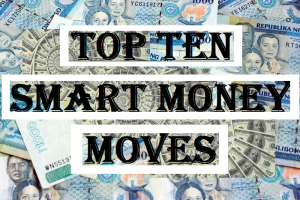 Top Ten Smart Money
Moves, starting January 2015, is the official trading
newsletter of The Responsible Trader
to promote
his advocacy, Responsible Trading
. This newsletter contains the previous day's data from PSE, the Top Ten Foreign Buying
and Selling, Top Ten in Total Traded
Value, including Trading
Notes based on the data of the previous day. This newsletter is given free to all the friends of The Responsible Trader
and to members of the Facebook group and the other organizations where he is a member. For the previous issue where complete details about the newsletter was fully discussed, please refer to: Daily Top Tens October 17, 2014.
Trading Notes for Today –  (Based on Apr. 28, 2016  Data)
Total Traded Value –  PhP 6.685 Billion –  Low
Market Breadth and Sentiment indicated by Advances Declines Ratio – (Ideal is 2:1 to be considered Bullish or Bearish)  110 Advances vs. 71 Declines vs.  = 1.55:1  Neutral
Total Foreign Buying – PhP 4.204  Billion
Total Foreign Selling – (Php 4.272) Billion
Net Foreign Buying (Selling) –  (Php 0.680)  Billion – 1st day of Net Foreign Selling after 4 days of Net Foreign Buying
Data from the Philippine Stock Exchange
'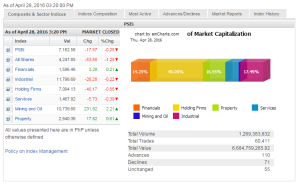 Screenshot courtesy of: www.pse.com.ph
PSE Heat Map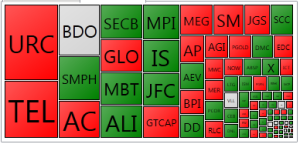 Screenshot courtesy of: PSEGET Software
Top Ten Foreign Buying
and Selling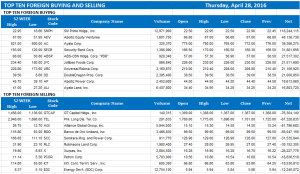 Top Ten in Total Traded
Value
From now on, I will just quote the related article from Business World so that we will have everything in one piece:
==================================================
Posted on April 28, 2016 08:54:00 PM
By Daphne J. Magturo, Reporter
Signs of recovery surface amid general weakness
LOCAL EQUITIES ended Thursday trading with their fifth day of losses — even as half of sectoral indices recovered from the previous session — as markets worldwide reacted to policy decisions of the US and Japanese central banks.
The bellwether Philippine Stock Exchange index shed 17.97 points or 0.25% to end at 7,162.56, while broader all-shares index similarly dropped 53.58 points or 1.24% to close at 4,247.85.
"The almost similar decisions of the BoJ (Bank of Japan) and the US Federal Reserve drew different reactions from the markets," Justino B. Calaycay, Jr., head of marketing and research at A&A Securities, Inc., said in a market report after trading hours.
"After the announcement of the Fed's decision to keep policy unchanged, US stocks posted slight gains," Mr. Calaycay noted.
"Nearly half-a-day later, the BoJ's decision to hold off tweaks in its settings caused a reversal of morning trends," he added, noting that the Fed's move was "largely expected" while that of the BoJ's came as a "surprise."
Reuters reported that the Fed retained interest rates on Wednesday but kept door open for a hike in June. It also gave little sign that it was in a hurry to tighten monetary policy amid an apparent slowdown in the US economy. Reuters also said that the BoJ held off from expanding monetary stimulus on Thursday. It trimmed its inflation forecasts and pushed back the timing for hitting its 2% price target by six months.
"Market closed slightly down as we followed other Asian markets, although for today we have registered net foreign buying of $3.4 million. Higher net foreign buying is attributable to FOMC (Federal Open Market Committee) decision to retain interest rates," Paul Michael A. Angelo, equity analyst at Regina Capital Development Corp., said via text.
Three of the six sectoral indices recovered from previous losses: mining and oil surged by 231.92 points or 2.20% to finish 10,739.66, property gained 17.82 points or 0.61% to 2,940.36, while financials edged up by 3.28 points or 0.20% to end 1,596.46.
In contrast, holding firms plunged 46.17 points or 0.64% to 7,094.13, services lost 5.73 points or 0.38% to 1,467.92, while industrials slipped 26.28 points or 0.22% to 11,798.69.
Value turnover slightly improved to P6.68 billion after 1.27 billion shares changed hands, from Wednesday's P6.33 billion.
Gainers outnumbered those that declined 110-71, while 55 names did not move.
"For tomorrow it could go slightly up. The market has already been low since the week began and usually during the end of month some firms are window dressing," said Regina Capital's Mr. Angelo. "However upside could be tempered due to current political sentiments."
He said the PSEi's support lies at 7,150 while resistance is seen at 7,202.
Source: http://www.bworldonline.com/content.php?section=StockMarket&title=signs-of-recovery-surface-amid-general-weakness&id=126739
==================================================
Good
luck on all your TRADES
today
.
DISCLAIMER There is a very high degree of risk involved in TRADING
. Past results
are not indicative of future returns
. Nothing contained in this newsletter constitutes a solicitation, recommendation, PROMOTION
or endorsement of any security. In accordance with the Responsible TRADER
's Creed: I will never tell and you take full
responsibility for all your TRADING
results
NOTES:
Please take note of the following changes effective August 6, 2015:
1. Caption Market Breadth has been changed to Total Traded Value to simplify the presentation.
2. Market Breadth is expressed in terms of Number of Advances and Declines. Expressing this as a Ratio by using the larger number as Numerator we derive the Market Sentiment whether Bullish or Bearish.
3. Based on Past three-year data of Average Total Traded Values, following classifications will be used to make the presentation more relevant to present times. a. Low – Total Traded Value less than P8 Billion b. Medium – Total Traded Value P8 Billion but not more than P15 Billion c. High – Total Traded Value more than P15 Billion