Top Ten Smart Money Moves – April 21, 2017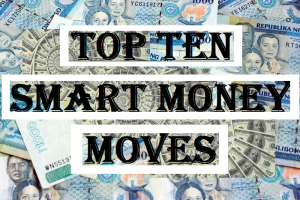 Top Ten Smart Money Moves, starting January 2015, is the official trading newsletter of The Responsible Trader to promote his advocacy, Responsible Trading. This newsletter contains the previous day's data from PSE, the Top Ten Foreign Buying and Selling, Top Ten in Total Traded Value, including Trading Notes based on the data of the previous day. This newsletter is given free to all the friends of The Responsible Trader and to members of the Facebook group and the other organizations where he is a member. For the previous issue where complete details about the newsletter was fully discussed, please refer to: Daily Top Tens October 17, 2014.
Trading Notes for Today –  (Based on April 21, 2017  Data)
Total Traded Value –  PhP  32.086  Billion – High
Advances Declines Ratio – (Ideal is 2:1)  107 Advances vs. 89 Declines = 1.20:1  Neutral
Total Foreign Buying – PhP 4.180  Billion
Total Foreign Selling – (PhP  4.418  Billion)
Net Foreign Buying (Selling) – (PhP 0.238  Billion) – 5th day of Net Foreign Selling after 9 days of Net Foreign Buying
Data from the Philippine Stock Exchange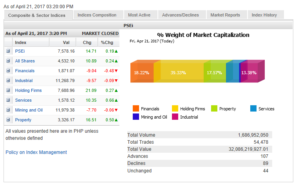 Screenshot courtesy of: www.pse.com.ph
PSE HEAT MAP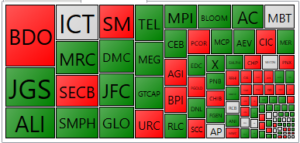 Screenshot courtesy of PSEGET
Top Ten Foreign Buying and Selling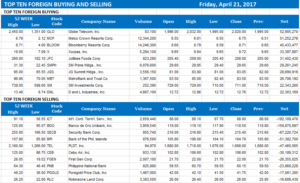 Top Ten in Total Traded Value
From now on, I will just quote the related article from Business World so that we will have everything in one piece:
==================================================
PHL stocks end higher after US markets rally
Posted on April 22, 2017
LOCAL stocks advanced by nearly a fifth of a percent at the close of the week on the uptick by index heavyweights PLDT and Globe.
The biggest advancer was Cebu Air, Inc., which gained 3.7%, due to oil continuing to decline and improving tourist arrivals.
The 30-member Philippine Stock Exchange index (PSEi) gained 0.19% or 14.71 points to settle at 7,578.16 yesterday. The all-shares index also rose 0.24% or 10.89 points to end Friday at 4,532.10.
"[T]he Philippine markets tried to replicate the positive performance of the US, as overnight, financials and industrials led the rally as S&P 500 climbed 17.67 points, or 0.8%, to 2,355.84," said Luis A. Limlingan, managing director of Regina Capital Development Corp. said.
"US stocks finished higher on Thursday as strong economic data and corporate earnings lifted the main benchmarks," he said.
"In relation to previous days, the PSEi took some cues from other data such as when [the U.S.] Fed[eral Reserve] released its Beige Book on Wednesday. The U.S. economy expanded at a modest-to-moderate pace between mid-February and the end of March, but inflation pressures remained in check despite more difficulties in attracting and retaining workers," Mr. Limlingan said.
In the local market, three of the six sub-indices advanced, led by services, which gained 0.66% increase, followed by property (0.50%) and the holding firms (0.27%) counters.
Services was "mainly led by heavyweights GLO and TEL," Mr. Limlingan said, adding that, "investors bought up these heavily sold issues from the previous days."
GLO and TEL are the respective stock symbols of telecom companies Globe Telecom, Inc. and PLDT, Inc., each of which gained 1.25% and 1.07%, respectively.
"CEB was the biggest advancer due to oil continuing to decline and every improving tourist arrivals," Mr. Limlingan said, referring to Cebu Air, Inc., which gained 3.7%.
In contrast, the financials, industrials and mining and oil sectors gave up ground.
"Financials were driven lower as traders sold on news after BPI and BDO released their preliminary Q1 figures," Mr. Limlingan said, referring to Bank of the Philippine Islands and BDO Unibank, Inc., both of which reported net income growth of 25.6% and 6%, respectively in the first quarter.
"CHIB was the biggest loser as more profit takers are coming out post SRO," Mr. Limlingan said, referring to China Banking Corp., which earlier undertook a stock rights offering.
"Many brokerages revised many of their fair value estimates for the bank and clients were reacting to these changes. BDO in particular may have experienced more selling pressure after readjusting their [full-year] profit guidance from P28.8 [billion] to P28 [billion]," Mr. Limlingan added.
A total of 1.6 billion shares worth a combined P32.09 billion changed hands on Friday, from the previous day's a billion shares worth P5.94 billion. A total of 107 companies advanced, whereas 89 declined and 44 were unchanged.
Besides BDO, other active trades were JG Summit Holdings, Inc. and Ayala Land, Inc.
"[N]ext week markets may take their cues from the arrival of the ASEAN delegates," Mr. Limlingan said, adding that, "There is the possibility of earlier window dressing due to a shortened trading period."
"In addition, markets may be reacting to the upcoming French elections and the US data coming which will be focusing on PMI and home sales," Mr. Limlingan added.
All eyes are on France's presidential elections, the first major poll in Europe after the UK's Brexit vote. Markets also are looking to the upcoming purchasing manager's index and home sales data out of the US for cues on possible Fed policy moves going forward.
The US central bank is expected to deliver two more rate hikes this year. — Jil Danielle M. Caro
Source:
http://www.bworldonline.com/content.php?section=StockMarket&title=phl-stocks-end-higher-after-us-markets-rally&id=144082
=====================================================
We aim to continue promoting financial literacy on the area of stock market trading and investing to our countrymen both here and abroad through the following:
1. The Book: "The Responsible Trader – a Thinking Person's Guide for Trading the Philippine Stock Market" now earned the name "The Bible of Philippine Trading." You can download Chapter 1, Section 1 of the book here: http://theresponsibletrader.com/the-responsible-trader-hope-for-trading-knowledge-test/.
As requested by those abroad and those who want the book in digital form, we have produced an eBook version. For those interested please send email to: ninjatrader19@gmail.com Subject: The Responsible Trader – eBook Version.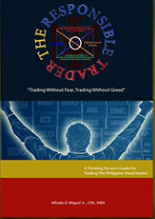 2. The Website: :http://www.theresponsibletrader.com where we publish our daily newsletter Top Ten Smart Money Moves, Stock Trading Lessons, and Inspirational Materials. (FREE)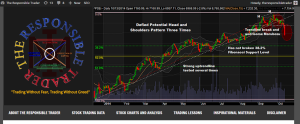 3. The YouTube Channel: https://www.youtube.com/theresponsibletrader – where you can learn the course "Master's Certificate in Technical Analysis" which was simplified in an easily understood manner. You can download these videos and learn them at your own convenient time. (FREE)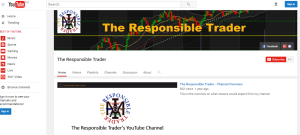 4. My Slideshare: http://www.slideshare.net/TheResponsibleTrader – where you can view and download copy of the Powerpoint Presentation of my TRT-POV (The Responsible Trader's Point of View) of the videos posted in our Youtube Channel. (FREE)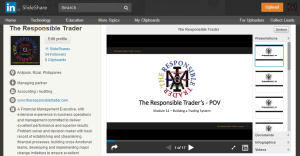 ===================================================
Good luck on all your TRADES today.
DISCLAIMER There is a very high degree of risk involved in TRADING. Past results are not indicative of future returns. Nothing contained in this newsletter constitutes a solicitation, recommendation, PROMOTION or endorsement of any security. In accordance with the Responsible TRADER's Creed: I will never tell and you take full responsibility for all your TRADING results
NOTES: Please take note of the following changes effective August 6, 2015: 1. Caption Market Breadth has been changed to Total Traded Value to simplify the presentation. 2. Market Breadth is expressed in terms of Number of Advances and Declines. Expressing this as a Ratio by using the larger number as Numerator we derive the Market Sentiment whether Bullish or Bearish. 3. Based on Past three-year data of Average Total Traded Values, following classifications will be used to make the presentation more relevant to present times. a. Low – Total Traded Value less than PhP 8 Billion b. Medium – Total Traded Value Php 8 Billion but not more than P15 Billion c. High – Total Traded Value more than Php 15 Billion