Top Ten Smart Money Moves – April 24, 2015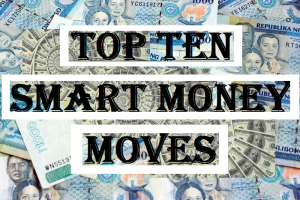 Top Ten Smart Money
Moves, starting January 2015,  is the official trading
newsletter of The Responsible Trader
to promote
his advocacy, Responsible Trading
.  This newsletter contains the previous day's data from PSE, the Top Ten Foreign Buying
and Selling, Top Ten in Total Traded
Value, including Trading
Notes based on the data of  the previous day.
This newsletter is given free to all the friends of The Responsible Trader
and to members of the Facebook group  and the other organizations where he is a member.
[adsense]
Trading Notes for Today –  (Based on April 24, 2015  Data)
Market Breadth (Range from PhP 2.6 Trillion to PhP 8.0 Billion)   PhP 10.777  Billion – Low
Advances Declines Ratio – (Ideal is 2:1 to be considered Bullish or Bearish) 100 Advances vs. 75 Declines    =  1.33 Neutral (Neither Bullish nor Bearish)
Total Foreign Buying – PhP 6.6390 Billion
Total Foreign Selling – PhP 5.9250 Billion
Net Foreign Buying (Selling) – PhP 0.7140 Billion
For the previous issue where complete details about the newsletter was fully discussed, please refer to: Daily Top  Tens October 17, 2014.
Data from the Philippine Stock Exchange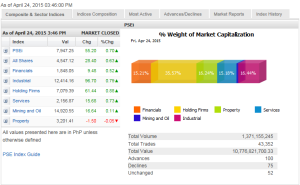 Screenshot courtesy of:  www.pse.com.ph
 Top Ten Foreign Buying
and Selling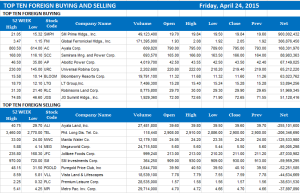 Top Ten in Total Traded
Value 
From now on, I will just quote the related article from Business World so that we will have everything in one piece:
===========================================================
Posted on April 26, 2015 05:32:00 PM
By Krista A. M. Montealegre, Senior Reporter
Shares to climb on optimism ahead of Fed meet
ALL EYES will be on the outcome of the US Federal Reserve's policy-setting meeting this shortened trading week, with the main index poised to retest the 8,000 level on expectations of favorable first-quarter earnings.
The bellwether Philippine Stock Exchange index (PSEi) capped last week's trades with a two-day advance to squeeze out a gain of less than a point
to close at 7,947.25 on Friday from 7,946.89 on April 17.
The broader all-shares index climbed 10.26 points or 0.22% to finish at 4,547.12 from 4,536.86 in the same comparable period.
"We see the market retesting the 8,000 level
, even possibly retesting the record-high level at 8,100. We could see favorable news in the US, particularly the Fed meeting," Lexter L. Azurin, head of research at Unicapital Securities, Inc., said in a phone interview.
The PSEi hit an all-time high of 8,127.48 on April 10, but has since succumbed to profit taking.
Philippine financial markets will be closed
on Friday for the Labor Day holiday.
The market expects no major announcement on policy shifts when the Federal Open Market Committee meets this week, with the US central bank
seen to continue preparing global markets for an interest hike.
"Markets will be tuning in on the language of the statement, if there has been any change since the 'will go slow' statement of the previous meeting. At that statement and in statements following that, certain
Fed officials, including the Chairperson herself, has practically written off any prospect of a change in the rates at this meeting," Justino B. Calaycay, Jr., analyst at Accord Capital Equities Corp., said in a report on Friday.
Shares may move between "7,850 [and] 8,030 with an upward bias," getting a boost from expectations of "mostly positive performance" from listed companies in the first quarter, BPI Asset Management said in its weekly outlook report released Friday.
While the market is tipped to trek higher this week, analysts warned that negative external developments
may put a lid on optimism, leading to volatile trades.
"The larger predicament that hasn't been resolved is China and what's the impact of its perceived slowdown," Luis A. Limlingan, business development head at Regina Capital Development Corp., said in a phone interview.
Mr. Limlingan said last week's flat finish could just be a "dead-cat bounce" after losing 2.22% in the prior week. "People might continue to lighten up in the first few days of trading before we see some window dressing…."
"The unfolding narrative of Greece will continue to be on top of or near the headlines while the world keeps
an eye on some geopolitical conflicts in the Middle East, a growing humanitarian/refugee crisis along the coast of Europe and China's insistent flexing of its muscle in the East and Southeast Asian region," Accord's Mr. Calaycay said.
Source: http://www.bworldonline.com/content.php?section=StockMarket&title=shares-to-climb-on-optimism-ahead-of-fed-meet&id=106794
===========================================================
Good
luck on all your TRADES
today
.
DISCLAIMER
There is a very high degree of risk involved in TRADING
.  Past results
are not indicative of future returns
.  Nothing contained in this newsletter constitutes a solicitation, recommendation, PROMOTION
or endorsement of any security.  In accordance with the Responsible TRADER
's Creed: I will never tell and you take full
responsibility for all your TRADING
results.