Top Ten Smart Money Moves – August 15, 2016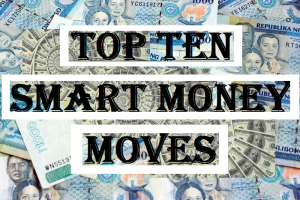 Top Ten Smart Money Moves, starting January 2015, is the official trading newsletter of The Responsible Trader to promote his advocacy, Responsible Trading. This newsletter contains the previous day's data from PSE, the Top Ten Foreign Buying and Selling, Top Ten in Total Traded Value, including Trading Notes based on the data of the previous day. This newsletter is given free to all the friends of The Responsible Trader and to members of the Facebook group and the other organizations where he is a member. For the previous issue where complete details about the newsletter was fully discussed, please refer to: Daily Top Tens October 17, 2014.
Trading Notes for Today – (Based on August 15, 2016 Data)
Total Traded Value – PhP 10.410 Billion – High
Market Breadth and Sentiment indicated by Advances Declines Ratio – (Ideal is 2:1 to be considered Bullish or Bearish) 108 Declines vs. 87 Advances = 1.24:1 Neutral
Total Foreign Buying – PhP 4.431 Billion
Total Foreign Selling – (PhP 4.976) Billion
Net Foreign Buying (Selling) (PhP 0.545) Billion – 2nd day of Net Foreign Selling after a day of Net Foreign Buying
Data from the Philippine Stock Exchange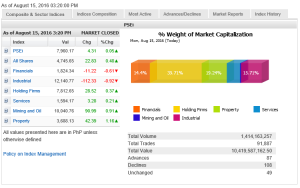 Screenshot courtesy of: www.pse.com.ph
PSE HEAT MAP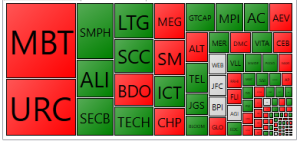 Screenshot courtesy of PSEGET
Top Ten Foreign Buying and Selling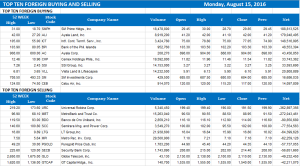 Top Ten in Total Traded Value
From now on, I will just quote the related article from Business World so that we will have everything in one piece:
==================================================
PSE index inches higher ahead of Q2 GDP report
By Victor V. Saulon, Sub-Editor
Posted on August 16, 2016
THE PHILIPPINE Stock Exchange index (PSEi) on Monday inched up during the last day of the reporting period for second-quarter earnings and ahead of the release of the gross domestic product (GDP) on Thursday.
The PSEi rose 4.31 points or 0.05% to 7,960.17 yesterday, recouping early losses. The all-shares index also gained 22.83 points or 0.48% to 4,745.65.
Joylin F. Telagen, research head at IB Gimenez Securities, said investors cashed in their gains during early trading hours after Japan's GDP result missed expectations.
Japan is the country's largest export destination, she said, accounting for 21% of total merchandise shipments. Its GDP rose by an annualized 0.2% in the second quarter, or below the 0.7% growth economists expected, as business spending contracted.
"However at the close, PSEi ended flat," Ms. Telagen said, pointing to investors who bought back oversold stocks such as Semirara Mining and Power Corp. (SMPC).
Shares in the Consunji-led company closed higher by 1.19% to P102 each after falling towards the end of last week after the Department of Environment and Natural Resources questioned its open-pit mine on Semirara Island in Antique province.
"Before the [Philippine] GDP result, I think PSEi will consolidate around 8,000 level," Ms. Telagen said.
2TradeAsia.com said some investors might be waiting on the sidelines until the release of the quarterly economic data to get a glimpse on the direction of the local market.
"As investors wait for the major news of the week, we see that the market to trade within a range," it said.
Subindices were mixed yesterday. Property shares posted the biggest gains at 42.39 points or 1.16% to 3,688.13, followed by the mining and oil index, which moved higher by 90.99 points or 0.91% to 10,040.76. Holding firms also advanced by 28.52 points or 0.37% to 7,812.65 while services gained 3.28 points or 0.21% to 1,594.17.
On the hand, the financials and industrial counters slipped by less than 1%.
Total trading value reached P10.42 billion yesterday, slightly higher than Friday's P10.1 billion.
More stocks declined at 108 against 87 advancers, while 49 closed unchanged.
Foreign investors sold more stocks than they bought resulting in a net selling of P544.95 million worth of shares, more than Friday's net outflow worth P73.20 million.
A BusinessWorld poll of 12 economists and analysts bared a median GDP growth estimate of 6.8% for the April-to-June period, faster than the upwardly revised 5.8% recorded a year ago but slower than the 6.9% logged in 2016's first quarter.
The online arm of F. Yap Securities, Inc. placed the PSEi's immediate support at 7,930 and the resistance level at 8,030.
Source: http://www.bworldonline.com/content.php?section=StockMarket&title=pse-index-inches-higher-ahead-of-q2-gdp-report&id=131954
==================================================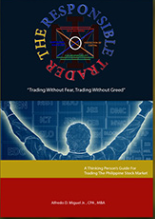 My book – "The Responsible Trader – a Thinking Person's Guide for Trading the Philippine Stock Market" has received very positive response both here and abroad and it has earned the moniker "The Bible of Philippine Trading."
As author of the book, I have been nominated under the Category of "Influential Author of the Year Award" conducted by the Angat Pilipinas Coalition for Financial Literacy. If this website has helped you in any way, kindly take the time to vote by clicking on this link:
http://angatph.com/angat-awards-and-nominations/polling-booth-angat-pilipinas-awards-2016/
and then log in with your Facebook Account so your vote will be counted. Online voting ends August 18, 2016. Thank you for your support.
===================================================
Good luck on all your TRADES today.
DISCLAIMER There is a very high degree of risk involved in TRADING. Past results are not indicative of future returns. Nothing contained in this newsletter constitutes a solicitation, recommendation, PROMOTION or endorsement of any security. In accordance with the Responsible TRADER's Creed: I will never tell and you take full responsibility for all your TRADING results
NOTES:
Please take note of the following changes effective August 6, 2015:
1. Caption Market Breadth has been changed to Total Traded Value to simplify the presentation.
2. Market Breadth is expressed in terms of Number of Advances and Declines. Expressing this as a Ratio by using the larger number as Numerator we derive the Market Sentiment whether Bullish or Bearish.
3. Based on Past three-year data of Average Total Traded Values, following classifications will be used to make the presentation more relevant to present times. a. Low – Total Traded Value less than P8 Billion b. Medium – Total Traded Value P8 Billion but not more than P15 Billion c. High – Total Traded Value more than P15 Billion