Top Ten Smart Money Moves – August 16, 2016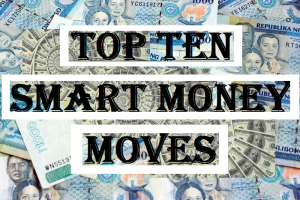 Top Ten Smart Money Moves, starting January 2015, is the official trading newsletter of The Responsible Trader to promote his advocacy, Responsible Trading. This newsletter contains the previous day's data from PSE, the Top Ten Foreign Buying and Selling, Top Ten in Total Traded Value, including Trading Notes based on the data of the previous day. This newsletter is given free to all the friends of The Responsible Trader and to members of the Facebook group and the other organizations where he is a member. For the previous issue where complete details about the newsletter was fully discussed, please refer to: Daily Top Tens October 17, 2014.
Trading Notes for Today – (Based on August 16, 2016 Data)
Total Traded Value – PhP 10.922 Billion – High
Market Breadth and Sentiment indicated by Advances Declines Ratio – (Ideal is 2:1 to be considered Bullish or Bearish) 107 Advances vs. 75 Declines = 1.43:1 Neutral
Total Foreign Buying – PhP 5.253 Billion
Total Foreign Selling – (PhP 6.012) Billion
Net Foreign Buying (Selling) (PhP 0.759) Billion – 3rd day of Net Foreign Selling after a day of Net Foreign Buying
Data from the Philippine Stock Exchange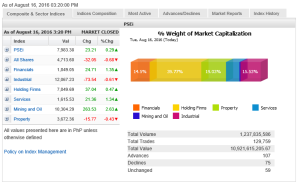 Screenshot courtesy of: www.pse.com.ph
PSE HEAT MAP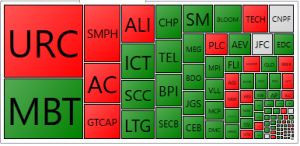 Screenshot courtesy of PSEGET
Top Ten Foreign Buying and Selling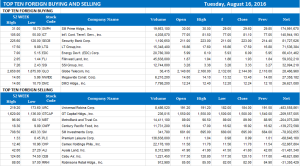 Top Ten in Total Traded Value
From now on, I will just quote the related article from Business World so that we will have everything in one piece:
==================================================
Stocks continue climb ahead of Q2 GDP report
Posted on August 17, 2016
LOCAL SHARES maintained their slow trek upwards on Tuesday, two days before the government releases economic growth numbers for the second quarter, which analysts expect to stay within forecast.
Yesterday, the Philippine Stock Exchange index (PSEi) gained 23.21 points or 0.29% to 7,983.38.
The all-shares index lost 32.05 points or 0.67% to 4,713.6.
"A lot of analysts are trying to aim for 7% for the second quarter, so expectations are high again," said Luis A. Limlingan, business development head at Regina Capital Development Corp.
Ahead of the gross domestic product (GDP) results, he said the market should be moving sideways.
"It's going to trade sideways. Probably sell the companies that under-performed during the quarter and buy the ones that performed well," he said.
Four of the six sectoral indices advanced, led by mining and oil, which went up by 263.53 points or 2.62% to 10,304.29 after repeated beating in the last few days following uncertainties in the sector with the suspension order imposed on several mining projects.
Financials also closed higher by 24.71 points or 1.35% to 1,849.05 while services gained 21.36 points or 1.34% to 1,615.53. Holding firms rose by 37.04 points or 0.47% to 7,849.69.
Mr. Limlingan said investors had already discounted the impact of a 7% GDP growth, thus the market might continue moving sideways should the figure stay just within forecast.
"I think it has to be well above 7% because I think it is already being discounted by a lot of people. Of course, if it is closer to 8% then I'm sure the index will go past 8,100," he said.
Trading value moved up a bit to P10.92 billion, about 5% higher than the previous day's P10.42 billion.
A total of 107 stocks advanced, 75 declined while 59 finished unchanged.
Net foreign selling went up to P759.22 million yesterday from Monday's P544.95 million.
"Expectations of a high GDP number on the back of election-related spending could push the market back above the 8,000 level," said Jonathan L. Ravelas, BDO Unibank, Inc. chief market strategist.
Joylin F. Telagen, research head at IB Gimenez Securities, said a better-than-expected GDP figure could push the index to an all-time high of around 8,200.
"The GDP result on Thursday will determine market direction," she said. "Downside risk will pull the index back to 7,800."
Like the movement in local shares, most Southeast Asian stock markets also rose on Tuesday, in line with Asia, aided by gains in oil prices overnight and on expectations of an extended phase of monetary easing after downbeat economic data from major economies.
Most countries are easing their monetary policies, with Britain, Australia and New Zealand cutting rates in recent weeks and Japan stepping up purchases of exchange-traded funds. — V.V. Saulon with Reuters
Source: http://www.bworldonline.com/content.php?section=StockMarket&title=stocks-continue-climb-ahead-of-q2-gdp-report&id=132021
==================================================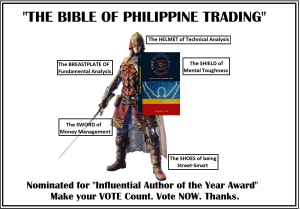 My book – "The Responsible Trader – a Thinking Person's Guide for Trading the Philippine Stock Market" has received very positive response both here and abroad and it has earned the moniker "The Bible of Philippine Trading."
As author of the book, I have been nominated under the Category of "Influential Author of the Year Award" conducted by the Angat Pilipinas Coalition for Financial Literacy.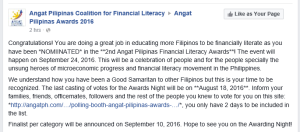 If this website has helped you in any way, kindly take the time to vote by clicking on this link:
http://angatph.com/angat-awards-and-nominations/polling-booth-angat-pilipinas-awards-2016/
and then log in with your Facebook Account so your vote will be counted. Online voting ends August 18, 2016. Thank you for your support.
===================================================
Good luck on all your TRADES today.
DISCLAIMER There is a very high degree of risk involved in TRADING. Past results are not indicative of future returns. Nothing contained in this newsletter constitutes a solicitation, recommendation, PROMOTION or endorsement of any security. In accordance with the Responsible TRADER's Creed: I will never tell and you take full responsibility for all your TRADING results NOTES: Please take note of the following changes effective August 6, 2015: 1. Caption Market Breadth has been changed to Total Traded Value to simplify the presentation. 2. Market Breadth is expressed in terms of Number of Advances and Declines. Expressing this as a Ratio by using the larger number as Numerator we derive the Market Sentiment whether Bullish or Bearish. 3. Based on Past three-year data of Average Total Traded Values, following classifications will be used to make the presentation more relevant to present times. a. Low – Total Traded Value less than P8 Billion b. Medium – Total Traded Value P8 Billion but not more than P15 Billion c. High – Total Traded Value more than P15 Billion