Top Ten Smart Money Moves – August 18, 2016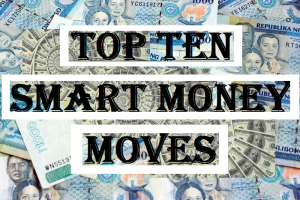 Top Ten Smart Money Moves, starting January 2015, is the official trading newsletter of The Responsible Trader to promote his advocacy, Responsible Trading. This newsletter contains the previous day's data from PSE, the Top Ten Foreign Buying and Selling, Top Ten in Total Traded Value, including Trading Notes based on the data of the previous day. This newsletter is given free to all the friends of The Responsible Trader and to members of the Facebook group and the other organizations where he is a member. For the previous issue where complete details about the newsletter was fully discussed, please refer to: Daily Top Tens October 17, 2014.
Trading Notes for Today – (Based on August 18, 2016 Data)
Total Traded Value – PhP 8.331 Billion – Medium
Market Breadth and Sentiment indicated by Advances Declines Ratio – (Ideal is 2:1 to be considered Bullish or Bearish) 109 Declines vs. 80 Advances = 1.36:1 Neutral
Total Foreign Buying – PhP 4.332 Billion
Total Foreign Selling – (PhP 4.864) Billion
Net Foreign Buying (Selling) (PhP 0.532) Billion – 5th day of Net Foreign Selling after a day of Net Foreign Buying
Data from the Philippine Stock Exchange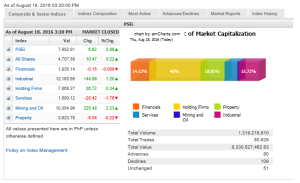 Screenshot courtesy of: www.pse.com.ph
PSE HEAT MAP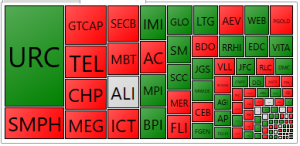 Screenshot courtesy of PSEGET
Top Ten Foreign Buying and Selling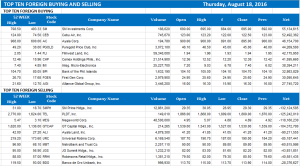 Top Ten in Total Traded Value
From now on, I will just quote the related article from Business World so that we will have everything in one piece:
==================================================
Stocks up as Fed minutes hint at rate increase
Posted on August 19, 2016
FASTER economic growth for the second quarter hardly moved the market on Thursday, with the Philippine Stock Exchange index (PSEi) closing with minimal gains even if the print surpassed expectations, with investors focusing instead on external developments.
The PSEi inched up by 6.62 points or 0.08% to 7,952.81 while the all-shares index rose by 10.47 or 0.22% to 4,707.58.
Nisha S. Alicer, chief equity analyst at DA Market Securities, Inc., said she would attribute the flat movement to "a mix of profit taking and positioning in index stocks."
"Market didn't move," said Joseph Y. Roxas, president of Eagle Equities, Inc.
Earlier in the day, online company 2TradeAsia.com said the market might focus on the latest gross domestic product (GDP) report as this would be the basis of the overall health of the local economy.
The Philippine Statistics Authority said the 7% GDP growth during the quarter was driven by the services sector, particularly trade, real estate and other services. The rise was better than the 5.9% registered in the same quarter last year.
The services sector expanded by 8.4% while industry grew by 6.9%. The figures were an improvement over last year's 6.7% and 6.1%, respectively. Agriculture declined by 2.1%, deeper than the 0.1% recorded a year earlier.
DA Market's Ms. Alicer said the GDP print was higher than the market's expectation of 6.6%, and came amid the release of the minutes of the US Federal Reserve meeting that showed an 18% possibility of an interest rate increase in September as against 45% in December.
She said the Fed minutes prompted a "risk-off sentiment." She added that foreign selling had been observed recently.
Among the subindices, industrial stocks along with holding firms and the mining and oil sector finished higher.
On the other hand, financials, services and property retreated.
Yesterday, foreign selling outpaced buying, resulting in net sales of P531.82 million worth of shares, lower than Wednesday's net selling of P998.45 million.
Total trading value yesterday declined by 12% to P8.33 billion from P9.47 billion the other day.
Losers outnumbered gainers, at 109 to 80, while 51 stocks closed unchanged.
Ms. Alicer said International Container Terminal Services, Inc. sold off after a six-day rally to finish at P82 per share, lower by 3.53%. In contrast, she noted a pick up in the shares of Universal Robina Corp. (URC) after a recent sell-off and the news of an acquisition.
On Wednesday, URC told the stock exchange that its wholly owned offshore subsidiary will acquire 100% of Australia's Consolidated Snacks Pty Ltd., owner of the brand Snack Brands for A$600 million. URC was the most active stock yesterday followed by SM Prime Holdings, Inc., GT Capital Holdings, Inc., PLDT, Inc. and Cemex Holdings Philippines, Inc. — V.V. Saulon
Source: http://www.bworldonline.com/content.php?section=StockMarket&title=stocks-up-as-fed-minutes-hint-at-rate-increase&id=132162
==================================================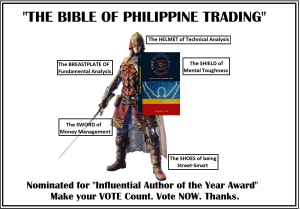 Our campaign for "The Influential Author of the Year Award" conducted by the Angat Pilipinas Coalition for Financial Literacy has sparked a lot of interest in the book.
The book is written in conversational language and I have avoided the ivory-tower type of presentation usually adopted by other writers in order to serve the need of new traders. It is just like me sitting beside you and talking personally to each other.
The price of the book is P1,200.00. It costs less than attending a paid seminar but you get more value than attending one.
The book can be obtained through our website: www.theresponsibletrader.com. Just click on the book icon appearing on the Featured Ads Column.
Book may also be obtained thru the branches of our publisher, Central Book Supply as follows:
• Quezon City (Main Branch): 927 Quezon Ave., Quezon City (TEL. 372-35-50)
• SM MEGAMALL: 5th Level Bldg. A, SM Megamall, Ortigas Center, Mandaluyong City (TEL. 638-10-88)
• C.M. RECTO AVENUE: Ever Gotesco, Manila Plaza Mall
• LYCEUM MAKATI: 109 SDC Building Leviste St., Brgy. Bel Air Makati, Manila (TEL: (632) 887-52-45
Those buying the book from these branches are enjoined to send scanned copies of their Official Receipts to The Responsible Trader email: ninjatrader919@gmail.com to claim the following freebies:
1. Ichi Moku Kinko Hyo Analytical Framework which will enable you to read Ichi Moku Kinko Hyo Charts as simple as reading A-B-C.
2. Fundamental Analysis Powerpack. These are worksheets I used when I was still working as Financial Management Executive in the corporate world
a. Business Valuation Model_Discounted Cashflow Analysis
b. Financial Ratio Analysis
3. Responsible Trading System Worksheet. This is your Technical Analysis, Trading Plan, Trading Log and Trading Performance Review ALL-IN-ONE.
We were informed that the voting is extended for another week. Make your vote count. Please click on this link:
http://angatph.com/angat-awards-and-nominations/polling-booth-angat-pilipinas-awards-2016/
I would appreciate it very much if you can tell your friends to do the same.
Thank you for your support.
===================================================
Good luck on all your TRADES today.
DISCLAIMER There is a very high degree of risk involved in TRADING. Past results are not indicative of future returns. Nothing contained in this newsletter constitutes a solicitation, recommendation, PROMOTION or endorsement of any security. In accordance with the Responsible TRADER's Creed: I will never tell and you take full responsibility for all your TRADING results NOTES: Please take note of the following changes effective August 6, 2015: 1. Caption Market Breadth has been changed to Total Traded Value to simplify the presentation. 2. Market Breadth is expressed in terms of Number of Advances and Declines. Expressing this as a Ratio by using the larger number as Numerator we derive the Market Sentiment whether Bullish or Bearish. 3. Based on Past three-year data of Average Total Traded Values, following classifications will be used to make the presentation more relevant to present times. a. Low – Total Traded Value less than P8 Billion b. Medium – Total Traded Value P8 Billion but not more than P15 Billion c. High – Total Traded Value more than P15 Billion