Top Ten Smart Money Moves – August 22, 2016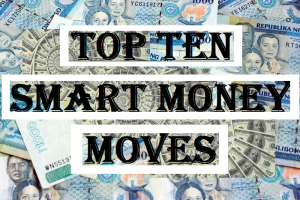 Top Ten Smart Money Moves, starting January 2015, is the official trading newsletter of The Responsible Trader to promote his advocacy, Responsible Trading. This newsletter contains the previous day's data from PSE, the Top Ten Foreign Buying and Selling, Top Ten in Total Traded Value, including Trading Notes based on the data of the previous day. This newsletter is given free to all the friends of The Responsible Trader and to members of the Facebook group and the other organizations where he is a member. For the previous issue where complete details about the newsletter was fully discussed, please refer to: Daily Top Tens October 17, 2014.
Trading Notes for Today – (Based on August 22, 2016 Data)
Total Traded Value – PhP 6.319 Billion – Low
Market Breadth and Sentiment indicated by Advances Declines Ratio – (Ideal is 2:1 to be considered Bullish or Bearish) 107 Advances vs. 84 Declines = 1.27:1 Neutral
Total Foreign Buying – PhP 3.174 Billion
Total Foreign Selling – (PhP 2.952) Billion
Net Foreign Buying (Selling) (PhP 0.222) Billion – 1st day of day of Net Foreign Buying after 6 days of Net Foreign Selling
Data from the Philippine Stock Exchange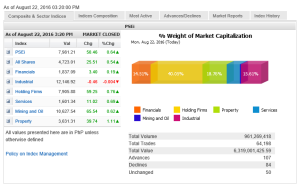 Screenshot courtesy of: www.pse.com.ph
PSE HEAT MAP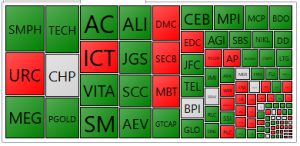 Screenshot courtesy of PSEGET
Top Ten Foreign Buying and Selling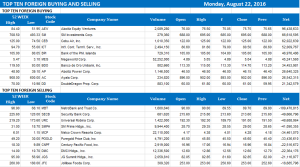 Top Ten in Total Traded Value
From now on, I will just quote the related article from Business World so that we will have everything in one piece:
==================================================
Local shares eke out gains in lackluster trading
Posted on August 23, 2016
LOCAL SHARES closed with some gains on Monday as some investors bought back oversold stocks while others stayed on the side watching how interest rates in the US would be moving towards the end of the year.
The Philippine Stock Exchange index (PSEi) finished higher by 50.46 points or 0.63% to 7,981.21. The all-shares index also rose by 25.51 points or 0.54% to 4,723.01.
Joseph Y. Roxas, president of Eagle Equities, Inc., described yesterday's trading as "lackluster" while investors watched to see what the US Federal Reserve will do next.
Joylin F. Telagen, research head at IB Gimenez Securities, said after last week's better-than-expected economic growth rate and a mixed bag of corporate earnings data, investors were again focusing on the Fed for signs of a possible rate hike.
She said that with the expected speech of Fed Chair Janet Yellen this week, the PSEi would likely consolidate at the 8,000 level. Ms. Yellen is scheduled to speak before global monetary policy makers on Aug. 26 in Jackson Hole, Wyoming.
After the speech, Ms. Telagen said the local shares bellwether "will likely break out to around 8,200 or break down at 7,800," depending on the "normalization path" that the US central bank will take before its meeting next month.
Ahead of the speech, some traders are optimistic of the direction of local stocks, which have stayed above the 7,900-mark for a while.
"I'm cautiously bullish because 7,900 seems to be holding," said Miko A. Sayo, a trader at Angping & Associates Securities Inc.
That optimism was felt among sectoral indices, which managed to post some gains, led by property shares, up 39.74 points or 1.10% to 3,631.31. Holding firms were up 59.25 points or 0.75% to 7,905.88. Services followed with an 11.02-point increase or 0.69% to 1,601.34.
Trading value, however, slipped to P6.32 billion, down 27% from P8.68 billion on Friday, with 961.27 million stocks changing hands.
Advancers outnumbered decliners, 107 to 84, while 50 issues finished unchanged.
Foreign investors bought more shares than they sold, resulting in a net buying of P222.43 million worth of stocks, a reversal of Friday's net sales worth P489.6 million
The day's top gainers were Liberty Flour Mills, Inc., Harbor Star Shipping Services, Inc., SOCResources, Inc., Manila Mining Corp. and Vitarich Corp. Liberty Telecoms Holding, Inc. was the top loser followed by Benguet Corp. "B."
Other Southeast Asian stocks remained sluggish on Monday, in line with broader Asian markets, on expectations that a signal might emerge from a US Federal Reserve gathering this week in Wyoming that the central bank is gearing up to raise interest rates.
Sentiment also got hit after Fed Vice-Chairman Stanley Fischer on Sunday gave an upbeat assessment of the US economy. — Victor V. Saulon with Reuters
Source: http://www.bworldonline.com/content.php?section=StockMarket&title=local-shares-eke-out-gains-in-lackluster-trading&id=132297
==================================================
We learned that the Angat Pilipinas Coalition for Financial Literacy Polls was extended until August 25, 2016.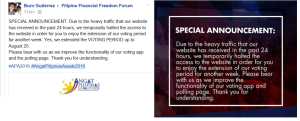 I have been nominated for the "Influential Author of the Year" Award. Choose Carefully. Vote Wisely. Vote for the one with the Complete Financial Literacy Package.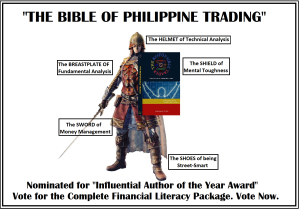 1. The Book: "The Responsible Trader – a Thinking Person's Guide for Trading the Philippine Stock Market" now earned the name "The Bible of Philippine Trading." You can download Chapter 1, Section 1 of the book here: http://theresponsibletrader.com/the-responsible-trader-hope-for-trading-knowledge-test/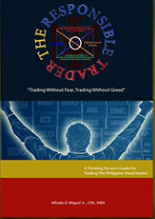 2. The Website: :http://www.theresponsibletrader.com where we publish our daily newsletter Top Ten Smart Money Moves, Stock Trading Lessons, and Inspirational Materials. (FREE)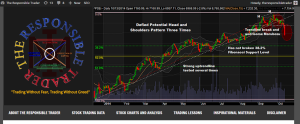 3. The YouTube Channel: https://www.youtube.com/theresponsibletrader – where you can learn the course "Master's Certificate in Technical Analysis" which was simplified in an easily understood manner. You can download these videos and learn them at your own convenient time. (FREE)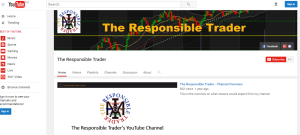 4. My Slideshare: http://www.slideshare.net/TheResponsibleTrader – where you can view and download copy of the Powerpoint Presentation of my TRT-POV (The Responsible Trader's Point of View) of the videos posted in our Youtube Channel. (FREE)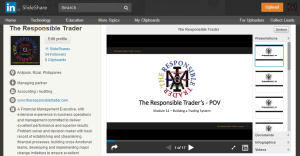 Vote now and avoid the rush. Please click this link:
http://angatph.com/angat-awards-and-nominations/polling-booth-angat-pilipinas-awards-2016/
No need to register thru your email account. Just log in with your Facebook account so your vote will be counted.
We would appreciate it very much if you can tell your friends to do the same.
Thank you very much for your support.
===================================================
Good luck on all your TRADES today.
DISCLAIMER There is a very high degree of risk involved in TRADING. Past results are not indicative of future returns. Nothing contained in this newsletter constitutes a solicitation, recommendation, PROMOTION or endorsement of any security. In accordance with the Responsible TRADER's Creed: I will never tell and you take full responsibility for all your TRADING results NOTES: Please take note of the following changes effective August 6, 2015: 1. Caption Market Breadth has been changed to Total Traded Value to simplify the presentation. 2. Market Breadth is expressed in terms of Number of Advances and Declines. Expressing this as a Ratio by using the larger number as Numerator we derive the Market Sentiment whether Bullish or Bearish. 3. Based on Past three-year data of Average Total Traded Values, following classifications will be used to make the presentation more relevant to present times. a. Low – Total Traded Value less than P8 Billion b. Medium – Total Traded Value P8 Billion but not more than P15 Billion c. High – Total Traded Value more than P15 Billion