Top Ten Smart Money Moves – December 15, 2016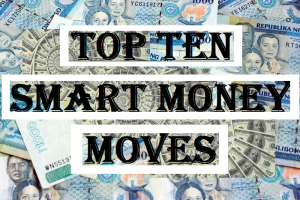 Top Ten Smart Money Moves, starting January 2015, is the official trading newsletter of The Responsible Trader to promote his advocacy, Responsible Trading. This newsletter contains the previous day's data from PSE, the Top Ten Foreign Buying and Selling, Top Ten in Total Traded Value, including Trading Notes based on the data of the previous day. This newsletter is given free to all the friends of The Responsible Trader and to members of the Facebook group and the other organizations where he is a member. For the previous issue where complete details about the newsletter was fully discussed, please refer to: Daily Top Tens October 17, 2014.
Trading Notes for Today –  (Based on December 15, 2016  Data)
Total Traded Value –  PhP  8.701 Billion – Medium
Advances Declines Ratio – (Ideal is 2:1) 117 Declines vs. 66 Advances  = 1.77:1  Neutral
Total Foreign Buying – PhP 4.852  Billion
Total Foreign Selling – (PhP  6.634 Billion)
Net Foreign Buying (Selling) – (PhP  1.782)  Billion – 5th day of Net Foreign Selling after 2 days of Net Foreign Buying   
Data from the Philippine Stock Exchange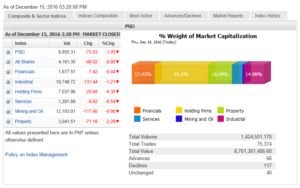 Screenshot courtesy of: www.pse.com.ph
PSE HEAT MAP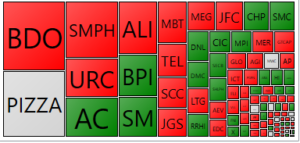 Screenshot courtesy of PSEGET
Top Ten Foreign Buying and Selling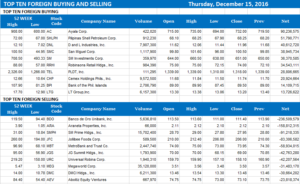 Top Ten in Total Traded Value

From now on, I will just quote the related article from Business World so that we will have everything in one piece:
==================================================
Bourse joins global retreat in face of Fed signals
Posted on December 16, 2016
LOCAL EQUITIES yesterday sounded a retreat with counterparts across the globe as the US Federal Reserve on Wednesday raised interest rates and signaled a faster pace of increases on the cards next year.
The Philippine Stock Exchange (PSE) index gave up 73.03 points or 1.05% to finish 6,855.31, while the all-shares index lost 40.02 points or 0.95% to end 4,161.35.
All six sectoral indices ended lower: property sank by 71.16 points or 2.29% to 3,041.51; industrial firms gave up 131.44 points or 1.21% to 10,748.72; mining and oil ceded 117.40 points or 0.96% to 12,103.01; services went down 6.92 points or 0.54% to 1,281.89; financials lost 7.42 or 0.44% to 1,677.57, while holding firms shed 25.68 points or 0.36% to 7,037.96.
"Phil[ippine] stocks declined as US stocks retreated after the Fed indicated a faster pace of rate increases for 2017. The Dow backed away from the so far yet-to-be-met magical 20K level after the [US] central [bank] announced just the second interest rate increase in a decade" Luis A. Limlingan, managing director at Regina Capital Development Corp., said in a mobile message.
The Fed raised interest rates by a quarter of a point at the end of its final two-day meeting for 2016 — the first increase in a year and the second in nearly a decade, as expected — but then signaled that uncertainty over economic policy under president-elect Donald J. Trump, who takes office next month, could lead to three hikes next year instead of the two foreseen in September.
The Dow Jones industrial average, the S&P 500 and the Nasdaq Composite dropped by 0.60%, 0.81% and 0.50%, respectively.
While the Nikkei 225 and MSCI AC Asia Pacific edged up by a nearly flat 0.10% and 0.07%, respectively; the Hang Seng, Shanghai Shenzhen CSI 300 and S&P/ASX 200 indices shed 1.77%, 1.14% and 0.82%, respectively.
Victor F. Felix, equity analyst at AB Capital Securities, Inc., said that markets may continue their downward trend in the face of the Fed's hawkish tone on interest hikes next year. "I think we're already pricing in a rate hike," said Mr. Felix in a phone interview.
Losers dominated advancers 117 to 66, while 40 issues were unchanged. The PSE marked its fifth straight trading day of net foreign selling, which surged 20-fold to P1.78 billion from Wednesday's P87.40 million.
Top-traded stocks that lost were led by BDO Unibank, Inc. that dropped P2.50 — or -2.19% — to P111.40 each; SM Prime Holdings, Inc., 85 centavos or -2.95% to P27.95; Universal Robina Corp., P2.80 or -1.74 to P158.10; Ayala Land, Inc., 60 centavos or -1.85% to P31.75; Metropolitan Bank & Trust Co., 35 centavos or -0.47% to P73.95; and PLDT, Inc., P21 — some -1.57% — to P1,318.
Those that gained were led by Shakey's Pizza Asia Ventures, Inc., that added 84 centavos or 7.46% to P12.10 apiece; Ayala Corp., P12.50 or 1.74% to P732; Bank of the Philippine Islands, 50 centavos or 0.56% to P89.50; and SM Investments Corp., P1 or 0.15% to end P651 each. — Janina C. Lim with Reuters
Source: http://www.bworldonline.com/content.php?section=StockMarket&title=bourse-joins-global-retreat-in-face-of-fed-signals&id=137840
==================================================
We aim to continue promoting financial literacy on the area of stock market trading and investing to our countrymen both here and abroad through the following:
1. The Book: "The Responsible Trader – a Thinking Person's Guide for Trading the Philippine Stock Market" now earned the name "The Bible of Philippine Trading." You can download Chapter 1, Section 1 of the book here: http://theresponsibletrader.com/the-responsible-trader-hope-for-trading-knowledge-test/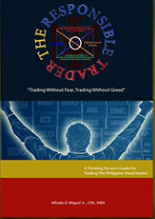 2. The Website: :http://www.theresponsibletrader.com where we publish our daily newsletter Top Ten Smart Money Moves, Stock Trading Lessons, and Inspirational Materials. (FREE)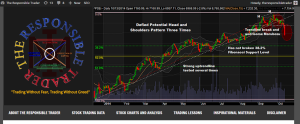 3. The YouTube Channel: https://www.youtube.com/theresponsibletrader – where you can learn the course "Master's Certificate in Technical Analysis" which was simplified in an easily understood manner. You can download these videos and learn them at your own convenient time. (FREE)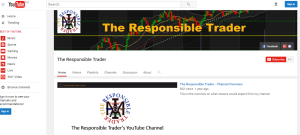 4. My Slideshare: http://www.slideshare.net/TheResponsibleTrader – where you can view and download copy of the Powerpoint Presentation of my TRT-POV (The Responsible Trader's Point of View) of the videos posted in our Youtube Channel. (FREE)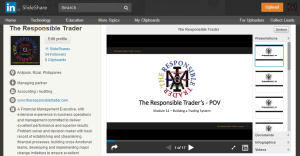 ===================================================
Good luck on all your TRADES today.
DISCLAIMER There is a very high degree of risk involved in TRADING. Past results are not indicative of future returns. Nothing contained in this newsletter constitutes a solicitation, recommendation, PROMOTION or endorsement of any security. In accordance with the Responsible TRADER's Creed: I will never tell and you take full responsibility for all your TRADING results
NOTES: Please take note of the following changes effective August 6, 2015: 1. Caption Market Breadth has been changed to Total Traded Value to simplify the presentation. 2. Market Breadth is expressed in terms of Number of Advances and Declines. Expressing this as a Ratio by using the larger number as Numerator we derive the Market Sentiment whether Bullish or Bearish. 3. Based on Past three-year data of Average Total Traded Values, following classifications will be used to make the presentation more relevant to present times. a. Low – Total Traded Value less than P8 Billion b. Medium – Total Traded Value P8 Billion but not more than P15 Billion c. High – Total Traded Value more than P15 Billion