Top Ten Smart Money Moves – December 22, 2016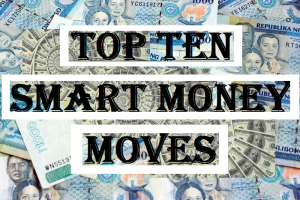 Top Ten Smart Money Moves, starting January 2015, is the official trading newsletter of The Responsible Trader to promote his advocacy, Responsible Trading. This newsletter contains the previous day's data from PSE, the Top Ten Foreign Buying and Selling, Top Ten in Total Traded Value, including Trading Notes based on the data of the previous day. This newsletter is given free to all the friends of The Responsible Trader and to members of the Facebook group and the other organizations where he is a member. For the previous issue where complete details about the newsletter was fully discussed, please refer to: Daily Top Tens October 17, 2014.
Trading Notes for Today –  (Based on December 22, 2016  Data)
Total Traded Value –  PhP  6.612 Billion – Low
Advances Declines Ratio – (Ideal is 2:1) 123 Declines vs. 43 Advances = 2.86:1  Bearish
Total Foreign Buying – PhP 2.946  Billion
Total Foreign Selling – (PhP  4.075 Billion)
Net Foreign Buying (Selling) – (PhP  1.129)  Billion – 10th day of Net Foreign Selling after 2 days of Net Foreign Buying   
Data from the Philippine Stock Exchange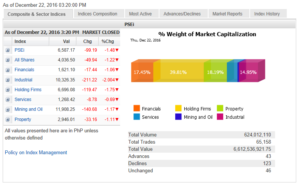 Screenshot courtesy of: www.pse.com.ph
PSE HEAT MAP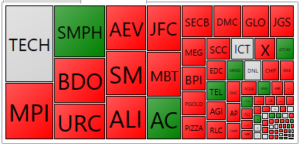 Screenshot courtesy of PSEGET
Top Ten Foreign Buying and Selling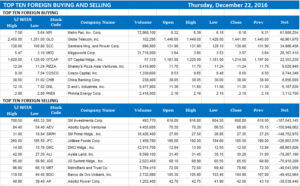 Top Ten in Total Traded Value
From now on, I will just quote the related article from Business World so that we will have everything in one piece:
==================================================
PSEi sinks to 6,500 level amid global volatility
Posted on December 23, 2016
LOCAL STOCKS stumbled on Thursday, with the main index sinking to the 6,500 level, amid global volatility and a lack of fresh leads to prompt a "Santa Claus" rally.
The bellwether Philippine Stock Exchange index (PSEi) plunged by 1.48% or 99.19 points to end at 6,587.17, its lowest level in almost a year.
With less than a week of trading left for 2016, the PSEi remains deeply in the red for the year from its end-2015 close of 6,952.08.
The all-shares index also fell 1.22% or 49.94 points to 4,036.50 points yesterday.
Analysts said the lack of fresh leads, coupled with volatile movements in financial markets across the globe, caused the main index to plunge yesterday.
"The volatility in the global market and lack of market-moving news further discouraged investors," First Grade Finance, Inc. Managing Director Astro C. del Castillo said in a text message.
"It's still due to negative sentiment. We're seeing continued net foreign selling in the market. It's a combination of unattractive valuations and domestic concerns (political) aren't helping. Foreign investors are shifting to other markets that are more attractive than the Philippines," Lexter A. Azurin, Unicapital Securities, Inc. research head, said in a text message.
Luis A. Limlingan, managing director at the Regina Capital Development Corp., said Asian markets also tracked US indices lower.
Global markets have been on a decline following the US Federal Reserve's decision last week to raise interest rates for the first time in a year, coupled with its hawkish tone on more rate hikes next year.
All sectoral indices ended in the red yesterday. Industrials slumped 2% or 211.22 points to 10,326.35; holding firms stumbled 1.75% or 119.47 points to 6,696.08; mining and oil dropped 1.16% or 140.68 points to 11,908.25; property went down 1.11% or 33.16 points to 2,946.01; financials fell 1.06% or 17.44 points to 1,621.10; and services slipped by 0.68% or 8.78 points to end the session at 1,268.42.
Value turnover amounted to P6.61 billion, higher than Wednesday's P5.28 billion, as 624.01 million shares changed hands.
Losers outnumbered advancers, 123 to 43, while 46 issues ended flat.
Foreigners continued to dump shares on Thursday, with net selling recorded at P1.13 billion, rising from the P756.41 million seen on Wednesday.
Southeast Asian stock markets were subdued on Thursday, tracking Asian peers. Asian shares also struggled following an uninspiring session on Wall Street, with MSCI's broadest index of Asia-Pacific shares outside Japan hitting its lowest in a month.
Singapore shares hit their lowest in more than three weeks and were headed for a fourth straight session of declines. Malaysian shares slipped to their lowest in more than two weeks, while Jakarta fell for an eighth straight session, dragged down by financial and consumer stocks. — J.C. Lim with Reuters
Source: http://www.bworldonline.com/content.php?section=StockMarket&title=psei-sinks-to-6500-level-amid-global-volatility&id=138174
==================================================
We aim to continue promoting financial literacy on the area of stock market trading and investing to our countrymen both here and abroad through the following:
1. The Book: "The Responsible Trader – a Thinking Person's Guide for Trading the Philippine Stock Market" now earned the name "The Bible of Philippine Trading." You can download Chapter 1, Section 1 of the book here: http://theresponsibletrader.com/the-responsible-trader-hope-for-trading-knowledge-test/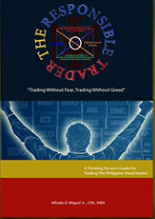 2. The Website: :http://www.theresponsibletrader.com where we publish our daily newsletter Top Ten Smart Money Moves, Stock Trading Lessons, and Inspirational Materials. (FREE)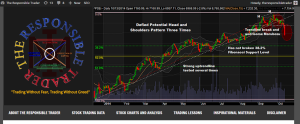 3. The YouTube Channel: https://www.youtube.com/theresponsibletrader – where you can learn the course "Master's Certificate in Technical Analysis" which was simplified in an easily understood manner. You can download these videos and learn them at your own convenient time. (FREE)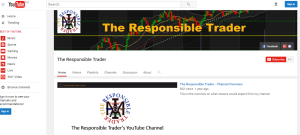 4. My Slideshare: http://www.slideshare.net/TheResponsibleTrader – where you can view and download copy of the Powerpoint Presentation of my TRT-POV (The Responsible Trader's Point of View) of the videos posted in our Youtube Channel. (FREE)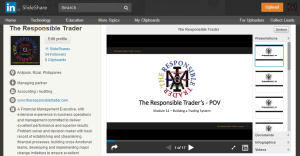 ===================================================
Good luck on all your TRADES today.
DISCLAIMER There is a very high degree of risk involved in TRADING. Past results are not indicative of future returns. Nothing contained in this newsletter constitutes a solicitation, recommendation, PROMOTION or endorsement of any security. In accordance with the Responsible TRADER's Creed: I will never tell and you take full responsibility for all your TRADING results
NOTES: Please take note of the following changes effective August 6, 2015: 1. Caption Market Breadth has been changed to Total Traded Value to simplify the presentation. 2. Market Breadth is expressed in terms of Number of Advances and Declines. Expressing this as a Ratio by using the larger number as Numerator we derive the Market Sentiment whether Bullish or Bearish. 3. Based on Past three-year data of Average Total Traded Values, following classifications will be used to make the presentation more relevant to present times. a. Low – Total Traded Value less than P8 Billion b. Medium – Total Traded Value P8 Billion but not more than P15 Billion c. High – Total Traded Value more than P15 Billion