Top Ten Smart Money Moves – Feb. 12, 2016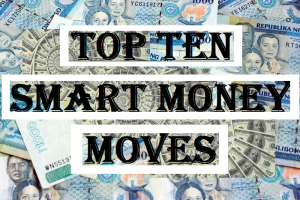 Top Ten Smart Money
Moves, starting January 2015, is the official trading
newsletter of The Responsible Trader
to promote
his advocacy, Responsible Trading
. This newsletter contains the previous day's data from PSE, the Top Ten Foreign Buying
and Selling, Top Ten in Total Traded
Value, including Trading
Notes based on the data of the previous day. This newsletter is given free to all the friends of The Responsible Trader
and to members of the Facebook group and the other organizations where he is a member. For the previous issue where complete details about the newsletter was fully discussed, please refer to: Daily Top Tens October 17, 2014.
Trading Notes for Today –  (Based on Feb.12, 2016  Data)
Total Traded Value –  PhP 6.283 Billion –  Low
Market Breadth and Sentiment indicated by Advances Declines Ratio – (Ideal is 2:1 to be considered Bullish or Bearish) 109 Declines vs. 62 Advances = 1.76:1  Neutral
Total Foreign Buying – PhP 2.924 Billion
Total Foreign Selling – (Php 3.566) Billion
Net Foreign Buying (Selling) – (Php 0.642)  Billion – 3rd day of Net Foreign Selling after 2 days of Net Foreign Buying
Data from the Philippine Stock Exchange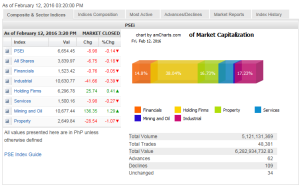 Screenshot courtesy of: www.pse.com.ph
PSE Heat Map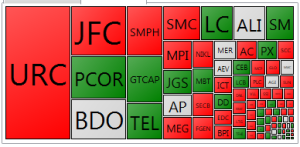 Screenshot courtesy of: PSEGET Software
Top Ten Foreign Buying
and Selling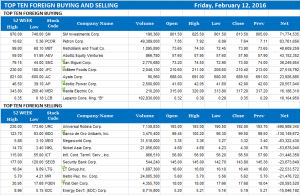 Top Ten in Total Traded
Value

From now on, I will just quote the related article from Business World so that we will have everything in one piece:
==================================================
Posted on February 14, 2016 08:21:00 PM
By Krista A. M. Montealegre, Senior Reporter
Focus turns to earnings as growth fears deepen
PHILIPPINE STOCKS' struggle may continue in the week ahead as investors look to corporate earnings to offset negative sentiment emanating from overseas markets.
The benchmark Philippine Stock Exchange index (PSEi) ended a two-week rally, retreating by 1.64% week on week to end at 6,654.45 last Friday amid mounting fears on the health of the global economy.
"It will be the same old story. It seems there are no bright lights ahead and we're seeing the same old problems," Astro C. del Castillo, managing director at First Grade Finance, Inc., said in a telephone interview.
After a week-long holiday, China reopens this week with the release of its January balance of trade data, with jittery investors seeking validation on how long a slowdown would last during its transition from a manufacturing to a service-based economy. Likewise, focus will be on Japan when it releases its gross domestic product data, with the consensus at a contraction of 0.7% for the fourth quarter. The Bank of Japan has adopted a negative interest-rate policy to spur demand, but this has resulted in the sharp appreciation of the yen.
In the United States, the January inflation report is scheduled to come out by the end of the week, the result of which can play a role in the Federal Reserve's monetary policy decision.
"Various narratives in the global scene are now fraught with cliffhangers and there is a growing sense in the markets a watershed event is on the verge of occurring, thus clearing some if not most of these imbalances," 2TradeAsia.com said in a research note.
"Until then, there may be little reason to think the boom days are still here," the brokerage added.
Global stocks have been battered by the triple punch of faltering growth in China, low oil prices and the impact of central bank stimulus efforts to economies. The PSEi is down 4.28% for the year.
Amid a gloomy external environment, investors are pinning their hopes on favorable domestic corporate earnings to provide some positive spin to trades.
"We hope earnings can cushion the market's decline," First Grade Finance's Mr. del Castillo said.
On the technical front, Luis A. Limlingan, business development head at Regina Capital Development Corp., said in a mobile phone message a break below the critical 6,600 mark will pull down the benchmark index to 6,487 — its 20-day moving average — and further to 6,390.
On the other hand, a rally beyond 6,769 would push the local barometer towards resistance points at the 6,900 to 6,950 levels though sustaining it would be hard due to low momentum, Mr. Limlingan said.
"Like in the previous weeks, we are still yet to see a clear higher low base, making our reversal scenario unlikely at this point," he said.
Source: http://www.bworldonline.com/content.php?section=StockMarket&title=focus-turns-to-earnings-as-growth-fears-deepen&id=123017
==================================================
Good
luck on all your TRADES
today
.
DISCLAIMER There is a very high degree of risk involved in TRADING
. Past results
are not indicative of future returns
. Nothing contained in this newsletter constitutes a solicitation, recommendation, PROMOTION
or endorsement of any security. In accordance with the Responsible TRADER
's Creed: I will never tell and you take full
responsibility for all your TRADING
results
NOTES:
Please take note of the following changes effective August 6, 2015:
1. Caption Market Breadth has been changed to Total Traded Value to simplify the presentation.
2. Market Breadth is expressed in terms of Number of Advances and Declines. Expressing this as a Ratio by using the larger number as Numerator we derive the Market Sentiment whether Bullish or Bearish.
3. Based on Past three-year data of Average Total Traded Values, following classifications will be used to make the presentation more relevant to present times. a. Low – Total Traded Value less than P8 Billion b. Medium – Total Traded Value P8 Billion but not more than P15 Billion c. High – Total Traded Value more than P15 Billion