Top Ten Smart Money Moves – Feb. 15, 2016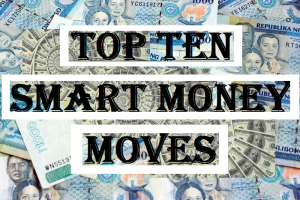 Top Ten Smart Money
Moves, starting January 2015, is the official trading
newsletter of The Responsible Trader
to promote
his advocacy, Responsible Trading
. This newsletter contains the previous day's data from PSE, the Top Ten Foreign Buying
and Selling, Top Ten in Total Traded
Value, including Trading
Notes based on the data of the previous day. This newsletter is given free to all the friends of The Responsible Trader
and to members of the Facebook group and the other organizations where he is a member. For the previous issue where complete details about the newsletter was fully discussed, please refer to: Daily Top Tens October 17, 2014.
Trading Notes for Today –  (Based on Feb.15, 2016  Data)
Total Traded Value –  PhP 6.053 Billion –  Low
Market Breadth and Sentiment indicated by Advances Declines Ratio – (Ideal is 2:1 to be considered Bullish or Bearish) 138 Advances vs. 46 Declines = 3.0:1  Bullish
Total Foreign Buying – PhP 3.122 Billion
Total Foreign Selling – (Php 2.981) Billion
Net Foreign Buying (Selling) – Php 0.141  Billion – 1st day of Net Foreign Buying after 3 dasy of Net Foreign Selling
Data from the Philippine Stock Exchange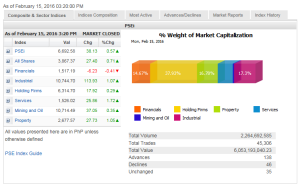 Screenshot courtesy of: www.pse.com.ph
PSE Heat Map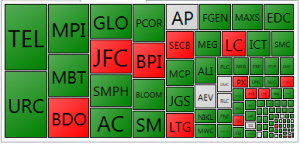 Screenshot courtesy of: PSEGET Software
Top Ten Foreign Buying
and Selling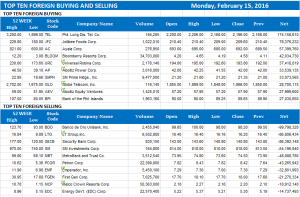 Top Ten in Total Traded
Value
From now on, I will just quote the related article from Business World so that we will have everything in one piece:
==================================================
Posted on February 15, 2016 07:51:00 PM
By Krista A. M. Montealegre, Senior Reporter
PHL stocks rise as Wall St. rally sparks optimism
STOCKS firmed up yesterday, joining a rally in regional markets sparked by a stronger finish in Wall Street despite a string of weak economic data from China and Japan.
The Philippine Stock Exchange index (PSEi) rose 38.13 points or 0.57% to close at 6,692.58. The all-shares index jumped 27.40 points or 0.71% to settle at 3,867.37.
"The better than expected retail sales data from the US boosted the market despite disappointing gross domestic product from Japan and lower exports reports from China," Joylin F. Telagen, equity analyst at IB Gimenez Securities, Inc., said in a mobile phone message.
Most Asian markets trekked higher, encouraged by the gains in Wall Street after retail sales rose at a better-than-expected pace of 0.2% in January despite the wild price swings in global stock markets.
Also helping boost optimism was the move of the People's Bank of China to fix the yuan sharply higher, easing fears of a further devaluation in the currency that has rocked global markets at the start of the year.
There were still signs that China's economic growth remains fragile following the release of weaker-than-expected trade data that showed January exports fell 11.2% from a year ago and imports slumped 18.8%.
Also, after being battered last week, the Nikkei 225 posted its biggest single-day rise since the global financial crisis in 2008 even as the economy contracted by an annual 1.4% in the fourth quarter of 2015, worse than expected.
"It looks like the world is picking itself up from all of its perceived problems. US may not raise interest rates, China will probably not devalue the yuan, and members of the Organization of the Petroleum Exporting Countries are talking now — all these point to a better performance," Joseph Y. Roxas, president of Eagle Equities, Inc., said in a separate interview.
Services surged 25.86 points or 1.72% to 1,526.02; industrial added 113.93 points or 1.07% to 10,744.70; property climbed 27.73 points or 1.04% to 2,677.57; mining and oil advanced 37.05 points or 0.34% to 10,714.49; and holding firms gained 17.92 points or 0.28% to 6,314.70.
Financials was the lone counter in the red, losing 6.23 points or 0.40% to 1,517.19.
Value turnover eased to P6.05 billion after 2.26 billion shares changed hands, from Friday's P6.28 billion.
Advancers beat decliners, 138 to 46, while 35 issues were unchanged.
Foreigners shifted to buying territory, with net purchases of P140.81 million — a turnaround from the net sales of P641.33 million.
"The PSEi is still hanging between 6,600 and 6,700. The full release of fourth-quarter earnings will determine this month's direction," IB Gimenez Securities' Ms. Telagen said
Source: http://www.bworldonline.com/content.php?section=StockMarket&title=phl-stocks-rise-as-wall-st.-rally-sparks-optimism&id=123084
==================================================
Good
luck on all your TRADES
today
.
DISCLAIMER There is a very high degree of risk involved in TRADING
. Past results
are not indicative of future returns
. Nothing contained in this newsletter constitutes a solicitation, recommendation, PROMOTION
or endorsement of any security. In accordance with the Responsible TRADER
's Creed: I will never tell and you take full
responsibility for all your TRADING
results
NOTES:
Please take note of the following changes effective August 6, 2015:
1. Caption Market Breadth has been changed to Total Traded Value to simplify the presentation.
2. Market Breadth is expressed in terms of Number of Advances and Declines. Expressing this as a Ratio by using the larger number as Numerator we derive the Market Sentiment whether Bullish or Bearish.
3. Based on Past three-year data of Average Total Traded Values, following classifications will be used to make the presentation more relevant to present times. a. Low – Total Traded Value less than P8 Billion b. Medium – Total Traded Value P8 Billion but not more than P15 Billion c. High – Total Traded Value more than P15 Billion