Top Ten Smart Money Moves – Feb. 17, 2016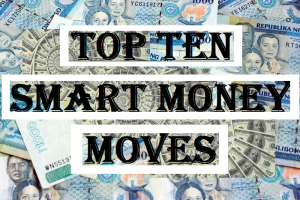 Top Ten Smart Money
Moves, starting January 2015, is the official trading
newsletter of The Responsible Trader
to promote
his advocacy, Responsible Trading
. This newsletter contains the previous day's data from PSE, the Top Ten Foreign Buying
and Selling, Top Ten in Total Traded
Value, including Trading
Notes based on the data of the previous day. This newsletter is given free to all the friends of The Responsible Trader
and to members of the Facebook group and the other organizations where he is a member. For the previous issue where complete details about the newsletter was fully discussed, please refer to: Daily Top Tens October 17, 2014.
Trading Notes for Today –  (Based on Feb.17, 2016  Data)
Total Traded Value –  PhP 6.910 Billion –  Low
Market Breadth and Sentiment indicated by Advances Declines Ratio – (Ideal is 2:1 to be considered Bullish or Bearish) 104 Advances vs. 69 Declines = 1.51:1  Neutral
Total Foreign Buying – PhP 3.518 Billion
Total Foreign Selling – (Php 4.147) Billion
Net Foreign Buying (Selling) – (Php 0.629)  Billion – 2nd day of Net Foreign Selling after a day of Net Foreign Buying
Data from the Philippine Stock Exchange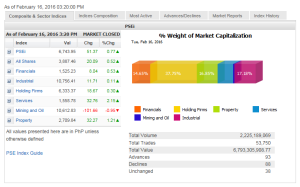 Screenshot courtesy of: www.pse.com.ph
PSE Heat Map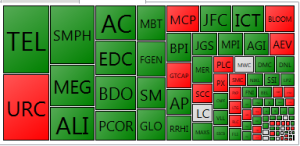 Screenshot courtesy of: PSEGET Software
Top Ten Foreign Buying
and Selling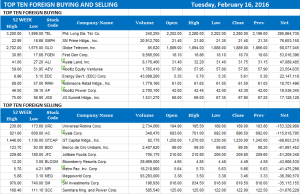 Top Ten in Total Traded
Value

From now on, I will just quote the related article from Business World so that we will have everything in one piece:
==================================================
Posted on February 17, 2016 08:01:00 PM
Stocks eke out slight gains after volatile session
LOCAL EQUITIES struggled to remain in positive territory on Wednesday, but managed to eke out modest gains at the close of trading as global central banks hinted on more monetary stimulus and on hopes of higher oil prices, analysts said.
The Philippine Stock Exchange index (PSEi) added 12.87 points or 0.19% to close at 6,756.82.
The broader all-shares index also inched up by 5.69 points or 0.14% to settle at 3,893.15 at the closing bell.
"Market is struggling to stay afloat above 6,700 levels, it is still looking for more signs of risk on fundamentals," BDO Unibank, Inc. chief market strategist Jonathan L. Ravelas said in a mobile phone reply after trading hours yesterday.
He noted a "bias" to see a test of the 6,800 mark.
Joylin F. Telagen, equity research analyst at IB Gimenez Securities, said in a separate text message: "We're just nearly flat. I think central bank support to ailing global economy continued to push the stock market [yesterday] [as well as] the result of OPEC (Organization of the Petroleum Exporting Countries) leaders meeting to freeze output, which may increase the price of oil in the near term."
Five out of six domestic subindices ended in the green yesterday, led by services, which rose by 11.07 points or 0.71% to close at 1,569.85.
Financials gained 5.66 points or 0.37% to 1,530.89; mining and oil increased by 35.33 points or 0.33% to 10,648.16; industrials inched up by 15.47 points or 0.14% to 10,771.88; and holding firms added 7.36 points or 0.11% to 6,340.73.
Only the property sector fell into negative territory after shedding 9.47 points or 0.34% to settle at 2,700.37.
Wednesday's busiest stocks were conglomerates GT Capital Holdings, Inc. and Universal Robina Corp., as well as Jollibee Foods Corp., Ayala Land, Inc. and Philippine Long Distance Telephone Co. (PLDT), according to PSE data.
Value turnover slightly grew to P6.91 billion after 1.73 billion shares changed hands, from the P6.79 billion recorded in the preceding session.
Net foreign outflows also increased to P628.99 million from the P154.83 million logged on Tuesday.
Still, gainers outnumbered losers, 104 to 69, while 37 issues did not move.
IB Gimenez's Ms. Telagen noted that since the market has reached its resistance level, fourth-quarter corporate earnings will provide direction to the market.
"If results were better than expected, I expect PSEi to move back to 7,000. But if earnings contracted for the quarter, I expect investors to risk-off again, PSEi is expected to retest 6,500 if ever," she said.
Hastings Holdings, Inc., a unit of PLDT Beneficial Trust Fund subsidiary MediaQuest Holdings, Inc., has a stake in BusinessWorld through the Philippine Star Group, which it controls. — Daphne J. Magturo
Source: http://www.bworldonline.com/content.php?section=StockMarket&title=stocks-eke-out-slight-gains-after-volatile-session&id=123225
==================================================
Good
luck on all your TRADES
today
.
DISCLAIMER There is a very high degree of risk involved in TRADING
. Past results
are not indicative of future returns
. Nothing contained in this newsletter constitutes a solicitation, recommendation, PROMOTION
or endorsement of any security. In accordance with the Responsible TRADER
's Creed: I will never tell and you take full
responsibility for all your TRADING
results
NOTES:
Please take note of the following changes effective August 6, 2015:
1. Caption Market Breadth has been changed to Total Traded Value to simplify the presentation.
2. Market Breadth is expressed in terms of Number of Advances and Declines. Expressing this as a Ratio by using the larger number as Numerator we derive the Market Sentiment whether Bullish or Bearish.
3. Based on Past three-year data of Average Total Traded Values, following classifications will be used to make the presentation more relevant to present times. a. Low – Total Traded Value less than P8 Billion b. Medium – Total Traded Value P8 Billion but not more than P15 Billion c. High – Total Traded Value more than P15 Billion