Top Ten Smart Money Moves – Feb. 19, 2016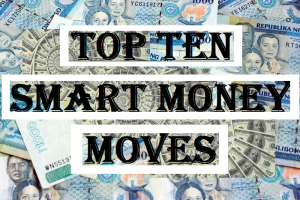 Top Ten Smart Money
Moves, starting January 2015, is the official trading
newsletter of The Responsible Trader
to promote
his advocacy, Responsible Trading
. This newsletter contains the previous day's data from PSE, the Top Ten Foreign Buying
and Selling, Top Ten in Total Traded
Value, including Trading
Notes based on the data of the previous day. This newsletter is given free to all the friends of The Responsible Trader
and to members of the Facebook group and the other organizations where he is a member. For the previous issue where complete details about the newsletter was fully discussed, please refer to: Daily Top Tens October 17, 2014.
Trading Notes for Today –  (Based on Feb.19, 2016  Data)
Total Traded Value –  PhP 6.525 Billion –  Low
Market Breadth and Sentiment indicated by Advances Declines Ratio – (Ideal is 2:1 to be considered Bullish or Bearish) 103 Declines vs. 68 Advances = 1.51:1  Neutral
Total Foreign Buying – PhP 3.624 Billion
Total Foreign Selling – (Php 3.348) Billion
Net Foreign Buying (Selling) – Php 0.276  Billion – 1st day of Net Foreign Buying after 3 days of Net Foreign Selling
Data from the Philippine Stock Exchange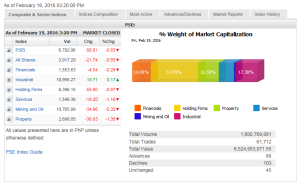 Screenshot courtesy of: www.pse.com.ph
PSE Heat Map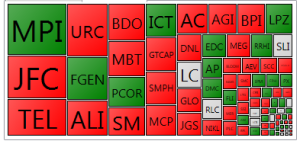 Screenshot courtesy of: PSEGET Software
Top Ten Foreign Buying
and Selling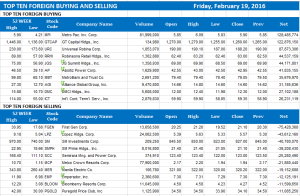 Top Ten in Total Traded
Value

From now on, I will just quote the related article from Business World so that we will have everything in one piece:
==================================================
Posted on February 21, 2016 07:51:00 PM
By Krista A. M. Montealegre, Senior Reporter
Worries over global economy to weigh on mart
THE BENCHMARK Philippine Stock Exchange index (PSEi) has shown some signs of life in the previous weeks after a rocky start this year, but analysts warned that the equities market may need more than optimism to trigger a reversal.
The previous week saw the bellwether PSEi peak at 6,848.87, but Friday's decline cut its weekly gain to 137.61 points or 2.07% to end at 6,792.06 — sliding below the 6,800 mark.
"The previous week managed to lift optimism in local equities, at least for the short term. However, any notion this rally could reverse January's pessimism is far from convincing," 2TradeAsia.com said in a report.
The brokerage noted that when local stocks were plunging last month towards the 6,200 level, net foreign buying reached P2.6 billion followed by purchases amounting to P500 million the following week. The past two weeks, however, showed net sales of P2.8 billion.
"We expect markets to trade sideways with a slightly upward bias as the somewhat positive sentiment carries over into next week though caution on global growth prospects may limit gains," BPI Asset Management said.
Enthusiasm may not be enough for the local barometer to breach the robust long-term resistance at 6,800, suggesting gains may be capped over the short-run, 2TradeAsia.com said. Long-term support, however, is plotted at 6,200, providing a buying window for bargain hunters.
"The market requires additional impetus to sustain the momentum it was starting to build as it makes a bid to breach the 6,850 mark. With the end of February fast approaching, attention should begin to shift away from externalities for the moment as focus on fourth-quarter earnings," Justino B. Calaycay, Jr., head of marketing and research at A and A Securities, Inc., said in a report.
The bellwether index has arrested its year-to-date slide to 2.3% from 12.48% at the peak of the market's bloodbath, but the PSEi's valuation remains elevated at 19.67 times price-to-earnings ratio — twice the regional benchmark, Mr. Calaycay said.
"Stocks are still at pricey, thus, putting a lot of import on the coming cycle to find justification for the rich valuations relative to our peers in the region. Profits should rise by about 7%-10% in order to bring the multiples closer to the bull market norm," he said.
The stronger-than-expected remittances data, which came out after trading hours last Friday, may boost risk appetite, but firming US inflation, which may affect the Federal Reserve's decision on interest rates, may trigger bearish sentiment, analysts said.
"We would also be on the lookout for positive developments in the ongoing talks among oil producers in hammering out a scheme to stem the, until recently, unabated drop in the commodity's prices," Mr. Calaycay said.
Source: http://www.bworldonline.com/content.php?section=StockMarket&title=worries-over-global-economy-to-weigh-on-mart&id=123379
==================================================
Good
luck on all your TRADES
today
.
DISCLAIMER There is a very high degree of risk involved in TRADING
. Past results
are not indicative of future returns
. Nothing contained in this newsletter constitutes a solicitation, recommendation, PROMOTION
or endorsement of any security. In accordance with the Responsible TRADER
's Creed: I will never tell and you take full
responsibility for all your TRADING
results
NOTES:
Please take note of the following changes effective August 6, 2015:
1. Caption Market Breadth has been changed to Total Traded Value to simplify the presentation.
2. Market Breadth is expressed in terms of Number of Advances and Declines. Expressing this as a Ratio by using the larger number as Numerator we derive the Market Sentiment whether Bullish or Bearish.
3. Based on Past three-year data of Average Total Traded Values, following classifications will be used to make the presentation more relevant to present times. a. Low – Total Traded Value less than P8 Billion b. Medium – Total Traded Value P8 Billion but not more than P15 Billion c. High – Total Traded Value more than P15 Billion