Top Ten Smart Money Moves – Feb. 22, 2016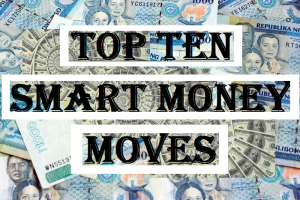 Top Ten Smart Money
Moves, starting January 2015, is the official trading
newsletter of The Responsible Trader
to promote
his advocacy, Responsible Trading
. This newsletter contains the previous day's data from PSE, the Top Ten Foreign Buying
and Selling, Top Ten in Total Traded
Value, including Trading
Notes based on the data of the previous day. This newsletter is given free to all the friends of The Responsible Trader
and to members of the Facebook group and the other organizations where he is a member. For the previous issue where complete details about the newsletter was fully discussed, please refer to: Daily Top Tens October 17, 2014.
Trading Notes for Today –  (Based on Feb.22, 2016  Data)
Total Traded Value –  PhP 4.410 Billion –  Low
Market Breadth and Sentiment indicated by Advances Declines Ratio – (Ideal is 2:1 to be considered Bullish or Bearish) 94 Declines vs. 90 Advances = 1.04:1  Neutral
Total Foreign Buying – PhP 2.154 Billion
Total Foreign Selling – (Php 2.236) Billion
Net Foreign Buying (Selling) – (Php 0.082)  Billion – 1st day of Net Foreign Selling  after a day of Net Foreign Buying
Data from the Philippine Stock Exchange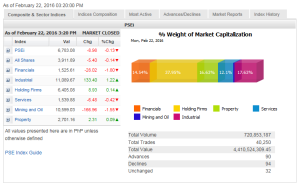 Screenshot courtesy of: www.pse.com.ph
PSE Heat Map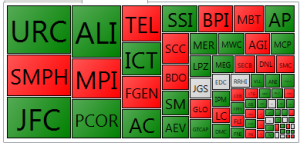 Screenshot courtesy of: PSEGET Software
Top Ten Foreign Buying
and Selling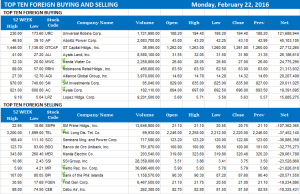 Top Ten in Total Traded
Value
From now on, I will just quote the related article from Business World so that we will have everything in one piece:
==================================================
Posted on February 22, 2016 07:51:00 PM
By Krista A. M. Montealegre, Senior Reporter
Equities slip as investors pocket gains from rally
STOCKS MOVED within a tight range yesterday before closing the session with marginal losses, as investors booked profits after last week's gains amid lingering uncertainties overseas.
The 30-company Philippine Stock Exchange index slipped 8.98 points or 0.13% to close at 6,783.08, with the local barometer staying within a 25-point range throughout the session.
The broader all-shares index slid 5.40 points or 0.13% to end at 3,911.89.
"The market is looking for direction. The 6,800 level seems to be a strong resistance," Joseph Y. Roxas, president of Eagle Equities, Inc., said in a phone interview.
"It's partly profit taking. We've been rallying from the low we recorded last month. Some investors are taking a cautious stance given the external concerns," Lexter L. Azurin, head of research at Unicapital Securities, Inc., said in a separate interview.
The bellwether index has increased by 11.5% since closing at 6,084.28 last Jan. 21 at the height of the global sell-off in risky assets on the back of concerns over slowing global economic growth.
Year to date, the main gauge is only down by 2.43%, but uncertainties remain, analysts said.
"In the US, there are talks about the increasing probability of further rate increases and China is still a concern. We are still in a turbulent situation. There are also growing concerns in Europe with the possibility of a 'Brexit,'" Mr. Azurin said, referring to Britain's possible exit from the euro zone.
Asian markets rose yesterday led by Chinese shares on hopes of reforms in China's financial regulatory system following reports that the head of its stock regulatory commission head will be replaced.
Subindices finished mixed yesterday, with financials losing 28.02 points or 1.80% to 1,525.61; mining and oil dropping 166.96 points or 1.55% to 10,599.03; and services shedding 6.48 points or 0.41% to close the session at 1,539.88.
In contrast, the industrial counter rallied 133.40 points or 1.21% to 11,089.67; holding firms gained 8.93 points or 0.14% to 6,405.08; and property added 2.31 points or 0.08% to finish at 2,701.16.
Value turnover eased to P4.41 billion after 720.85 million shares changed hands, from Friday's P6.52 billion.
Decliners edged out advancers, 94 to 90, while 32 issues were unchanged.
Foreigners remained on the sell side, but net sales slowed to P81.85 million from P275.89 million in the prior session.
"People are waiting for the market to go down so they can enter and if that's the case, it will be difficult for the market to go down because those who were not able to participate in the recent rally, they are those who are buying the market now," Eagle Equities' Mr. Roxas said.
Source: http://www.bworldonline.com/content.php?section=StockMarket&title=equities-slip-as-investors-pocket-gains-from-rally&id=123434
==================================================
Good
luck on all your TRADES
today
.
DISCLAIMER There is a very high degree of risk involved in TRADING
. Past results
are not indicative of future returns
. Nothing contained in this newsletter constitutes a solicitation, recommendation, PROMOTION
or endorsement of any security. In accordance with the Responsible TRADER
's Creed: I will never tell and you take full
responsibility for all your TRADING
results
NOTES:
Please take note of the following changes effective August 6, 2015:
1. Caption Market Breadth has been changed to Total Traded Value to simplify the presentation.
2. Market Breadth is expressed in terms of Number of Advances and Declines. Expressing this as a Ratio by using the larger number as Numerator we derive the Market Sentiment whether Bullish or Bearish.
3. Based on Past three-year data of Average Total Traded Values, following classifications will be used to make the presentation more relevant to present times. a. Low – Total Traded Value less than P8 Billion b. Medium – Total Traded Value P8 Billion but not more than P15 Billion c. High – Total Traded Value more than P15 Billion